Z3str4 is an SMT solver for the SMT-LIB theory of strings based on Z3. The solver includes two new algorithms for string solving: a length abstraction algorithm and an abstraction-refinement reduction to bit-vectors. Z3str4 also includes an algorithm selection architecture which chooses the best algorithms to run based on their expected performance on the input. This page contains information on downloading and using Z3str4, as well as the results of an extensive experimental evaluation against other leading string solvers.
Z3str4 String Solver
This website consists of supplementary material to our paper (currently under submission). We share the following components presented in our corresponding paper:
Untar the package by executing tar xf fm.tar.gz which will create a folder called FM.
Compiling Z3str4
We include a bash script named compileZ3str4.sh which compiles the provided source code. To compile the solver you simply have to execute
Now Z3str4 is compiled within tool_source/build and ready to run.
Running Z3str4:
Z3str4 is invoked from the command line with ./z3 smt.string_solver=z3str3 unicode=false smt.str.tactic=3probe smt.arith.solver=2 inputFile.smt where inputFile.smt is the desired SMT-LIB instance, the parameter dump_models asks Z3 to output the found model (if it answers SAT).
Simple Example
Using Z3str4 to solve the string constraint x0 = x1 . x2 and x0 = solution is as simple as providing the instance below to Z3str4.
(set-logic QF_S)
(declare-fun x0 () String)
(declare-fun x1 () String)
(declare-fun x2 () String)
(assert (= x0 (str.++ x1 x2)))
(assert (= x0 "solution"))
(check-sat)
As can be seen from the output below, Z3str4 finds a solution to the equation where it sets x0 = solution, and x1 and x2 are set to the empty string.
sat
(model
(define-fun x0 () String
"solution")
(define-fun x1 () String
"")
(define-fun x2 () String
"")
)
Trying the different features of Z3str4
The following information is given inside the help command of Z3str4. The selection corresponds to the newly added parameters directly related to our presented work. The following parameters require the choice of using Z3str3 as the main solver for string constraints. Simply pass smt.string_solver=z3str3 to your binary to enable it.
Using algorithms in isolation
str.tactic (unsigned int)
This option changes which algorithms (resp. arms) are used.
3probe all algorithms as presented in the paper

regex only use the regex arm

seq only use the sequence solver arm

alwayscf only use the conjunctive fragment arm

nevercf only use the non-conjunctive fragment arm
Use one of the following parameters to run a single solver within Z3str4
las length abstraction,

arr arrangement solver

seqsequence solver
Using the constraint sharing between arms
str.share_constraints (bool)
Enable constraint sharing across tactics (Z3str3 only, has no effect outside of portfolio tactic) (default: true)
Competing string solvers
As describe in the corresponding paper we are comparing our approach against Z3Seq, Z3Str3, and CVC4.
Z3 Sequence Solver
The Z3 theorem prover is a DPLL(T)-based SMT solver for theory combinations over first-order logic. Z3 includes an arithmetic solver for linear integer arithmetic and a sequence solver (Z3Seq) that supports word-based reasoning about strings.
Z3Str3 String Solver
The Z3str3 solver is based on Z3. It uses a reduction known as the arrangement technique to convert word equations into simpler formulas until a "solved form" is reached.
CVC4 String Solver
The CVC4 solver handles constraints over the theory of strings and arithmetic using an algebraic approach, and uses a similar DPLL(T) architecture to Z3.
Availability
Within the comparison we used CVC4's binary version 1.8 which is available at here. The sequence solver and Z3str3 were pulled from their official GIT repository. We used commit #7e7360dd0c04cdee95c3f74a59908209742c5212 of Z3. All pre compiled binaries are included within our reproduction package (FM/SolverBinaries).
Reproduction of our Results
| | |
| --- | --- |
| Warning | This benchmark tool was tested on Python 3.9. |
Install the prerequisites
To install the required packages we provide a script called installTools.sh. Executing bash installTools.sh installs all dependencies needed for running our solver and reproducing our empirical evaluation.
In order to reproduce the figures presented in the paper you need a LaTeX environment. The following command downloads the required packages for Ubuntu like systems
sudo -S apt-get -y install latexmk texlive-latex-recommended texlive-latex-extra texlive-fonts-extra asciidoctor
These packages are not needed to reproduce our results.
Repeating the run using all solvers on all presented benchmarks (including the bit-vector experiment and clause-sharing):
Repeating the run including the fragment analysis:
After the ZaligVinder run has finished a webserver is started. You can review the results by guiding your browser to http://localhost:8081.
Further post analysis steps
Within the ZaligVinder folder zaligvinder we stored the database of our experimental evaluation.
Inspecting the results within the web browser:
Execute the following commands to review our results within ZaligVinder's web gui:
cd zaligvinder
python3 startwebserver.py fm_all.db
Generate an tables, plots and ASCII Doctor web page to review the results:
Execute the following commands
cd zaligvinder
python3 tablegen.py
which will open a terminal gui. Select fm_all.db as database and a place to store the output file — entering no output name stores the output data within the folder zaligvinder/external_data/<today's_date>. Afterwards you are able to select the benchmark sets of your choice being present within our run and the solvers. Bye selecting the database fm_frag.db you are able to explore the fragment experiment.
Next step is selecting whether you want to generate the cactus plots, tables or the ASCII Doctor page.
Tables and Plots.
Tables and plots need to be compiled by using latexmk. Simply execute
latexmk -pdf <yourFileName>
Generating HTML for the ASCII doctor page.
To view the ASCII Doctor page conveniently in your browser execute
asciidoctor <yourFileName>
which will create a <yourFileName>.html file. To open firefox execute firefox <yourFileName>.html.
You can perform these post analysis steps on your own generated database too. To do so instead of using fm_all.db within the terminal gui simply select your own generated database having a name similar to All_results_1611768687.585239.db for running the experiment on all benchmarks or Fragments_results_1611768687.585239.db if you selected the fragments experiment.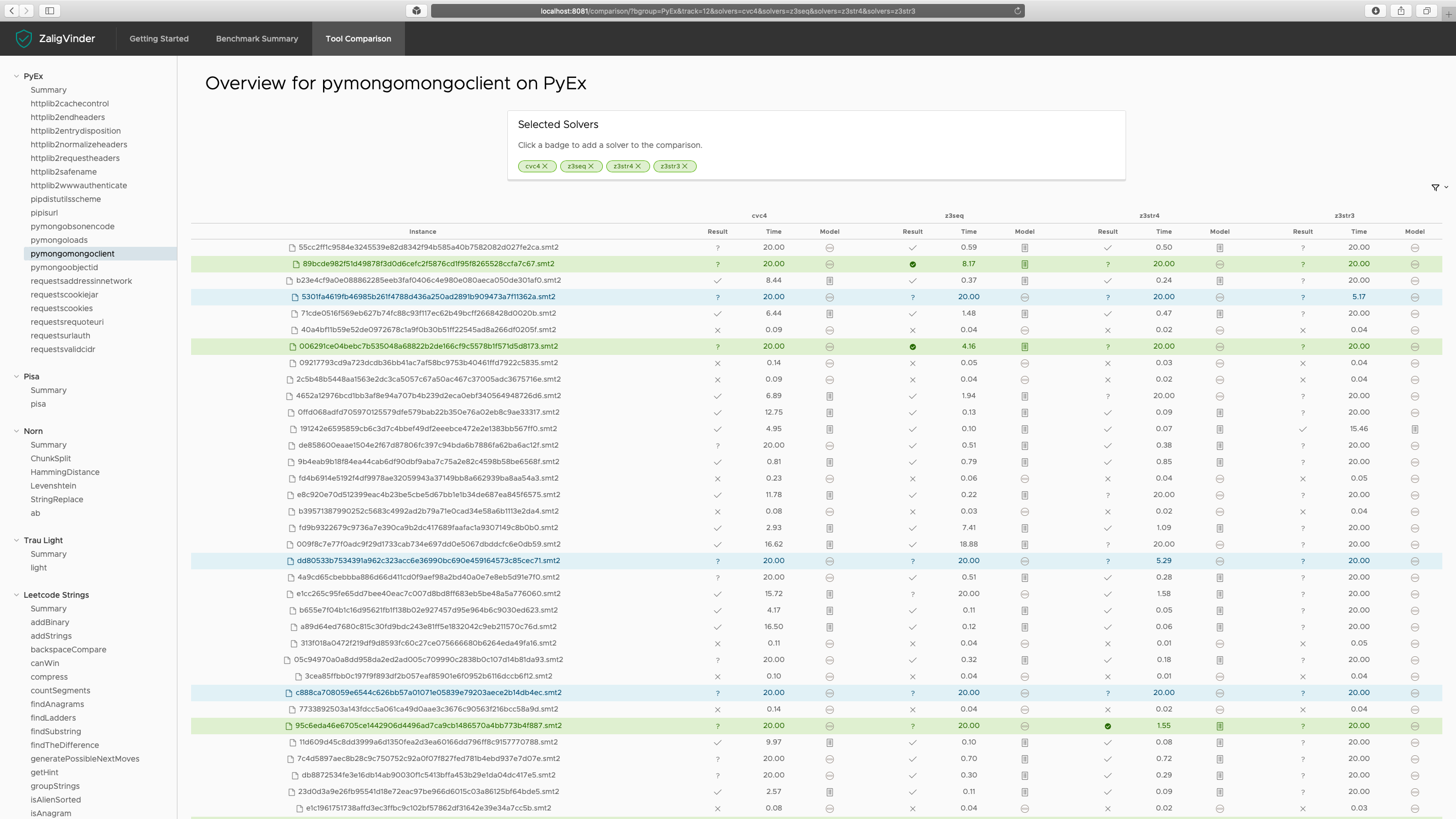 A detailed view on our Results
All tests were performed on a server running Ubuntu 18.04.3 LTS with 2 Intel Xeon Gold 6242 CPUs each having 16 cores and 1.5 TB of memory.
Benchmark Results
General Experiment
PyEx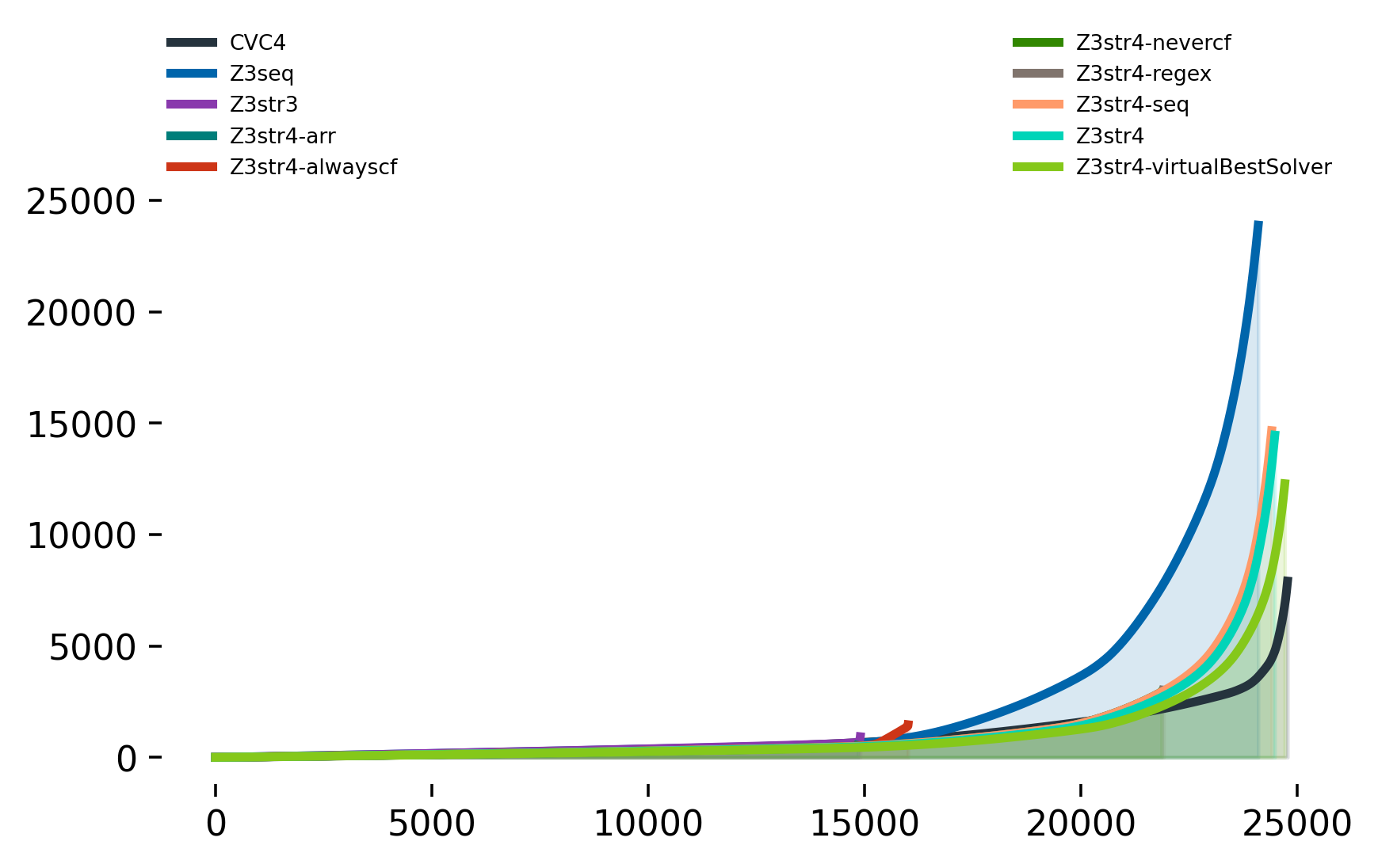 | | | | | | | | | | | | | |
| --- | --- | --- | --- | --- | --- | --- | --- | --- | --- | --- | --- | --- |
| Solver | Cor. class. (contr.) | SAT | UNSAT | UNKN | ERR | CRA | TO | Par2 | Tot. inst. | Tot. inst. w/o TO | Tot. time | Tot. time w/o TO |
| CVC4 | 24777 (31.96) | 11003 | 13774 | 0 | 0 | 0 | 644 | 33671284 | 25421 | 24777 | 20791284 | 7911284 |
| Z3str4 | 24483 (1.46) | 10789 | 13694 | 37 | 0 | 0 | 901 | 52372918 | 25421 | 24520 | 32872918 | 14852918 |
| Z3str4-seq | 24409 (0.11) | 10723 | 13686 | 35 | 0 | 0 | 977 | 55563330 | 25421 | 24444 | 34623330 | 15083330 |
| Z3seq | 24099 (2.24) | 10380 | 13719 | 2 | 0 | 0 | 1320 | 76784822 | 25421 | 24101 | 50304822 | 23904822 |
| Z3str4-regex | 21914 (0.34) | 8207 | 13707 | 17 | 0 | 0 | 3490 | 143397636 | 25421 | 21931 | 72917636 | 3117636 |
| Z3str4-nevercf | 21866 (0.0) | 8159 | 13707 | 21 | 0 | 0 | 3534 | 145291844 | 25421 | 21887 | 73771844 | 3091844 |
| Z3str4-alwayscf | 16006 (21.98) | 2323 | 13683 | 2039 | 0 | 130 | 7376 | 381003345 | 25421 | 18045 | 151923345 | 4403345 |
| Z3str3 | 14901 (0.34) | 1151 | 13750 | 2 | 0 | 0 | 10518 | 421730508 | 25421 | 14903 | 211290508 | 930508 |
| Z3str4-arr | 14848 (0.0) | 1143 | 13705 | 240 | 0 | 0 | 10333 | 425001881 | 25421 | 15088 | 208741881 | 2081881 |
| Z3str4-virtualBestSolver | 24713 (-) | 11005 | 13708 | 182 | 0 | 0 | 526 | 40605271 | 25421 | 24895 | 23216571 | 12285271 |
| | |
| --- | --- |
| Note | CVC4 had the biggest lead with 1.01 and CVC4 hat the largest contribution with 31.96. Other solvers contributed as follows: Z3str4-alwayscf: 21.98,Z3seq: 2.24,Z3str4: 1.46,Z3str4-regex: 0.34,Z3str3: 0.34,Z3str4-seq: 0.11,Z3str4-arr: 0.0,Z3str4-nevercf: 0.0. |
SMTLIB25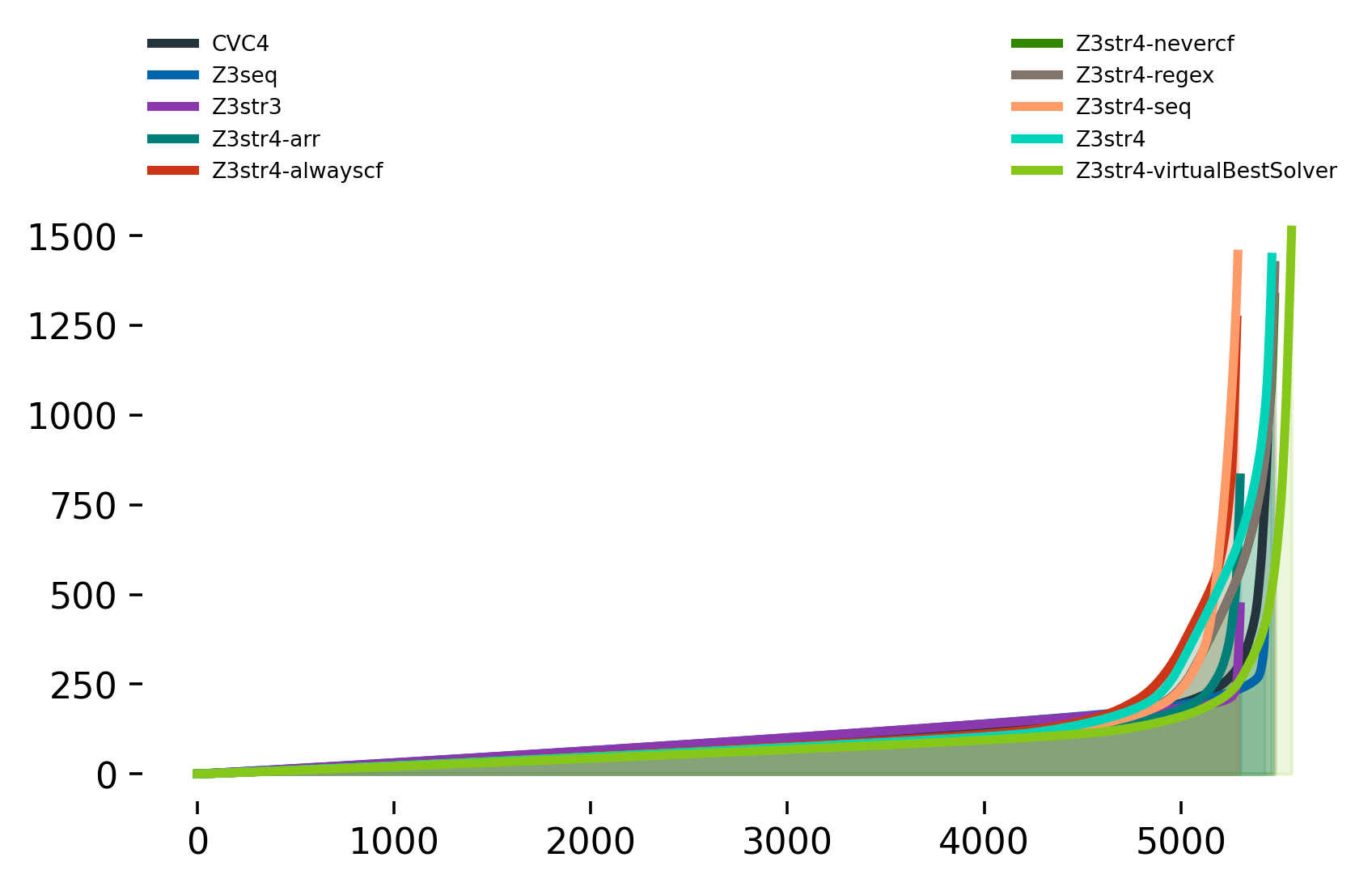 | | | | | | | | | | | | | |
| --- | --- | --- | --- | --- | --- | --- | --- | --- | --- | --- | --- | --- |
| Solver | Cor. class. (contr.) | SAT | UNSAT | UNKN | ERR | CRA | TO | Par2 | Tot. inst. | Tot. inst. w/o TO | Tot. time | Tot. time w/o TO |
| Z3str4-regex | 5478 (0.81) | 1905 | 3573 | 79 | 0 | 0 | 356 | 19368328 | 5913 | 5557 | 9088328 | 1968328 |
| Z3str4-nevercf | 5477 (0.46) | 1894 | 3583 | 68 | 0 | 0 | 368 | 19285544 | 5913 | 5545 | 9205544 | 1845544 |
| Z3str4 | 5463 (0.23) | 1869 | 3594 | 6 | 0 | 0 | 444 | 19503735 | 5913 | 5469 | 10383735 | 1503735 |
| CVC4 | 5462 (9.69) | 1854 | 3608 | 1 | 0 | 0 | 450 | 19325827 | 5913 | 5463 | 10285827 | 1285827 |
| Z3seq | 5427 (1.38) | 1879 | 3548 | 0 | 0 | 0 | 486 | 19849425 | 5913 | 5427 | 10129425 | 409425 |
| Z3str4-arr | 5302 (0.58) | 1800 | 3502 | 77 | 0 | 0 | 534 | 25715170 | 5913 | 5379 | 11955170 | 1275170 |
| Z3str4-seq | 5290 (0.58) | 1741 | 3549 | 10 | 0 | 0 | 613 | 26470630 | 5913 | 5300 | 13810630 | 1550630 |
| Z3str4-alwayscf | 5285 (0.12) | 1777 | 3508 | 59 | 0 | 9 | 569 | 26440910 | 5913 | 5344 | 12700910 | 1320910 |
| Z3str3 | 5302 (0.35) | 1774 | 3529 | 99 | 1 | 0 | 511 | 25019511 | 5913 | 5402 | 10699511 | 479511 |
| Z3str4-virtualBestSolver | 5563 (-) | 1943 | 3620 | 81 | 0 | 0 | 269 | 15515984 | 5913 | 5644 | 7447864 | 1515984 |
| | |
| --- | --- |
| Note | Z3str4-regex had the biggest lead with 1.0 and CVC4 hat the largest contribution with 9.69. Other solvers contributed as follows: Z3seq: 1.38,Z3str4-regex: 0.81,Z3str4-arr: 0.58,Z3str4-seq: 0.58,Z3str4-nevercf: 0.46,Z3str3: 0.35,Z3str4: 0.23,Z3str4-alwayscf: 0.12. |
Pisa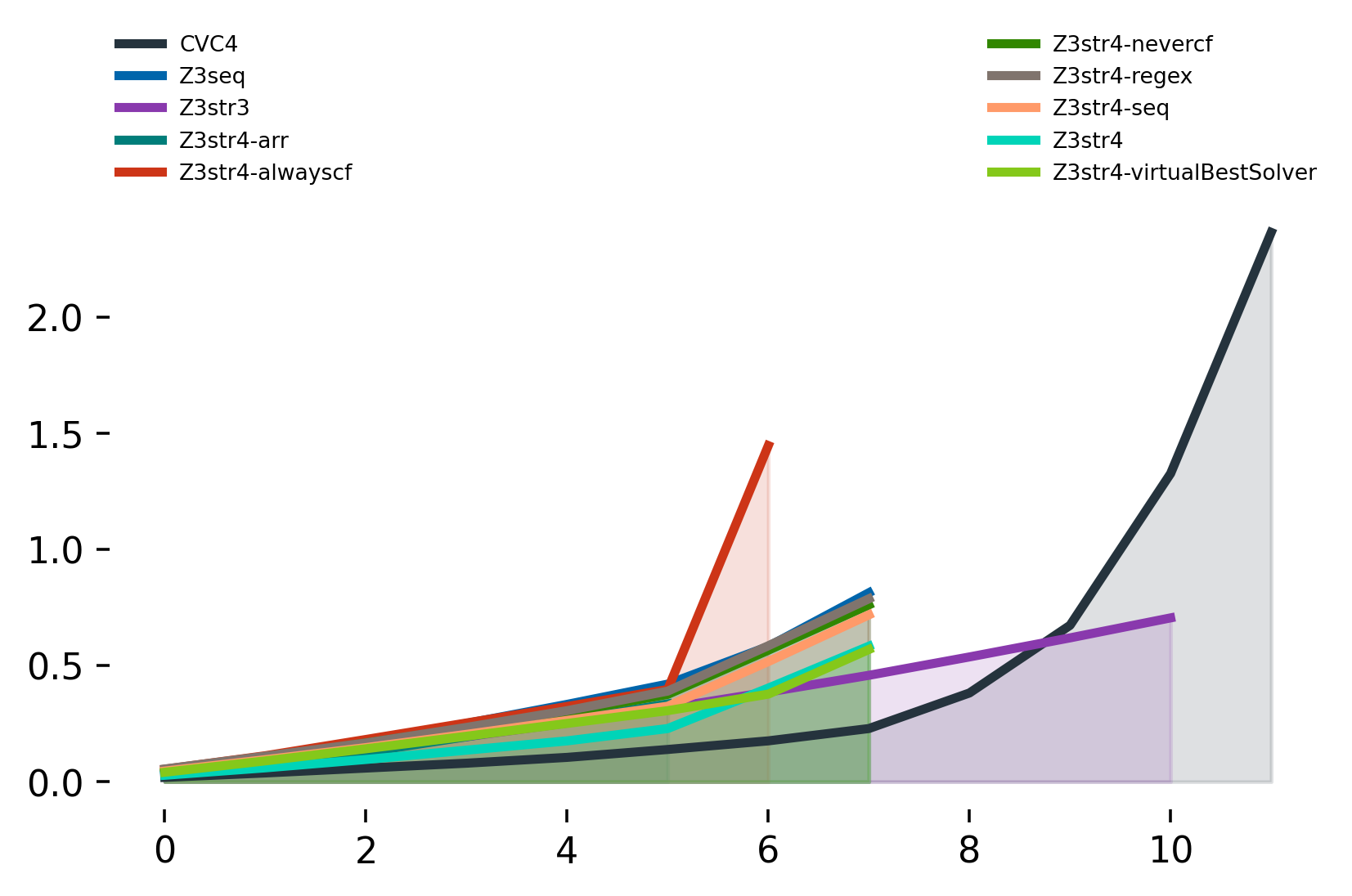 | | | | | | | | | | | | | |
| --- | --- | --- | --- | --- | --- | --- | --- | --- | --- | --- | --- | --- |
| Solver | Cor. class. (contr.) | SAT | UNSAT | UNKN | ERR | CRA | TO | Par2 | Tot. inst. | Tot. inst. w/o TO | Tot. time | Tot. time w/o TO |
| CVC4 | 12 (0.0) | 8 | 4 | 0 | 0 | 0 | 0 | 2363 | 12 | 12 | 2363 | 2363 |
| Z3str3 | 11 (0.0) | 7 | 4 | 0 | 0 | 0 | 1 | 40705 | 12 | 11 | 20705 | 705 |
| Z3str4 | 8 (0.0) | 8 | 0 | 0 | 0 | 0 | 4 | 160583 | 12 | 8 | 80583 | 583 |
| Z3str4-seq | 8 (0.0) | 8 | 0 | 0 | 0 | 0 | 4 | 160718 | 12 | 8 | 80718 | 718 |
| Z3str4-nevercf | 8 (0.0) | 8 | 0 | 0 | 0 | 0 | 4 | 160761 | 12 | 8 | 80761 | 761 |
| Z3str4-regex | 8 (0.0) | 8 | 0 | 0 | 0 | 0 | 4 | 160787 | 12 | 8 | 80787 | 787 |
| Z3seq | 8 (0.0) | 8 | 0 | 0 | 0 | 0 | 4 | 160813 | 12 | 8 | 80813 | 813 |
| Z3str4-alwayscf | 7 (0.0) | 7 | 0 | 0 | 0 | 0 | 5 | 201446 | 12 | 7 | 101446 | 1446 |
| Z3str4-arr | 6 (0.0) | 6 | 0 | 0 | 0 | 0 | 6 | 240335 | 12 | 6 | 120335 | 335 |
| Z3str4-virtualBestSolver | 8 (-) | 8 | 0 | 0 | 0 | 0 | 4 | 160569 | 12 | 8 | 80569 | 569 |
| | |
| --- | --- |
| Note | CVC4 had the biggest lead with 1.09 and Z3str4-arr hat the largest contribution with 0.0. Other solvers contributed as follows: CVC4: 0.0,Z3str4-regex: 0.0,Z3str4-nevercf: 0.0,Z3str3: 0.0,Z3str4-seq: 0.0,Z3str4-alwayscf: 0.0,Z3seq: 0.0,Z3str4: 0.0. |
Norn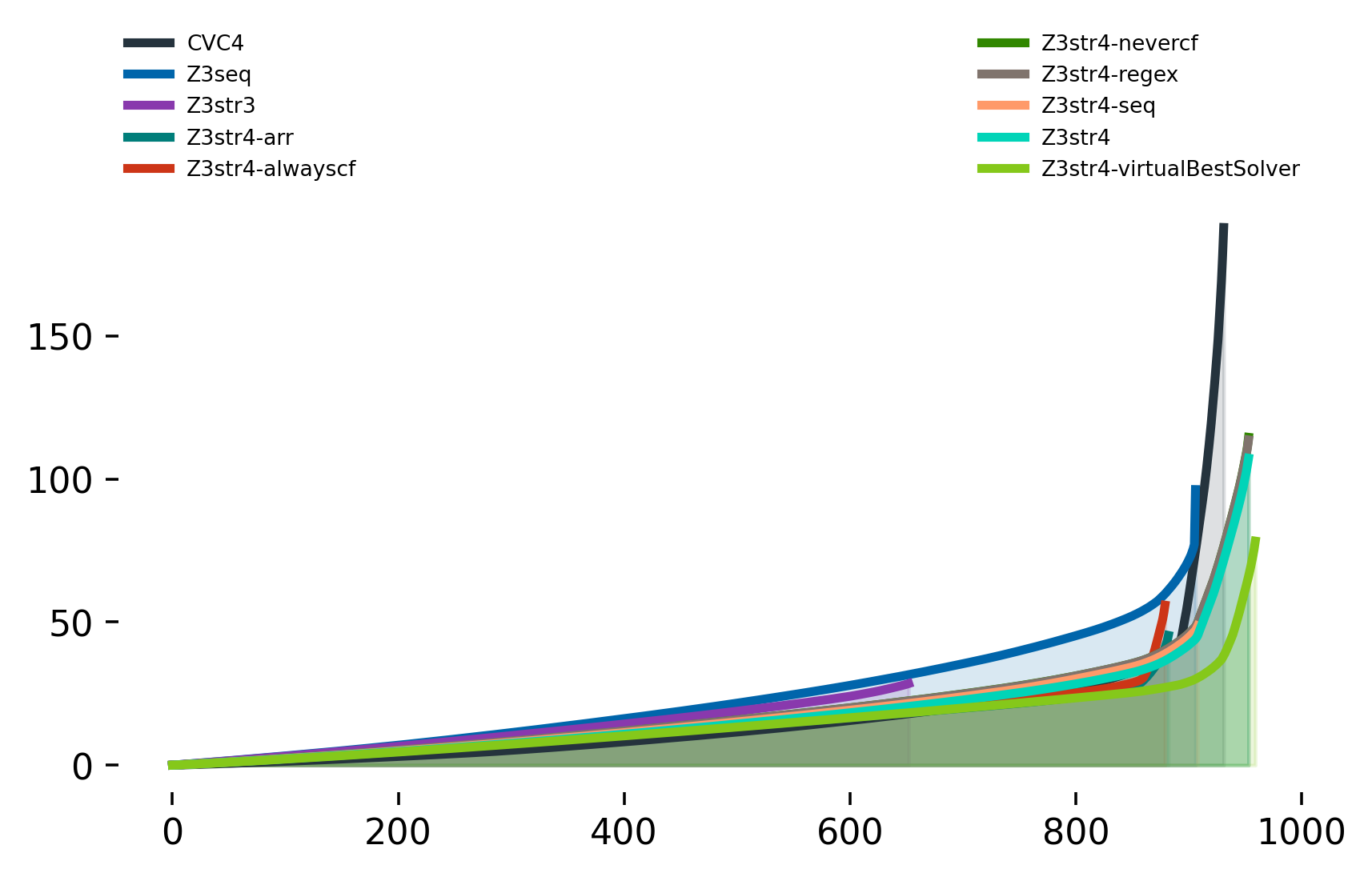 | | | | | | | | | | | | | |
| --- | --- | --- | --- | --- | --- | --- | --- | --- | --- | --- | --- | --- |
| Solver | Cor. class. (contr.) | SAT | UNSAT | UNKN | ERR | CRA | TO | Par2 | Tot. inst. | Tot. inst. w/o TO | Tot. time | Tot. time w/o TO |
| Z3str4 | 954 (0.0) | 712 | 242 | 0 | 0 | 0 | 73 | 3027248 | 1027 | 954 | 1567248 | 107248 |
| Z3str4-regex | 954 (0.0) | 712 | 242 | 0 | 0 | 0 | 73 | 3033649 | 1027 | 954 | 1573649 | 113649 |
| Z3str4-nevercf | 954 (0.0) | 712 | 242 | 0 | 0 | 0 | 73 | 3034548 | 1027 | 954 | 1574548 | 114548 |
| CVC4 | 932 (2.9) | 710 | 222 | 0 | 0 | 0 | 95 | 3987855 | 1027 | 932 | 2087855 | 187855 |
| Z3str4-seq | 909 (0.0) | 712 | 197 | 0 | 0 | 0 | 118 | 4768619 | 1027 | 909 | 2408619 | 48619 |
| Z3seq | 907 (0.0) | 712 | 195 | 0 | 0 | 0 | 120 | 4896291 | 1027 | 907 | 2496291 | 96291 |
| Z3str4-arr | 883 (0.0) | 693 | 190 | 0 | 0 | 0 | 144 | 5805341 | 1027 | 883 | 2925341 | 45341 |
| Z3str4-alwayscf | 880 (0.7) | 693 | 187 | 31 | 0 | 6 | 116 | 5963598 | 1027 | 911 | 2403598 | 83598 |
| Z3str3 | 653 (0.0) | 510 | 143 | 0 | 0 | 0 | 374 | 14988522 | 1027 | 653 | 7508522 | 28522 |
| Z3str4-virtualBestSolver | 960 (-) | 712 | 248 | 9 | 0 | 0 | 58 | 2758293 | 1027 | 969 | 1244077 | 78293 |
| | |
| --- | --- |
| Note | Z3str4 had the biggest lead with 1.0 and CVC4 hat the largest contribution with 2.9. Other solvers contributed as follows: Z3str4-alwayscf: 0.7,Z3str4-arr: 0.0,Z3str4-regex: 0.0,Z3str4-nevercf: 0.0,Z3str3: 0.0,Z3str4-seq: 0.0,Z3seq: 0.0,Z3str4: 0.0. |
Trau Light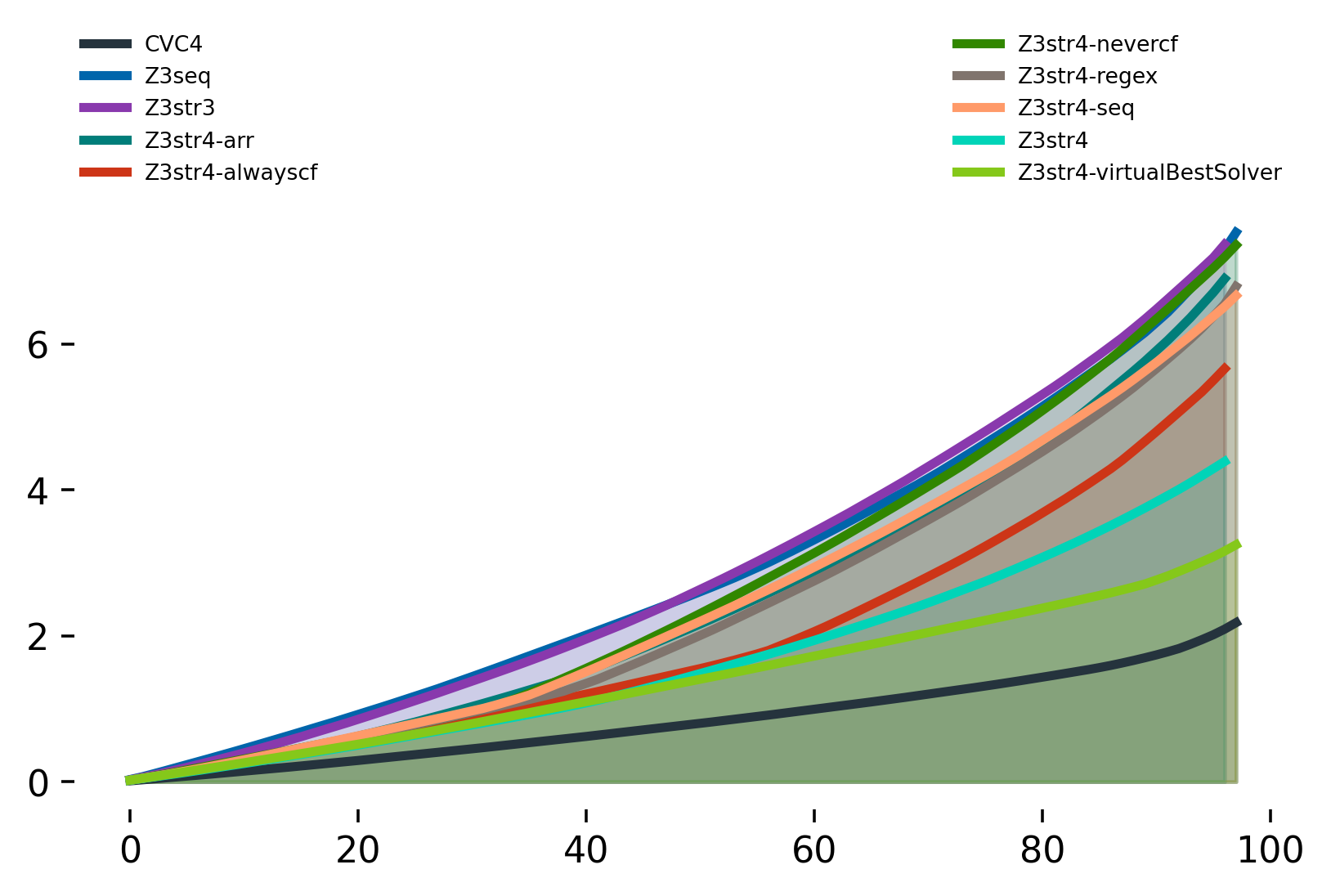 | | | | | | | | | | | | | |
| --- | --- | --- | --- | --- | --- | --- | --- | --- | --- | --- | --- | --- |
| Solver | Cor. class. (contr.) | SAT | UNSAT | UNKN | ERR | CRA | TO | Par2 | Tot. inst. | Tot. inst. w/o TO | Tot. time | Tot. time w/o TO |
| Z3str4-regex | 98 (0.0) | 4 | 94 | 1 | 0 | 0 | 1 | 92966 | 100 | 99 | 32966 | 12966 |
| Z3str4-nevercf | 98 (0.0) | 4 | 94 | 1 | 0 | 0 | 1 | 93787 | 100 | 99 | 33787 | 13787 |
| CVC4 | 98 (0.0) | 4 | 94 | 0 | 0 | 0 | 2 | 82180 | 100 | 98 | 42180 | 2180 |
| Z3str4-seq | 98 (0.0) | 4 | 94 | 0 | 0 | 0 | 2 | 86661 | 100 | 98 | 46661 | 6661 |
| Z3seq | 98 (0.0) | 4 | 94 | 0 | 0 | 0 | 2 | 87527 | 100 | 98 | 47527 | 7527 |
| Z3str4-arr | 97 (0.0) | 4 | 93 | 1 | 0 | 0 | 2 | 133050 | 100 | 98 | 53050 | 13050 |
| Z3str4 | 97 (0.0) | 4 | 93 | 0 | 0 | 0 | 3 | 124388 | 100 | 97 | 64388 | 4388 |
| Z3str4-alwayscf | 97 (0.0) | 4 | 93 | 0 | 0 | 0 | 3 | 125660 | 100 | 97 | 65660 | 5660 |
| Z3str3 | 97 (0.0) | 4 | 93 | 0 | 0 | 0 | 3 | 127363 | 100 | 97 | 67363 | 7363 |
| Z3str4-virtualBestSolver | 98 (-) | 4 | 94 | 1 | 0 | 0 | 1 | 83247 | 100 | 99 | 29427 | 3247 |
| | |
| --- | --- |
| Note | Z3str4-regex had the biggest lead with 1.0 and Z3str4-arr hat the largest contribution with 0.0. Other solvers contributed as follows: CVC4: 0.0,Z3str4-regex: 0.0,Z3str4-nevercf: 0.0,Z3str3: 0.0,Z3str4-seq: 0.0,Z3str4-alwayscf: 0.0,Z3seq: 0.0,Z3str4: 0.0. |
Leetcode Strings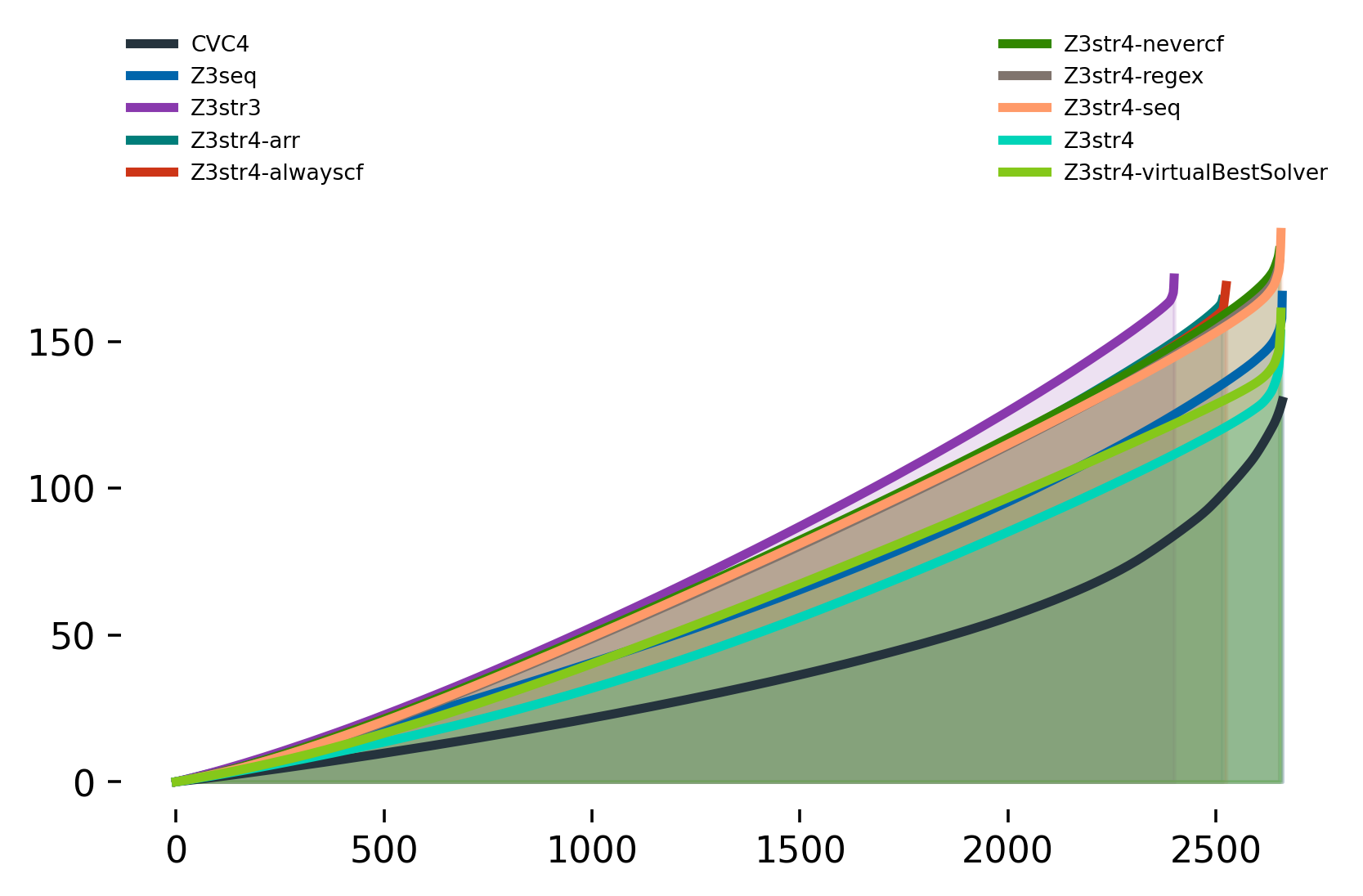 | | | | | | | | | | | | | |
| --- | --- | --- | --- | --- | --- | --- | --- | --- | --- | --- | --- | --- |
| Solver | Cor. class. (contr.) | SAT | UNSAT | UNKN | ERR | CRA | TO | Par2 | Tot. inst. | Tot. inst. w/o TO | Tot. time | Tot. time w/o TO |
| CVC4 | 2661 (0.0) | 850 | 1811 | 0 | 0 | 0 | 0 | 129591 | 2661 | 2661 | 129591 | 129591 |
| Z3seq | 2661 (0.0) | 850 | 1811 | 0 | 0 | 0 | 0 | 165675 | 2661 | 2661 | 165675 | 165675 |
| Z3str4-seq | 2658 (0.0) | 847 | 1811 | 0 | 0 | 0 | 3 | 307091 | 2661 | 2658 | 247091 | 187091 |
| Z3str4 | 2657 (0.0) | 846 | 1811 | 1 | 0 | 0 | 3 | 312633 | 2661 | 2658 | 212633 | 152633 |
| Z3str4-regex | 2654 (0.0) | 843 | 1811 | 0 | 0 | 0 | 7 | 456843 | 2661 | 2654 | 316843 | 176843 |
| Z3str4-nevercf | 2654 (0.0) | 843 | 1811 | 0 | 0 | 0 | 7 | 460782 | 2661 | 2654 | 320782 | 180782 |
| Z3str4-alwayscf | 2526 (0.0) | 715 | 1811 | 33 | 0 | 0 | 102 | 5590085 | 2661 | 2559 | 2230085 | 190085 |
| Z3str4-arr | 2517 (0.0) | 706 | 1811 | 14 | 0 | 0 | 130 | 5962291 | 2661 | 2531 | 2802291 | 202291 |
| Z3str3 | 2401 (0.0) | 590 | 1811 | 126 | 0 | 0 | 134 | 10580725 | 2661 | 2527 | 2860725 | 180725 |
| Z3str4-virtualBestSolver | 2658 (-) | 847 | 1811 | 0 | 0 | 0 | 3 | 279949 | 2661 | 2658 | 219949 | 159949 |
| | |
| --- | --- |
| Note | CVC4 had the biggest lead with 1.0 and Z3str4-arr hat the largest contribution with 0.0. Other solvers contributed as follows: CVC4: 0.0,Z3str4-regex: 0.0,Z3str4-nevercf: 0.0,Z3str3: 0.0,Z3str4-seq: 0.0,Z3str4-alwayscf: 0.0,Z3seq: 0.0,Z3str4: 0.0. |
IBM Appscan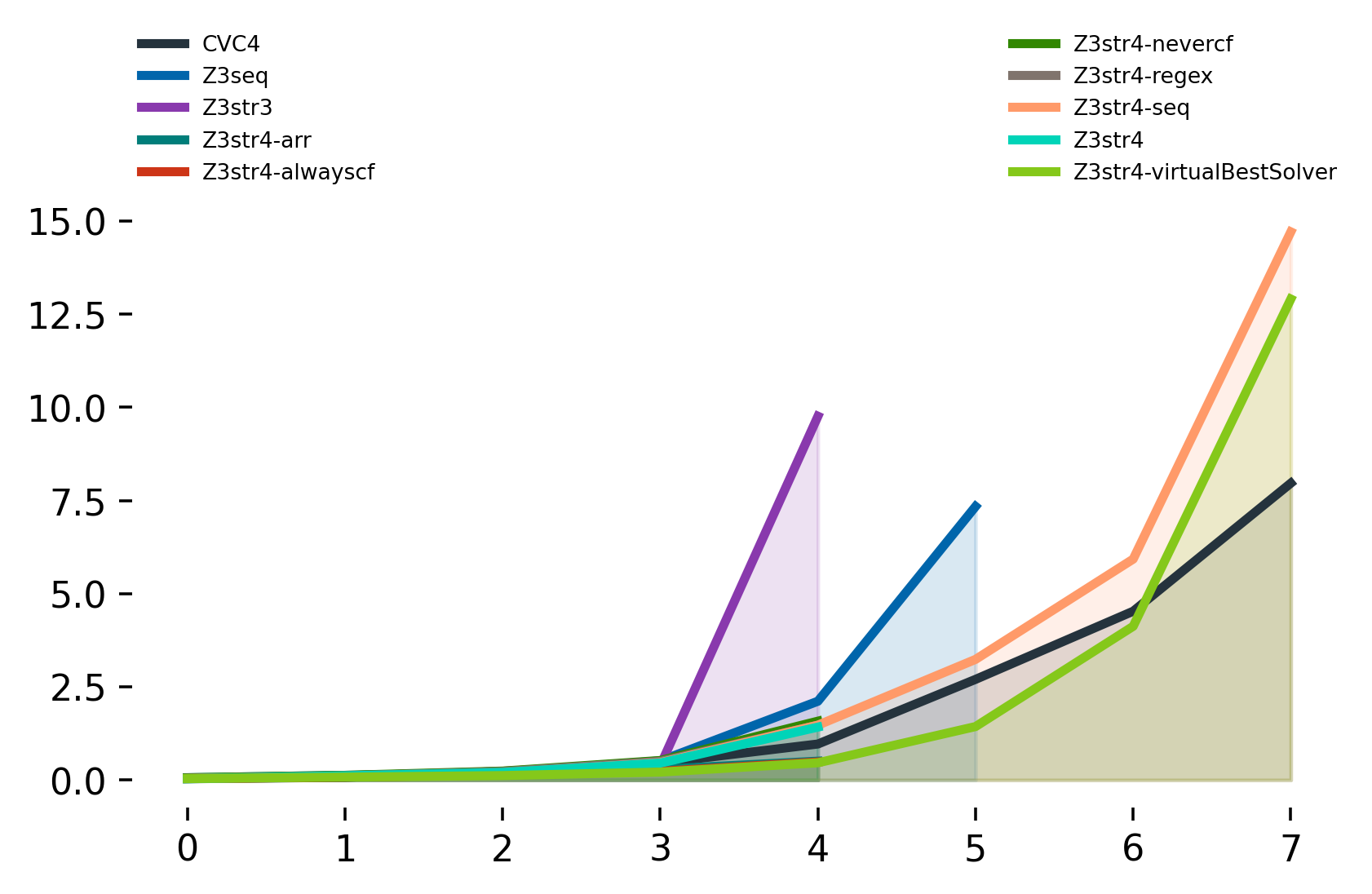 | | | | | | | | | | | | | |
| --- | --- | --- | --- | --- | --- | --- | --- | --- | --- | --- | --- | --- |
| Solver | Cor. class. (contr.) | SAT | UNSAT | UNKN | ERR | CRA | TO | Par2 | Tot. inst. | Tot. inst. w/o TO | Tot. time | Tot. time w/o TO |
| CVC4 | 8 (0.0) | 8 | 0 | 0 | 0 | 0 | 0 | 7967 | 8 | 8 | 7967 | 7967 |
| Z3str4-seq | 8 (0.0) | 8 | 0 | 0 | 0 | 0 | 0 | 14710 | 8 | 8 | 14710 | 14710 |
| Z3seq | 6 (0.0) | 6 | 0 | 0 | 0 | 0 | 2 | 87342 | 8 | 6 | 47342 | 7342 |
| Z3str4-alwayscf | 5 (0.0) | 5 | 0 | 0 | 0 | 0 | 3 | 120484 | 8 | 5 | 60484 | 484 |
| Z3str4-arr | 5 (0.0) | 5 | 0 | 0 | 0 | 0 | 3 | 120506 | 8 | 5 | 60506 | 506 |
| Z3str4 | 5 (0.0) | 5 | 0 | 0 | 0 | 0 | 3 | 121421 | 8 | 5 | 61421 | 1421 |
| Z3str4-regex | 5 (0.0) | 5 | 0 | 0 | 0 | 0 | 3 | 121472 | 8 | 5 | 61472 | 1472 |
| Z3str4-nevercf | 5 (0.0) | 5 | 0 | 0 | 0 | 0 | 3 | 121580 | 8 | 5 | 61580 | 1580 |
| Z3str3 | 5 (0.0) | 5 | 0 | 0 | 0 | 0 | 3 | 129763 | 8 | 5 | 69763 | 9763 |
| Z3str4-virtualBestSolver | 8 (-) | 8 | 0 | 0 | 0 | 0 | 0 | 12907 | 8 | 8 | 12907 | 12907 |
| | |
| --- | --- |
| Note | CVC4 had the biggest lead with 1.0 and Z3str4-arr hat the largest contribution with 0.0. Other solvers contributed as follows: CVC4: 0.0,Z3str4-regex: 0.0,Z3str4-nevercf: 0.0,Z3str3: 0.0,Z3str4-seq: 0.0,Z3str4-alwayscf: 0.0,Z3seq: 0.0,Z3str4: 0.0. |
Sloth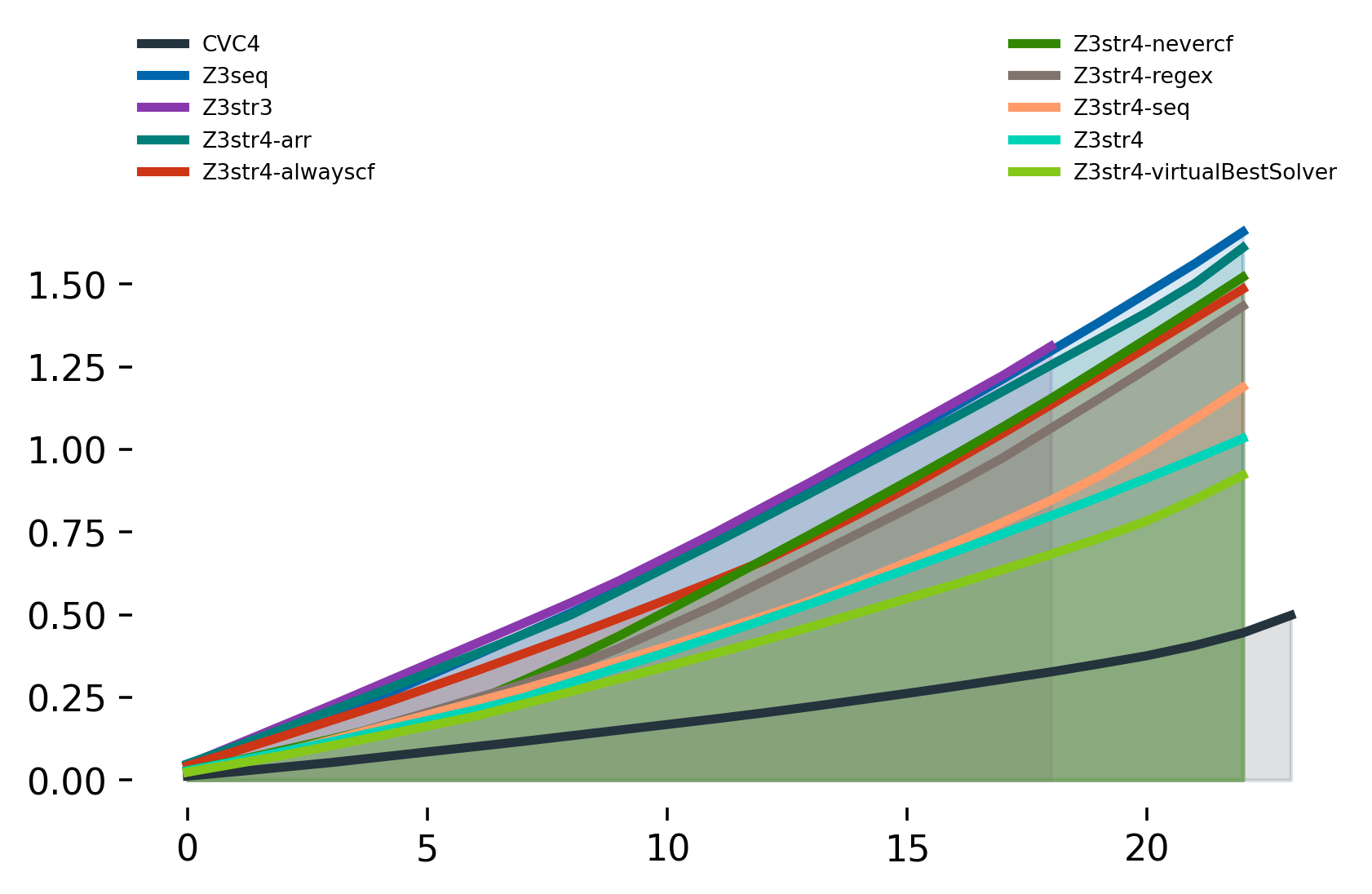 | | | | | | | | | | | | | |
| --- | --- | --- | --- | --- | --- | --- | --- | --- | --- | --- | --- | --- |
| Solver | Cor. class. (contr.) | SAT | UNSAT | UNKN | ERR | CRA | TO | Par2 | Tot. inst. | Tot. inst. w/o TO | Tot. time | Tot. time w/o TO |
| CVC4 | 24 (0.11) | 10 | 14 | 0 | 0 | 0 | 0 | 498 | 24 | 24 | 498 | 498 |
| Z3str4 | 23 (0.0) | 10 | 13 | 0 | 0 | 0 | 1 | 41033 | 24 | 23 | 21033 | 1033 |
| Z3str4-seq | 23 (0.0) | 10 | 13 | 0 | 0 | 0 | 1 | 41188 | 24 | 23 | 21188 | 1188 |
| Z3str4-regex | 23 (0.0) | 10 | 13 | 0 | 0 | 0 | 1 | 41433 | 24 | 23 | 21433 | 1433 |
| Z3str4-alwayscf | 23 (0.0) | 10 | 13 | 0 | 0 | 0 | 1 | 41485 | 24 | 23 | 21485 | 1485 |
| Z3str4-nevercf | 23 (0.0) | 10 | 13 | 0 | 0 | 0 | 1 | 41521 | 24 | 23 | 21521 | 1521 |
| Z3str4-arr | 23 (0.0) | 10 | 13 | 0 | 0 | 0 | 1 | 41610 | 24 | 23 | 21610 | 1610 |
| Z3seq | 23 (0.0) | 10 | 13 | 0 | 0 | 0 | 1 | 41658 | 24 | 23 | 21658 | 1658 |
| Z3str3 | 19 (0.0) | 9 | 10 | 0 | 0 | 0 | 5 | 201312 | 24 | 19 | 101312 | 1312 |
| Z3str4-virtualBestSolver | 23 (-) | 10 | 13 | 0 | 0 | 0 | 1 | 40922 | 24 | 23 | 20922 | 922 |
| | |
| --- | --- |
| Note | CVC4 had the biggest lead with 1.04 and CVC4 hat the largest contribution with 0.11. Other solvers contributed as follows: Z3str4-arr: 0.0,Z3str4-regex: 0.0,Z3str4-nevercf: 0.0,Z3str3: 0.0,Z3str4-seq: 0.0,Z3str4-alwayscf: 0.0,Z3seq: 0.0,Z3str4: 0.0. |
Woorpje Word Equations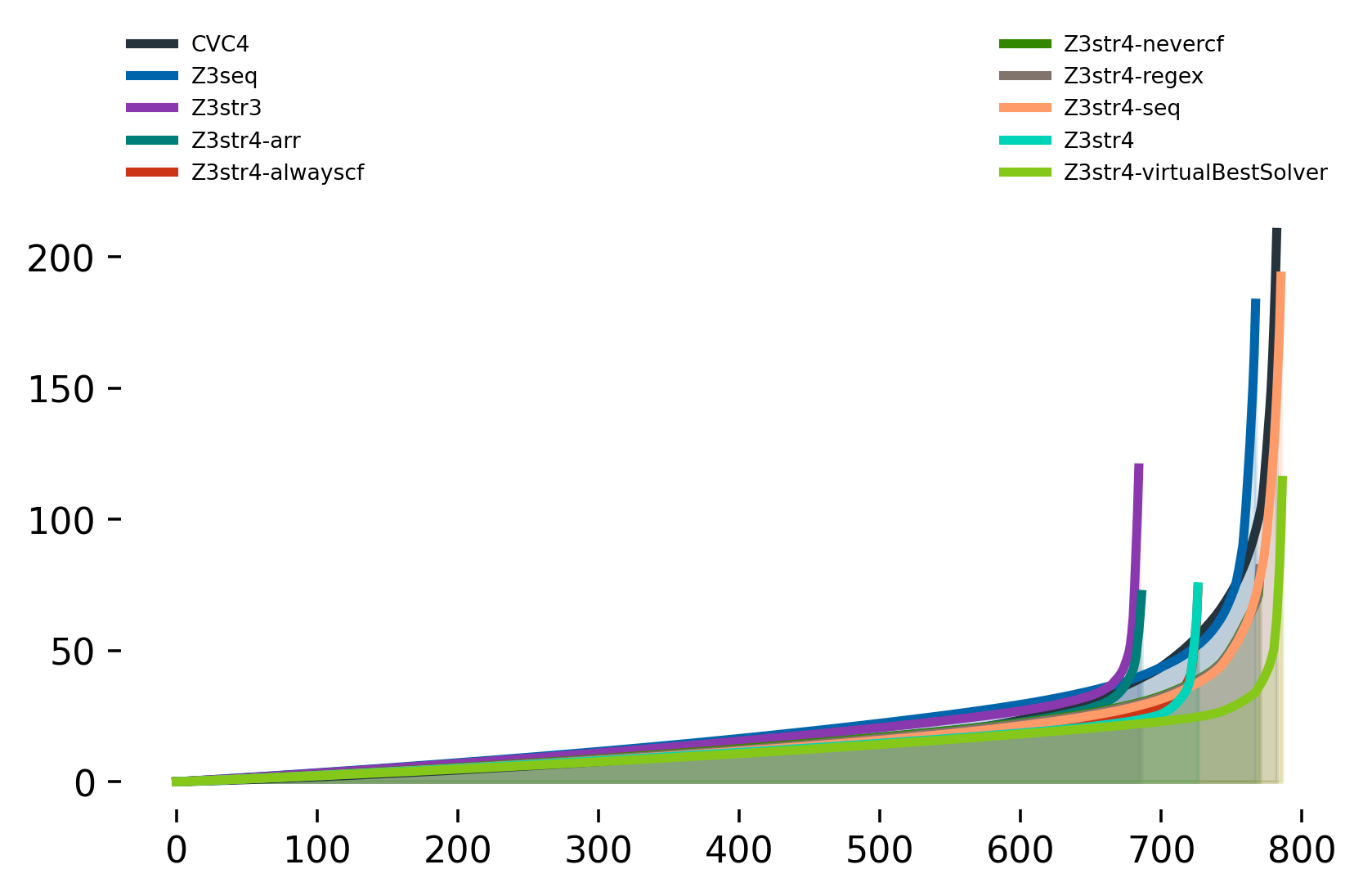 | | | | | | | | | | | | | |
| --- | --- | --- | --- | --- | --- | --- | --- | --- | --- | --- | --- | --- |
| Solver | Cor. class. (contr.) | SAT | UNSAT | UNKN | ERR | CRA | TO | Par2 | Tot. inst. | Tot. inst. w/o TO | Tot. time | Tot. time w/o TO |
| Z3str4-seq | 786 (0.23) | 622 | 164 | 0 | 0 | 0 | 23 | 1112740 | 809 | 786 | 652740 | 192740 |
| CVC4 | 783 (0.23) | 619 | 164 | 0 | 0 | 0 | 26 | 1249396 | 809 | 783 | 729396 | 209396 |
| Z3seq | 768 (0.0) | 604 | 164 | 0 | 0 | 0 | 41 | 1822419 | 809 | 768 | 1002419 | 182419 |
| Z3str4-alwayscf | 727 (0.0) | 563 | 164 | 0 | 0 | 0 | 82 | 3353284 | 809 | 727 | 1713284 | 73284 |
| Z3str4 | 727 (0.0) | 563 | 164 | 0 | 0 | 0 | 82 | 3354318 | 809 | 727 | 1714318 | 74318 |
| Z3str4-regex | 771 (0.0) | 607 | 166 | 8 | 2 | 0 | 28 | 1857227 | 809 | 781 | 697227 | 137227 |
| Z3str4-nevercf | 771 (0.0) | 607 | 167 | 8 | 3 | 0 | 27 | 1958551 | 809 | 782 | 678551 | 138551 |
| Z3str4-arr | 687 (0.0) | 523 | 172 | 11 | 8 | 0 | 103 | 5819968 | 809 | 706 | 2199968 | 139968 |
| Z3str3 | 685 (0.0) | 522 | 171 | 14 | 8 | 0 | 102 | 5925016 | 809 | 707 | 2205016 | 165016 |
| Z3str4-virtualBestSolver | 787 (-) | 623 | 164 | 6 | 0 | 0 | 16 | 994883 | 809 | 793 | 471521 | 114883 |
| | |
| --- | --- |
| Note | Z3str4-seq had the biggest lead with 1.0 and CVC4 hat the largest contribution with 0.23. Other solvers contributed as follows: Z3str4-seq: 0.23,Z3str4-arr: 0.0,Z3str4-regex: 0.0,Z3str4-nevercf: 0.0,Z3str3: 0.0,Z3str4-alwayscf: 0.0,Z3seq: 0.0,Z3str4: 0.0. |
Kaluza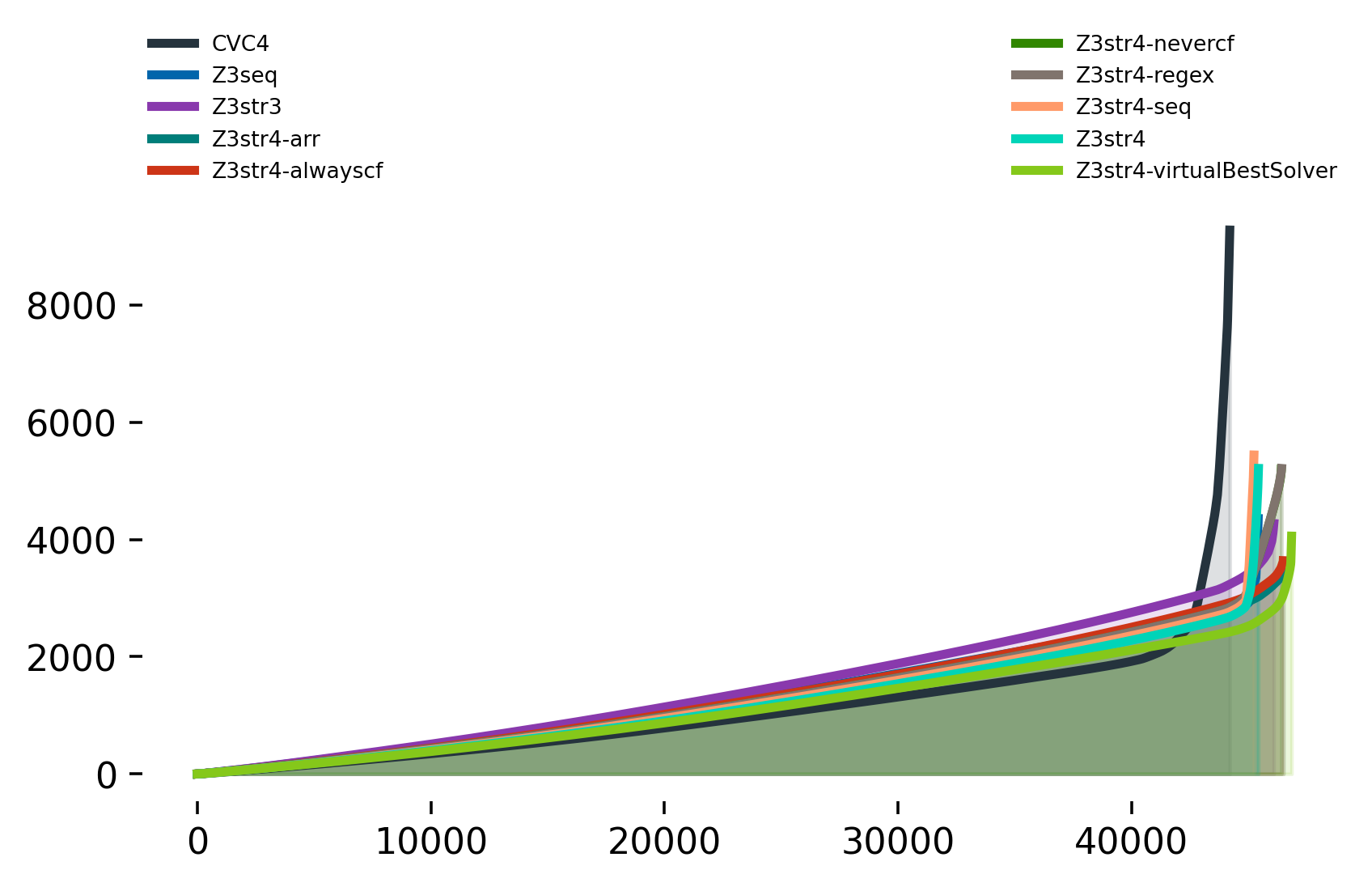 | | | | | | | | | | | | | |
| --- | --- | --- | --- | --- | --- | --- | --- | --- | --- | --- | --- | --- |
| Solver | Cor. class. (contr.) | SAT | UNSAT | UNKN | ERR | CRA | TO | Par2 | Tot. inst. | Tot. inst. w/o TO | Tot. time | Tot. time w/o TO |
| Z3str4-arr | 46526 (0.45) | 34539 | 11987 | 99 | 0 | 0 | 659 | 34304368 | 47284 | 46625 | 17164368 | 3984368 |
| Z3str4-alwayscf | 46507 (0.0) | 34519 | 11988 | 30 | 0 | 0 | 747 | 34737117 | 47284 | 46537 | 18597117 | 3657117 |
| Z3str4-regex | 46432 (6.16) | 34446 | 11986 | 120 | 0 | 0 | 732 | 40174612 | 47284 | 46552 | 20734612 | 6094612 |
| Z3str4-nevercf | 46422 (4.92) | 34437 | 11985 | 134 | 0 | 0 | 728 | 40779971 | 47284 | 46556 | 20859971 | 6299971 |
| Z3str3 | 46102 (2.8) | 34303 | 11799 | 215 | 0 | 0 | 967 | 51598350 | 47284 | 46317 | 23658350 | 4318350 |
| Z3str4 | 45444 (0.67) | 33458 | 11986 | 64 | 0 | 0 | 1776 | 79420496 | 47284 | 45508 | 41340496 | 5820496 |
| Z3seq | 45431 (0.0) | 33787 | 11644 | 0 | 0 | 0 | 1853 | 78476060 | 47284 | 45431 | 41416060 | 4356060 |
| Z3str4-seq | 45251 (0.0) | 33452 | 11799 | 0 | 0 | 0 | 2033 | 86761363 | 47284 | 45251 | 46101363 | 5441363 |
| CVC4 | 44215 (0.0) | 32389 | 11826 | 0 | 0 | 0 | 3069 | 132038767 | 47284 | 44215 | 70658767 | 9278767 |
| Z3str4-virtualBestSolver | 46862 (-) | 34874 | 11988 | 139 | 0 | 0 | 283 | 20937152 | 47284 | 47001 | 10995496 | 4057152 |
| | |
| --- | --- |
| Note | Z3str4-arr had the biggest lead with 1.0 and Z3str4-regex hat the largest contribution with 6.16. Other solvers contributed as follows: Z3str4-nevercf: 4.92,Z3str3: 2.8,Z3str4: 0.67,Z3str4-arr: 0.45,CVC4: 0.0,Z3str4-seq: 0.0,Z3str4-alwayscf: 0.0,Z3seq: 0.0. |
StringFuzz
| | | | | | | | | | | | | |
| --- | --- | --- | --- | --- | --- | --- | --- | --- | --- | --- | --- | --- |
| Solver | Cor. class. (contr.) | SAT | UNSAT | UNKN | ERR | CRA | TO | Par2 | Tot. inst. | Tot. inst. w/o TO | Tot. time | Tot. time w/o TO |
| Z3str4-alwayscf | 1004 (0.0) | 702 | 302 | 0 | 0 | 0 | 61 | 2738984 | 1065 | 1004 | 1518984 | 298984 |
| Z3str4-regex | 938 (0.0) | 715 | 223 | 17 | 0 | 0 | 110 | 6395416 | 1065 | 955 | 3515416 | 1315416 |
| Z3str4-nevercf | 937 (0.0) | 714 | 223 | 17 | 0 | 0 | 111 | 6460086 | 1065 | 954 | 3560086 | 1340086 |
| Z3str4-arr | 890 (0.0) | 662 | 228 | 0 | 0 | 0 | 175 | 7388595 | 1065 | 890 | 3888595 | 388595 |
| Z3str3 | 792 (0.0) | 606 | 186 | 3 | 0 | 0 | 270 | 11181513 | 1065 | 795 | 5661513 | 261513 |
| CVC4 | 741 (0.0) | 490 | 251 | 0 | 0 | 0 | 324 | 14167509 | 1065 | 741 | 7687509 | 1207509 |
| Z3str4 | 714 (0.0) | 412 | 302 | 45 | 0 | 0 | 306 | 14595111 | 1065 | 759 | 6675111 | 555111 |
| Z3seq | 567 (0.0) | 354 | 213 | 43 | 0 | 0 | 455 | 20790128 | 1065 | 610 | 9970128 | 870128 |
| Z3str4-seq | 566 (0.0) | 354 | 212 | 43 | 0 | 0 | 456 | 20714495 | 1065 | 609 | 9874495 | 754495 |
| Z3str4-virtualBestSolver | 1058 (-) | 756 | 302 | 0 | 0 | 0 | 7 | 564989 | 1065 | 1058 | 424989 | 284989 |
| | |
| --- | --- |
| Note | Z3str4-alwayscf had the biggest lead with 1.07 and Z3str4-arr hat the largest contribution with 0.0. Other solvers contributed as follows: CVC4: 0.0,Z3str4-regex: 0.0,Z3str4-nevercf: 0.0,Z3str3: 0.0,Z3str4-seq: 0.0,Z3str4-alwayscf: 0.0,Z3seq: 0.0,Z3str4: 0.0. |
z3Str3 Regression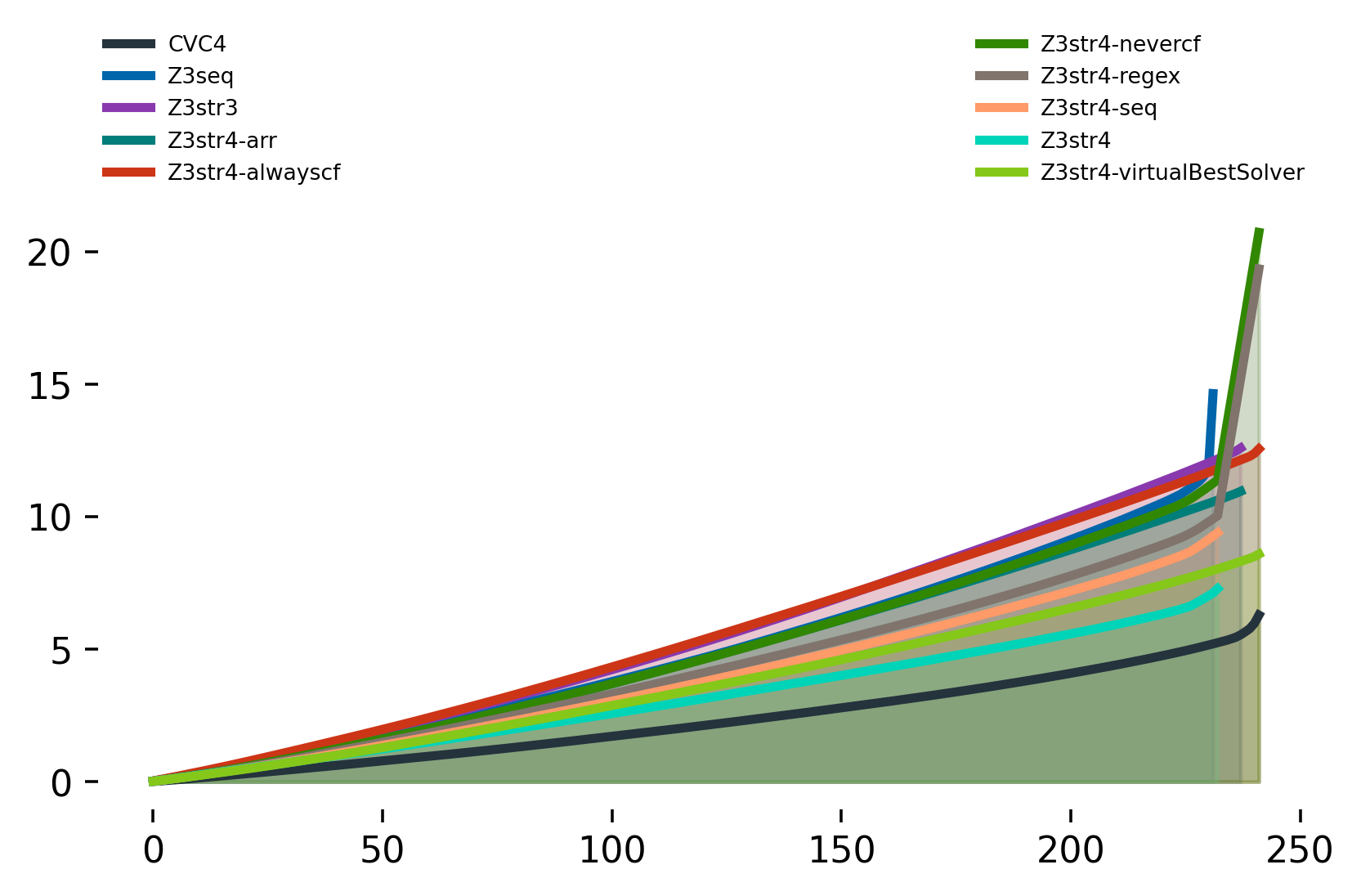 | | | | | | | | | | | | | |
| --- | --- | --- | --- | --- | --- | --- | --- | --- | --- | --- | --- | --- |
| Solver | Cor. class. (contr.) | SAT | UNSAT | UNKN | ERR | CRA | TO | Par2 | Tot. inst. | Tot. inst. w/o TO | Tot. time | Tot. time w/o TO |
| CVC4 | 242 (0.0) | 196 | 46 | 0 | 0 | 0 | 0 | 6288 | 242 | 242 | 6288 | 6288 |
| Z3str4-alwayscf | 242 (0.0) | 196 | 46 | 0 | 0 | 0 | 0 | 12559 | 242 | 242 | 12559 | 12559 |
| Z3str4-regex | 242 (0.0) | 196 | 46 | 0 | 0 | 0 | 0 | 19352 | 242 | 242 | 19352 | 19352 |
| Z3str4-nevercf | 242 (0.0) | 196 | 46 | 0 | 0 | 0 | 0 | 20729 | 242 | 242 | 20729 | 20729 |
| Z3str3 | 238 (0.0) | 194 | 44 | 1 | 0 | 0 | 3 | 172650 | 242 | 239 | 72650 | 12650 |
| Z3str4-arr | 238 (0.0) | 192 | 46 | 0 | 0 | 0 | 4 | 170959 | 242 | 238 | 90959 | 10959 |
| Z3str4 | 233 (0.0) | 196 | 37 | 0 | 0 | 0 | 9 | 367287 | 242 | 233 | 187287 | 7287 |
| Z3str4-seq | 233 (0.0) | 196 | 37 | 0 | 0 | 0 | 9 | 369399 | 242 | 233 | 189399 | 9399 |
| Z3seq | 232 (0.0) | 195 | 37 | 0 | 0 | 0 | 10 | 414648 | 242 | 232 | 214648 | 14648 |
| Z3str4-virtualBestSolver | 242 (-) | 196 | 46 | 0 | 0 | 0 | 0 | 8591 | 242 | 242 | 8591 | 8591 |
| | |
| --- | --- |
| Note | CVC4 had the biggest lead with 1.0 and Z3str4-arr hat the largest contribution with 0.0. Other solvers contributed as follows: CVC4: 0.0,Z3str4-regex: 0.0,Z3str4-nevercf: 0.0,Z3str3: 0.0,Z3str4-seq: 0.0,Z3str4-alwayscf: 0.0,Z3seq: 0.0,Z3str4: 0.0. |
Cashew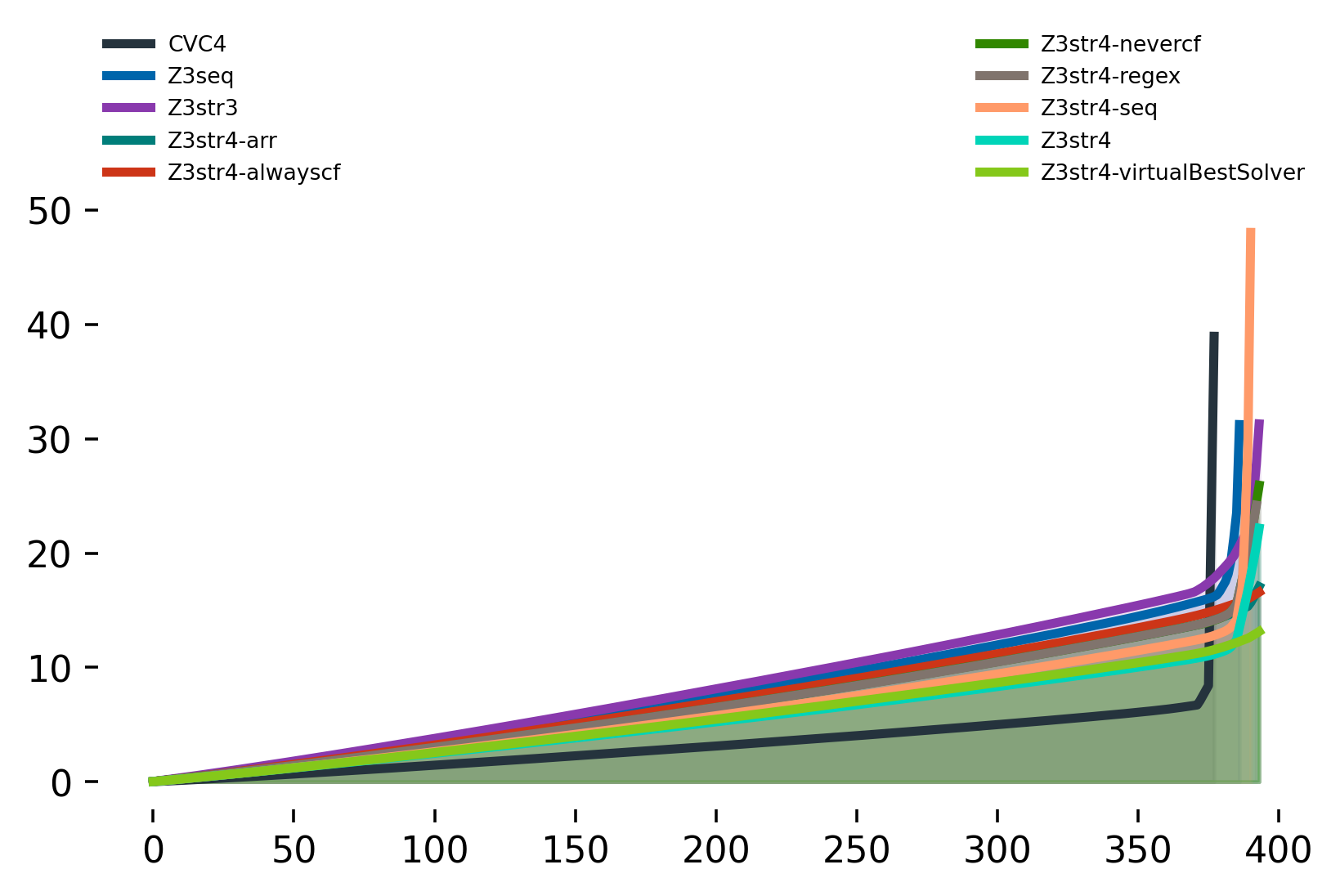 | | | | | | | | | | | | | |
| --- | --- | --- | --- | --- | --- | --- | --- | --- | --- | --- | --- | --- |
| Solver | Cor. class. (contr.) | SAT | UNSAT | UNKN | ERR | CRA | TO | Par2 | Tot. inst. | Tot. inst. w/o TO | Tot. time | Tot. time w/o TO |
| Z3str4-alwayscf | 394 (0.0) | 382 | 12 | 0 | 0 | 0 | 0 | 16588 | 394 | 394 | 16588 | 16588 |
| Z3str4-arr | 394 (0.0) | 382 | 12 | 0 | 0 | 0 | 0 | 17067 | 394 | 394 | 17067 | 17067 |
| Z3str4 | 394 (0.0) | 382 | 12 | 0 | 0 | 0 | 0 | 22184 | 394 | 394 | 22184 | 22184 |
| Z3str4-nevercf | 394 (0.0) | 382 | 12 | 0 | 0 | 0 | 0 | 25939 | 394 | 394 | 25939 | 25939 |
| Z3str3 | 394 (0.0) | 382 | 12 | 0 | 0 | 0 | 0 | 31303 | 394 | 394 | 31303 | 31303 |
| Z3str4-regex | 393 (0.0) | 381 | 12 | 0 | 0 | 0 | 1 | 64193 | 394 | 393 | 44193 | 24193 |
| Z3str4-seq | 391 (0.0) | 379 | 12 | 0 | 0 | 0 | 3 | 168054 | 394 | 391 | 108054 | 48054 |
| Z3seq | 387 (0.0) | 375 | 12 | 0 | 0 | 0 | 7 | 311243 | 394 | 387 | 171243 | 31243 |
| CVC4 | 378 (0.0) | 366 | 12 | 0 | 0 | 0 | 16 | 678968 | 394 | 378 | 358968 | 38968 |
| Z3str4-virtualBestSolver | 394 (-) | 382 | 12 | 0 | 0 | 0 | 0 | 13142 | 394 | 394 | 13142 | 13142 |
| | |
| --- | --- |
| Note | Z3str4-alwayscf had the biggest lead with 1.0 and Z3str4-arr hat the largest contribution with 0.0. Other solvers contributed as follows: CVC4: 0.0,Z3str4-regex: 0.0,Z3str4-nevercf: 0.0,Z3str3: 0.0,Z3str4-seq: 0.0,Z3str4-alwayscf: 0.0,Z3seq: 0.0,Z3str4: 0.0. |
JOACO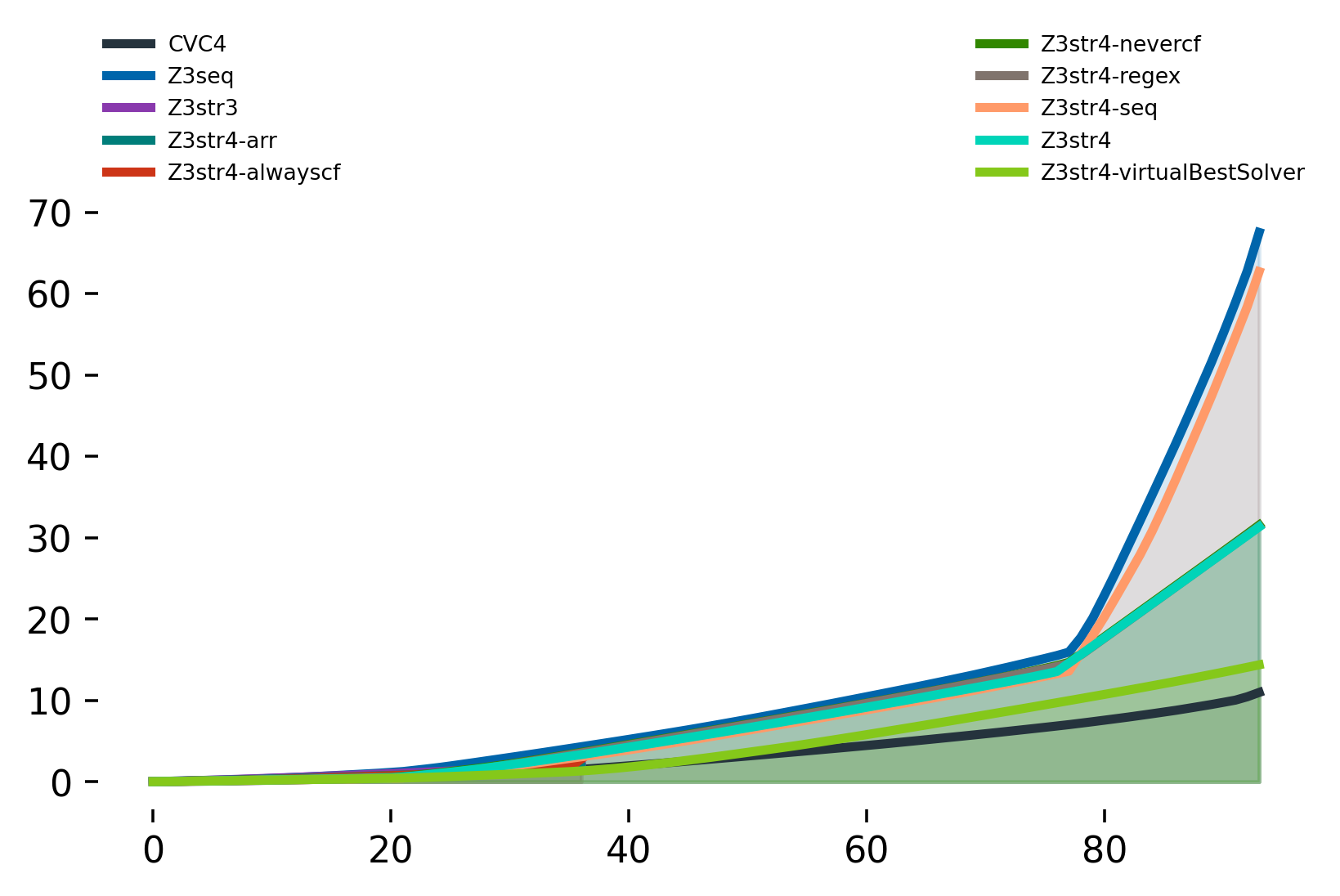 | | | | | | | | | | | | | |
| --- | --- | --- | --- | --- | --- | --- | --- | --- | --- | --- | --- | --- |
| Solver | Cor. class. (contr.) | SAT | UNSAT | UNKN | ERR | CRA | TO | Par2 | Tot. inst. | Tot. inst. w/o TO | Tot. time | Tot. time w/o TO |
| CVC4 | 94 (0.0) | 73 | 21 | 0 | 0 | 0 | 0 | 10979 | 94 | 94 | 10979 | 10979 |
| Z3str4 | 94 (0.0) | 73 | 21 | 0 | 0 | 0 | 0 | 31331 | 94 | 94 | 31331 | 31331 |
| Z3str4-regex | 94 (0.0) | 73 | 21 | 0 | 0 | 0 | 0 | 31381 | 94 | 94 | 31381 | 31381 |
| Z3str4-nevercf | 94 (0.0) | 73 | 21 | 0 | 0 | 0 | 0 | 31548 | 94 | 94 | 31548 | 31548 |
| Z3str4-seq | 94 (0.0) | 73 | 21 | 0 | 0 | 0 | 0 | 62700 | 94 | 94 | 62700 | 62700 |
| Z3seq | 94 (0.0) | 73 | 21 | 0 | 0 | 0 | 0 | 67521 | 94 | 94 | 67521 | 67521 |
| Z3str4-arr | 37 (0.0) | 17 | 20 | 57 | 0 | 0 | 0 | 2284465 | 94 | 94 | 4465 | 4465 |
| Z3str4-alwayscf | 37 (0.0) | 17 | 20 | 57 | 0 | 0 | 0 | 2285500 | 94 | 94 | 5500 | 5500 |
| Z3str3 | 37 (0.0) | 17 | 20 | 57 | 0 | 0 | 0 | 2285867 | 94 | 94 | 5867 | 5867 |
| Z3str4-virtualBestSolver | 94 (-) | 73 | 21 | 0 | 0 | 0 | 0 | 14374 | 94 | 94 | 14374 | 14374 |
| | |
| --- | --- |
| Note | CVC4 had the biggest lead with 1.0 and Z3str4-arr hat the largest contribution with 0.0. Other solvers contributed as follows: CVC4: 0.0,Z3str4-regex: 0.0,Z3str4-nevercf: 0.0,Z3str3: 0.0,Z3str4-seq: 0.0,Z3str4-alwayscf: 0.0,Z3seq: 0.0,Z3str4: 0.0. |
Stranger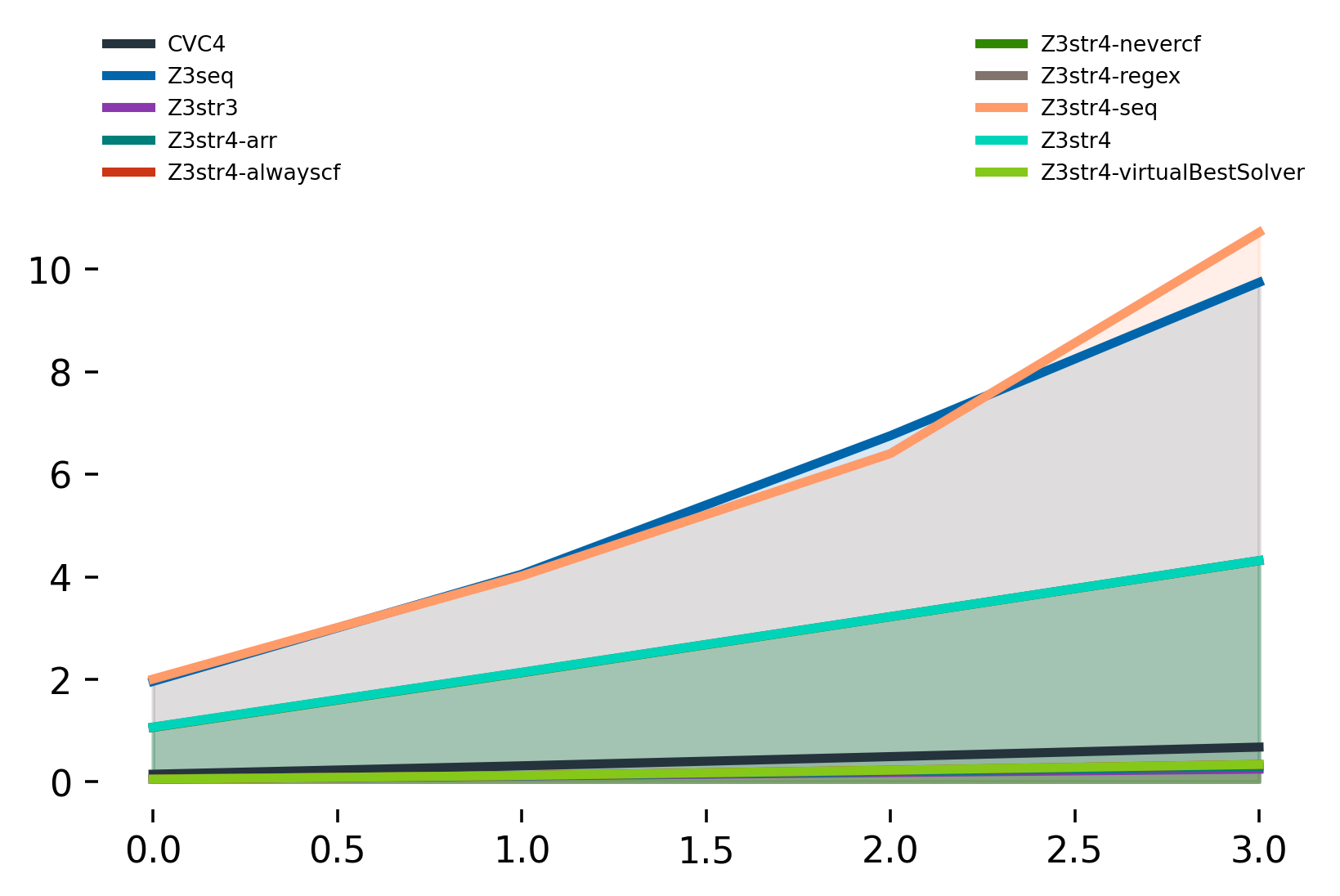 | | | | | | | | | | | | | |
| --- | --- | --- | --- | --- | --- | --- | --- | --- | --- | --- | --- | --- |
| Solver | Cor. class. (contr.) | SAT | UNSAT | UNKN | ERR | CRA | TO | Par2 | Tot. inst. | Tot. inst. w/o TO | Tot. time | Tot. time w/o TO |
| Z3str3 | 4 (0.0) | 4 | 0 | 0 | 0 | 0 | 0 | 246 | 4 | 4 | 246 | 246 |
| Z3str4-arr | 4 (0.0) | 4 | 0 | 0 | 0 | 0 | 0 | 294 | 4 | 4 | 294 | 294 |
| Z3str4-alwayscf | 4 (0.0) | 4 | 0 | 0 | 0 | 0 | 0 | 338 | 4 | 4 | 338 | 338 |
| CVC4 | 4 (0.0) | 4 | 0 | 0 | 0 | 0 | 0 | 677 | 4 | 4 | 677 | 677 |
| Z3str4-nevercf | 4 (0.0) | 4 | 0 | 0 | 0 | 0 | 0 | 4315 | 4 | 4 | 4315 | 4315 |
| Z3str4-regex | 4 (0.0) | 4 | 0 | 0 | 0 | 0 | 0 | 4315 | 4 | 4 | 4315 | 4315 |
| Z3str4 | 4 (0.0) | 4 | 0 | 0 | 0 | 0 | 0 | 4317 | 4 | 4 | 4317 | 4317 |
| Z3seq | 4 (0.0) | 4 | 0 | 0 | 0 | 0 | 0 | 9745 | 4 | 4 | 9745 | 9745 |
| Z3str4-seq | 4 (0.0) | 4 | 0 | 0 | 0 | 0 | 0 | 10721 | 4 | 4 | 10721 | 10721 |
| Z3str4-virtualBestSolver | 4 (-) | 4 | 0 | 0 | 0 | 0 | 0 | 338 | 4 | 4 | 338 | 338 |
| | |
| --- | --- |
| Note | Z3str3 had the biggest lead with 1.0 and Z3str4-arr hat the largest contribution with 0.0. Other solvers contributed as follows: CVC4: 0.0,Z3str4-regex: 0.0,Z3str4-nevercf: 0.0,Z3str3: 0.0,Z3str4-seq: 0.0,Z3str4-alwayscf: 0.0,Z3seq: 0.0,Z3str4: 0.0. |
Kausler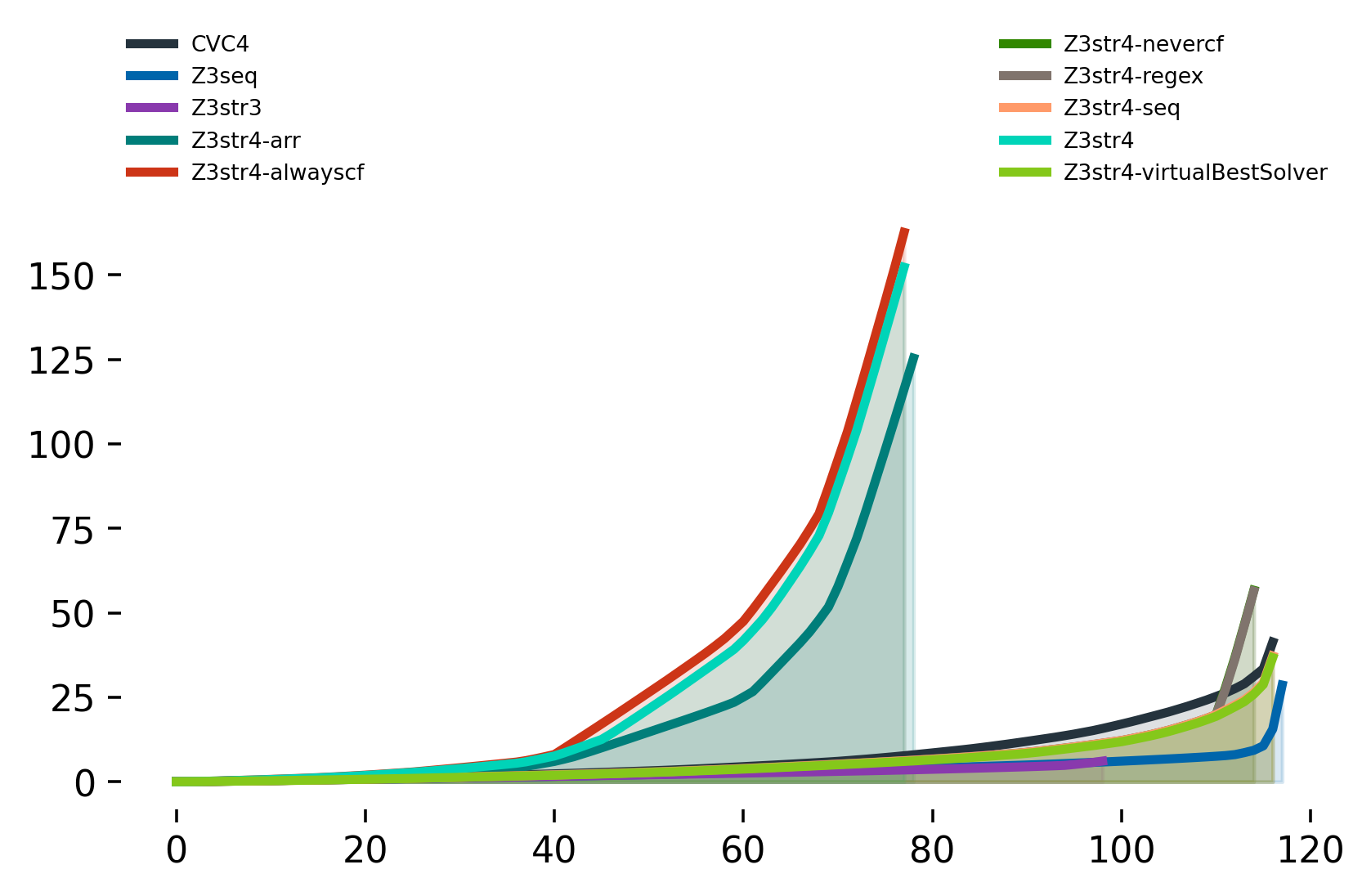 | | | | | | | | | | | | | |
| --- | --- | --- | --- | --- | --- | --- | --- | --- | --- | --- | --- | --- |
| Solver | Cor. class. (contr.) | SAT | UNSAT | UNKN | ERR | CRA | TO | Par2 | Tot. inst. | Tot. inst. w/o TO | Tot. time | Tot. time w/o TO |
| Z3seq | 118 (0.11) | 118 | 0 | 0 | 0 | 0 | 2 | 108625 | 120 | 118 | 68625 | 28625 |
| Z3str4-seq | 117 (0.0) | 117 | 0 | 0 | 0 | 0 | 3 | 157238 | 120 | 117 | 97238 | 37238 |
| CVC4 | 117 (0.0) | 117 | 0 | 0 | 0 | 0 | 3 | 161353 | 120 | 117 | 101353 | 41353 |
| Z3str4-regex | 115 (0.0) | 115 | 0 | 0 | 0 | 0 | 5 | 256434 | 120 | 115 | 156434 | 56434 |
| Z3str4-nevercf | 115 (0.0) | 115 | 0 | 0 | 0 | 0 | 5 | 256676 | 120 | 115 | 156676 | 56676 |
| Z3str3 | 99 (0.0) | 99 | 0 | 0 | 0 | 0 | 21 | 846127 | 120 | 99 | 426127 | 6127 |
| Z3str4-arr | 79 (0.0) | 79 | 0 | 5 | 0 | 0 | 36 | 1772295 | 120 | 84 | 852295 | 132295 |
| Z3str4 | 78 (0.0) | 78 | 0 | 7 | 0 | 0 | 35 | 1845602 | 120 | 85 | 865602 | 165602 |
| Z3str4-alwayscf | 78 (0.0) | 78 | 0 | 7 | 0 | 0 | 35 | 1855913 | 120 | 85 | 875913 | 175913 |
| Z3str4-virtualBestSolver | 117 (-) | 117 | 0 | 0 | 0 | 0 | 3 | 156744 | 120 | 117 | 96744 | 36744 |
| | |
| --- | --- |
| Note | Z3seq had the biggest lead with 1.01 and Z3seq hat the largest contribution with 0.11. Other solvers contributed as follows: Z3str4-arr: 0.0,CVC4: 0.0,Z3str4-regex: 0.0,Z3str4-nevercf: 0.0,Z3str3: 0.0,Z3str4-seq: 0.0,Z3str4-alwayscf: 0.0,Z3str4: 0.0. |
BanditFuzz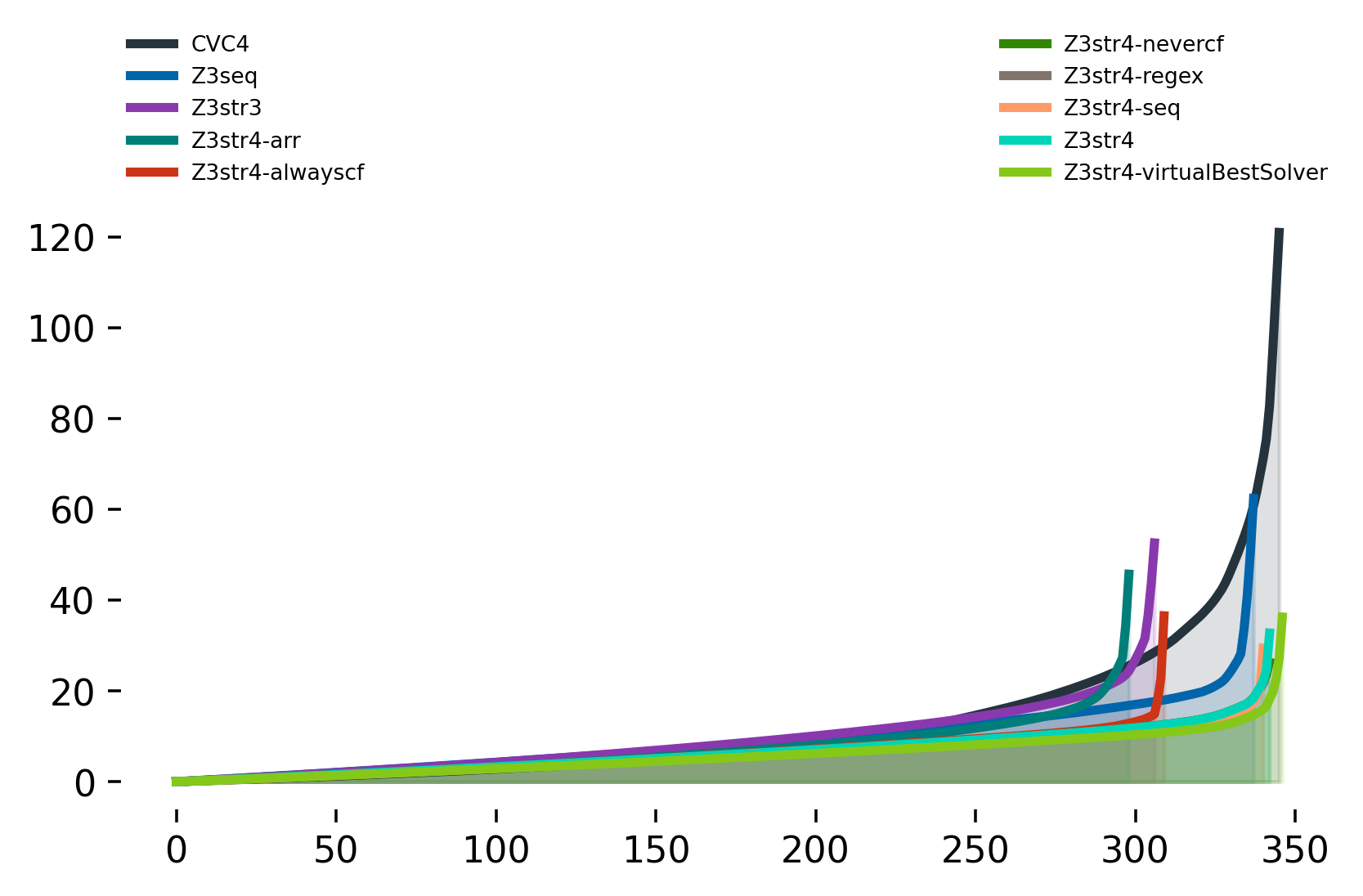 | | | | | | | | | | | | | |
| --- | --- | --- | --- | --- | --- | --- | --- | --- | --- | --- | --- | --- |
| Solver | Cor. class. (contr.) | SAT | UNSAT | UNKN | ERR | CRA | TO | Par2 | Tot. inst. | Tot. inst. w/o TO | Tot. time | Tot. time w/o TO |
| CVC4 | 346 (0.78) | 63 | 283 | 0 | 0 | 0 | 11 | 561044 | 357 | 346 | 341044 | 121044 |
| Z3str4-nevercf | 343 (0.0) | 51 | 292 | 0 | 0 | 0 | 14 | 586328 | 357 | 343 | 306328 | 26328 |
| Z3str4 | 343 (0.0) | 53 | 290 | 0 | 0 | 0 | 14 | 592769 | 357 | 343 | 312769 | 32769 |
| Z3str4-regex | 341 (0.0) | 49 | 292 | 0 | 0 | 0 | 16 | 661688 | 357 | 341 | 341688 | 21688 |
| Z3str4-seq | 341 (0.0) | 51 | 290 | 1 | 0 | 0 | 15 | 686748 | 357 | 342 | 346748 | 46748 |
| Z3seq | 338 (0.0) | 47 | 291 | 0 | 0 | 0 | 19 | 822453 | 357 | 338 | 442453 | 62453 |
| Z3str4-alwayscf | 310 (0.0) | 25 | 285 | 5 | 0 | 0 | 42 | 1922081 | 357 | 315 | 882081 | 42081 |
| Z3str3 | 307 (0.0) | 20 | 287 | 0 | 0 | 0 | 50 | 2052628 | 357 | 307 | 1052628 | 52628 |
| Z3str4-arr | 299 (0.0) | 14 | 285 | 5 | 0 | 0 | 53 | 2371549 | 357 | 304 | 1111549 | 51549 |
| Z3str4-virtualBestSolver | 347 (-) | 55 | 292 | 1 | 0 | 0 | 9 | 436301 | 357 | 348 | 233599 | 36301 |
| | |
| --- | --- |
| Note | CVC4 had the biggest lead with 1.01 and CVC4 hat the largest contribution with 0.78. Other solvers contributed as follows: Z3str4-arr: 0.0,Z3str4-regex: 0.0,Z3str4-nevercf: 0.0,Z3str3: 0.0,Z3str4-seq: 0.0,Z3str4-alwayscf: 0.0,Z3seq: 0.0,Z3str4: 0.0. |
automatark25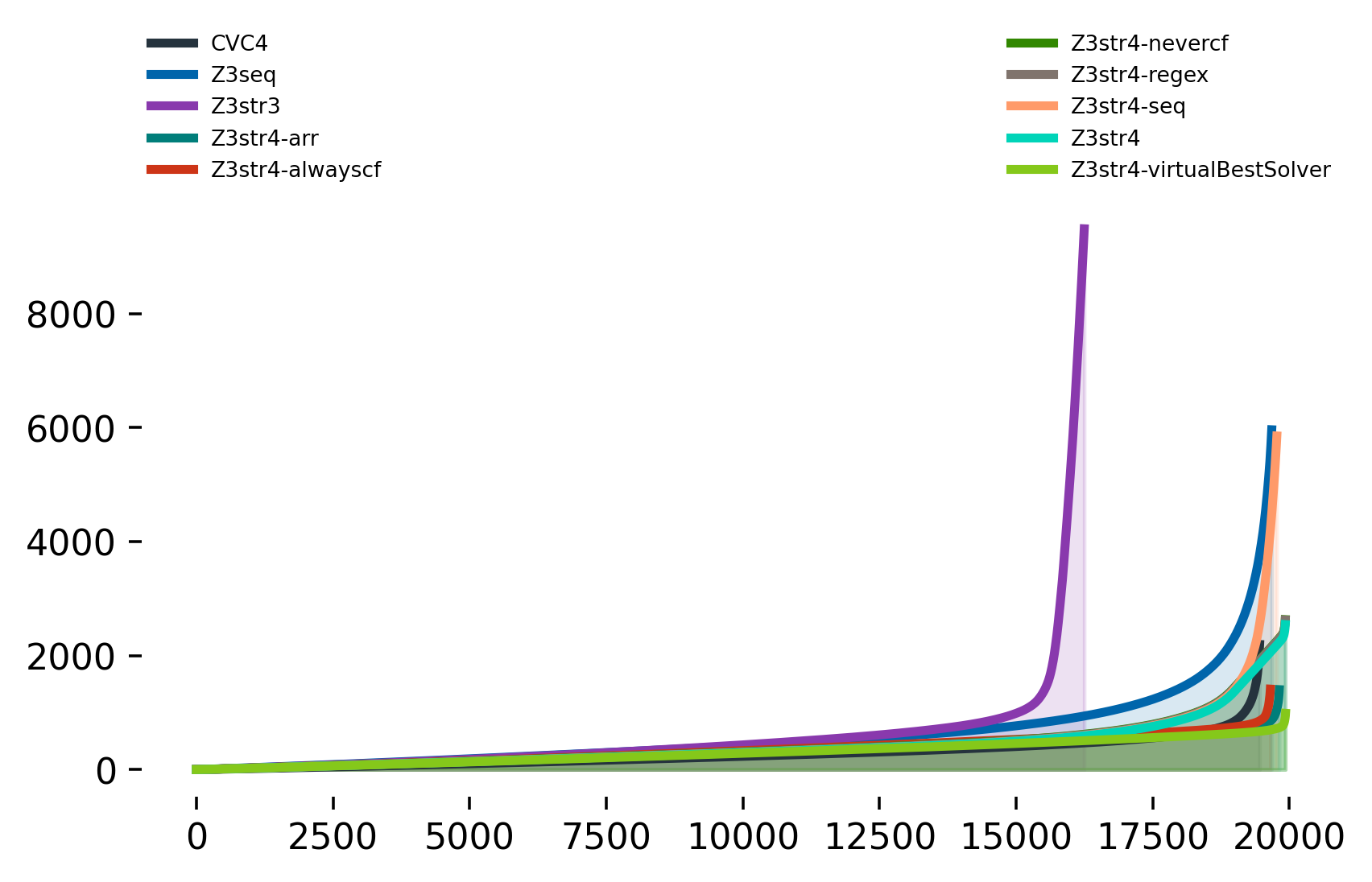 | | | | | | | | | | | | | |
| --- | --- | --- | --- | --- | --- | --- | --- | --- | --- | --- | --- | --- |
| Solver | Cor. class. (contr.) | SAT | UNSAT | UNKN | ERR | CRA | TO | Par2 | Tot. inst. | Tot. inst. w/o TO | Tot. time | Tot. time w/o TO |
| Z3str4 | 19925 (0.0) | 14465 | 5460 | 0 | 0 | 0 | 54 | 4703025 | 19979 | 19925 | 3623025 | 2543025 |
| Z3str4-regex | 19925 (0.0) | 14465 | 5460 | 0 | 0 | 0 | 54 | 4783855 | 19979 | 19925 | 3703855 | 2623855 |
| Z3str4-nevercf | 19925 (0.0) | 14465 | 5460 | 0 | 0 | 0 | 54 | 4790189 | 19979 | 19925 | 3710189 | 2630189 |
| Z3str4-arr | 19816 (0.0) | 14437 | 5379 | 0 | 0 | 0 | 163 | 7921911 | 19979 | 19816 | 4661911 | 1401911 |
| Z3str4-seq | 19771 (0.0) | 14362 | 5409 | 0 | 0 | 0 | 208 | 14172592 | 19979 | 19771 | 10012592 | 5852592 |
| Z3seq | 19677 (0.0) | 14344 | 5333 | 5 | 0 | 0 | 297 | 18048226 | 19979 | 19682 | 11908226 | 5968226 |
| CVC4 | 19456 (3.34) | 14166 | 5290 | 0 | 0 | 0 | 523 | 23113768 | 19979 | 19456 | 12653768 | 2193768 |
| Z3str3 | 16247 (0.11) | 11836 | 4411 | 431 | 0 | 0 | 3301 | 158825397 | 19979 | 16678 | 75565397 | 9545397 |
| Z3str4-alwayscf | 19652 (0.0) | 14373 | 5280 | 240 | 1 | 96 | 86 | 14717002 | 19979 | 19893 | 3257002 | 1537002 |
| Z3str4-virtualBestSolver | 19930 (-) | 14468 | 5462 | 35 | 0 | 0 | 14 | 2946679 | 19979 | 19965 | 1292662 | 986679 |
| | |
| --- | --- |
| Note | Z3str4 had the biggest lead with 1.0 and CVC4 hat the largest contribution with 3.34. Other solvers contributed as follows: Z3str3: 0.11,Z3str4-arr: 0.0,Z3str4-regex: 0.0,Z3str4-nevercf: 0.0,Z3str4-seq: 0.0,Z3str4-alwayscf: 0.0,Z3seq: 0.0,Z3str4: 0.0. |
stringfuzzregexgenerated
| | | | | | | | | | | | | |
| --- | --- | --- | --- | --- | --- | --- | --- | --- | --- | --- | --- | --- |
| Solver | Cor. class. (contr.) | SAT | UNSAT | UNKN | ERR | CRA | TO | Par2 | Tot. inst. | Tot. inst. w/o TO | Tot. time | Tot. time w/o TO |
| Z3str4 | 4114 (0.0) | 3284 | 830 | 10 | 0 | 0 | 46 | 8199002 | 4170 | 4124 | 6879002 | 5959002 |
| Z3str4-regex | 4114 (0.0) | 3284 | 830 | 5 | 0 | 0 | 51 | 8535619 | 4170 | 4119 | 7315619 | 6295619 |
| Z3str4-arr | 4111 (0.0) | 3281 | 830 | 10 | 0 | 0 | 49 | 5705209 | 4170 | 4121 | 4325209 | 3345209 |
| Z3str4-nevercf | 4107 (0.0) | 3277 | 830 | 11 | 0 | 0 | 52 | 8680432 | 4170 | 4118 | 7200432 | 6160432 |
| Z3str4-alwayscf | 4104 (0.0) | 3274 | 830 | 11 | 0 | 0 | 55 | 7042785 | 4170 | 4115 | 5502785 | 4402785 |
| Z3str3 | 3316 (0.0) | 3284 | 32 | 0 | 0 | 0 | 854 | 37633604 | 4170 | 3316 | 20553604 | 3473604 |
| Z3str4-seq | 2211 (0.11) | 1514 | 697 | 0 | 0 | 0 | 1959 | 84287950 | 4170 | 2211 | 45107950 | 5927950 |
| Z3seq | 2172 (0.0) | 1475 | 697 | 0 | 0 | 0 | 1998 | 85618191 | 4170 | 2172 | 45658191 | 5698191 |
| CVC4 | 1290 (0.0) | 835 | 455 | 39 | 0 | 0 | 2841 | 119233019 | 4170 | 1329 | 60853892 | 4033019 |
| Z3str4-virtualBestSolver | 4126 (-) | 3296 | 830 | 0 | 0 | 0 | 44 | 5691736 | 4170 | 4126 | 4811736 | 3931736 |
| | |
| --- | --- |
| Note | Z3str4 had the biggest lead with 1.0 and Z3str4-seq hat the largest contribution with 0.11. Other solvers contributed as follows: Z3str4-arr: 0.0,CVC4: 0.0,Z3str4-regex: 0.0,Z3str4-nevercf: 0.0,Z3str3: 0.0,Z3str4-alwayscf: 0.0,Z3seq: 0.0,Z3str4: 0.0. |
stringfuzzregextransformed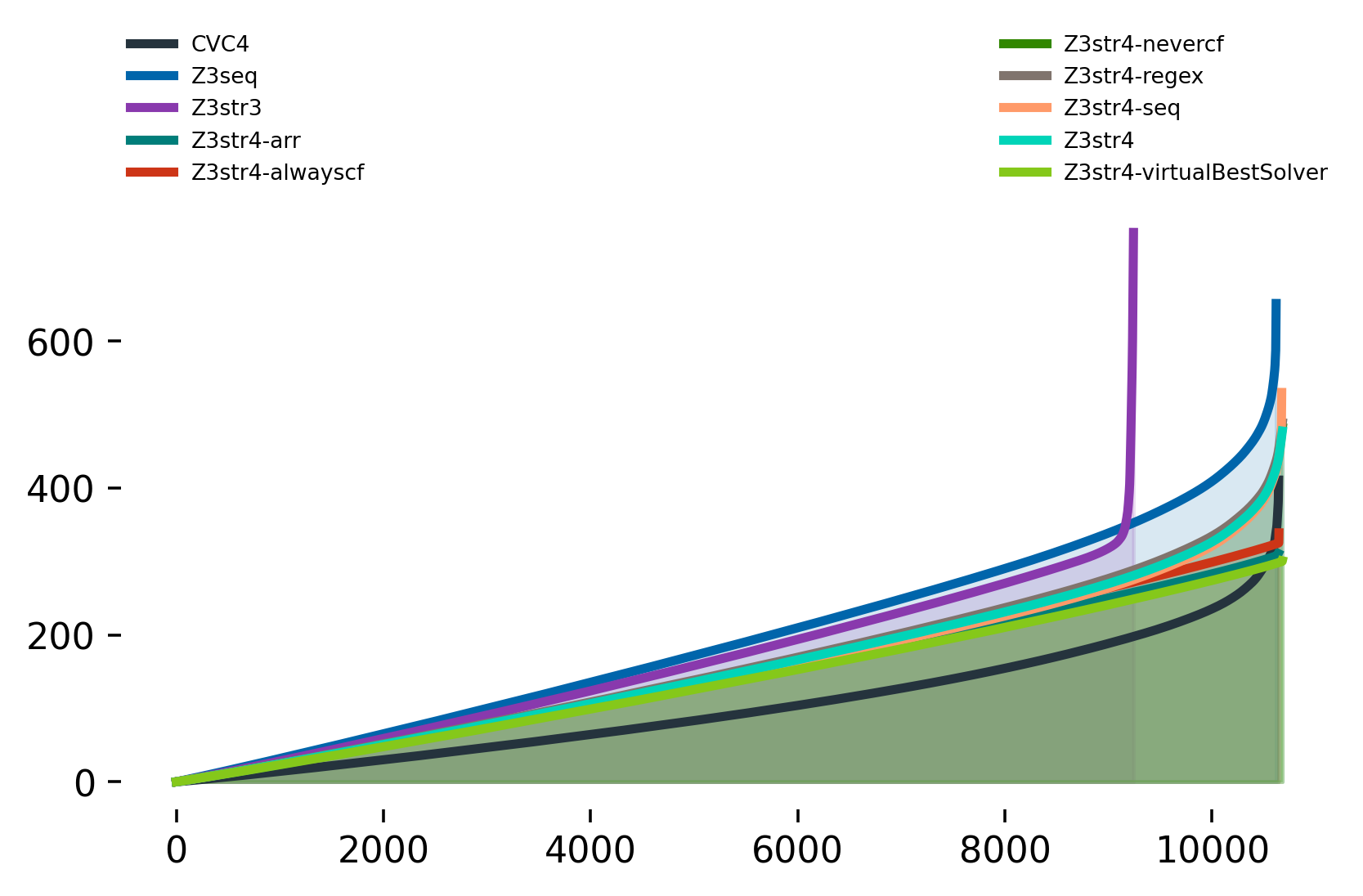 | | | | | | | | | | | | | |
| --- | --- | --- | --- | --- | --- | --- | --- | --- | --- | --- | --- | --- |
| Solver | Cor. class. (contr.) | SAT | UNSAT | UNKN | ERR | CRA | TO | Par2 | Tot. inst. | Tot. inst. w/o TO | Tot. time | Tot. time w/o TO |
| Z3str4 | 10679 (0.0) | 4631 | 6048 | 0 | 0 | 0 | 3 | 597563 | 10682 | 10679 | 537563 | 477563 |
| Z3str4-nevercf | 10679 (0.0) | 4631 | 6048 | 0 | 0 | 0 | 3 | 602193 | 10682 | 10679 | 542193 | 482193 |
| Z3str4-regex | 10679 (0.0) | 4631 | 6048 | 0 | 0 | 0 | 3 | 608912 | 10682 | 10679 | 548912 | 488912 |
| Z3str4-seq | 10673 (0.0) | 4630 | 6043 | 0 | 0 | 0 | 9 | 890089 | 10682 | 10673 | 710089 | 530089 |
| Z3str4-alwayscf | 10646 (0.0) | 4605 | 6041 | 15 | 0 | 8 | 21 | 1786210 | 10682 | 10661 | 766210 | 346210 |
| CVC4 | 10643 (0.33) | 4621 | 6022 | 0 | 0 | 0 | 39 | 1970815 | 10682 | 10643 | 1190815 | 410815 |
| Z3str4-arr | 10639 (0.0) | 4598 | 6041 | 6 | 0 | 0 | 37 | 2031029 | 10682 | 10645 | 1051029 | 311029 |
| Z3seq | 10619 (0.0) | 4628 | 5991 | 0 | 0 | 0 | 63 | 3171244 | 10682 | 10619 | 1911244 | 651244 |
| Z3str3 | 9242 (0.0) | 4346 | 4896 | 1 | 0 | 0 | 1439 | 58348049 | 10682 | 9243 | 29528049 | 748049 |
| Z3str4-virtualBestSolver | 10679 (-) | 4631 | 6048 | 0 | 0 | 0 | 3 | 420936 | 10682 | 10679 | 360936 | 300936 |
| | |
| --- | --- |
| Note | Z3str4 had the biggest lead with 1.0 and CVC4 hat the largest contribution with 0.33. Other solvers contributed as follows: Z3str4-arr: 0.0,Z3str4-regex: 0.0,Z3str4-nevercf: 0.0,Z3str3: 0.0,Z3str4-seq: 0.0,Z3str4-alwayscf: 0.0,Z3seq: 0.0,Z3str4: 0.0. |
Total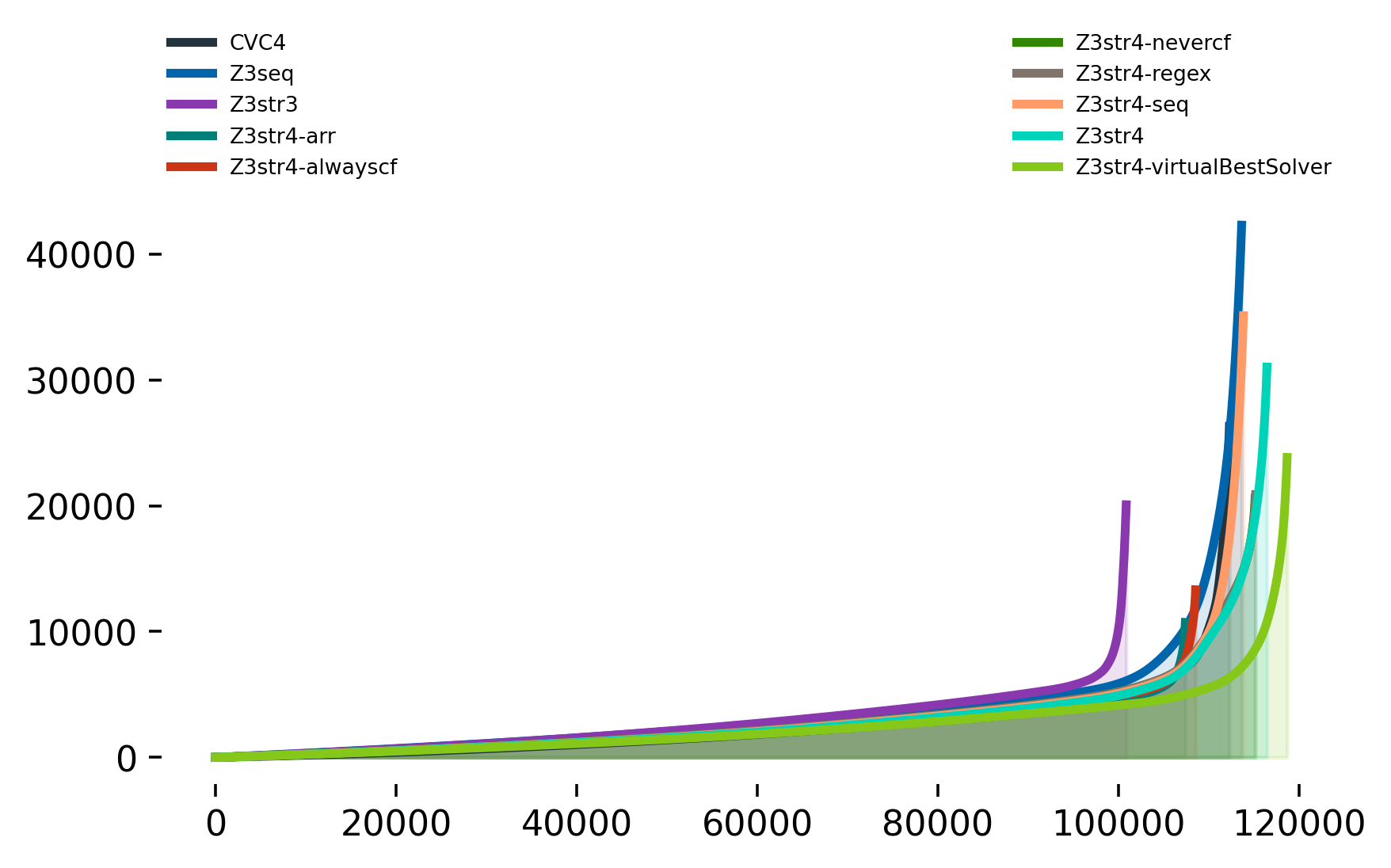 | | | | | | | | | | | | | |
| --- | --- | --- | --- | --- | --- | --- | --- | --- | --- | --- | --- | --- |
| Solver | Cor. class. (contr.) | SAT | UNSAT | UNKN | ERR | CRA | TO | Par2 | Tot. inst. | Tot. inst. w/o TO | Tot. time | Tot. time w/o TO |
| Z3str4 | 116439 (2.35) | 71842 | 44597 | 170 | 0 | 0 | 3757 | 189396964 | 120366 | 116609 | 107456964 | 32316964 |
| Z3str4-seq | 113841 (1.01) | 69807 | 44034 | 89 | 0 | 0 | 6436 | 296807036 | 120366 | 113930 | 164527036 | 35807036 |
| Z3seq | 113636 (3.7) | 69853 | 43783 | 50 | 0 | 0 | 6680 | 311734056 | 120366 | 113686 | 176134056 | 42534056 |
| CVC4 | 112283 (48.93) | 68386 | 43897 | 40 | 0 | 0 | 8043 | 350400148 | 120366 | 112323 | 187941021 | 27080148 |
| Z3str4-alwayscf | 108534 (22.73) | 64272 | 44263 | 2527 | 1 | 249 | 9304 | 489955374 | 120366 | 111062 | 202655374 | 16575374 |
| Z3str4-regex | 115182 (7.28) | 70660 | 44524 | 247 | 2 | 0 | 4935 | 230066118 | 120366 | 115431 | 121206118 | 22506118 |
| Z3str4-nevercf | 115118 (5.37) | 70587 | 44534 | 260 | 3 | 0 | 4985 | 232687324 | 120366 | 115381 | 122167324 | 22467324 |
| Z3str4-arr | 107401 (1.01) | 63095 | 44314 | 525 | 8 | 0 | 12432 | 532807893 | 120366 | 107934 | 262047893 | 13407893 |
| Z3str3 | 100852 (3.58) | 59663 | 41198 | 949 | 9 | 0 | 18556 | 801719159 | 120366 | 101810 | 391379159 | 20259159 |
| Z3str4-virtualBestSolver | 118671 (-) | 74012 | 44659 | 454 | 0 | 0 | 1241 | 91643007 | 120366 | 119125 | 50996414 | 23843007 |
| | |
| --- | --- |
| Note | Z3str4 had the biggest lead with 1.02 and CVC4 hat the largest contribution with 48.93. Other solvers contributed as follows: Z3str4-alwayscf: 22.73,Z3str4-regex: 7.28,Z3str4-nevercf: 5.37,Z3seq: 3.7,Z3str3: 3.58,Z3str4: 2.35,Z3str4-arr: 1.01,Z3str4-seq: 1.01. |
Fragment Experiment
RegexFragment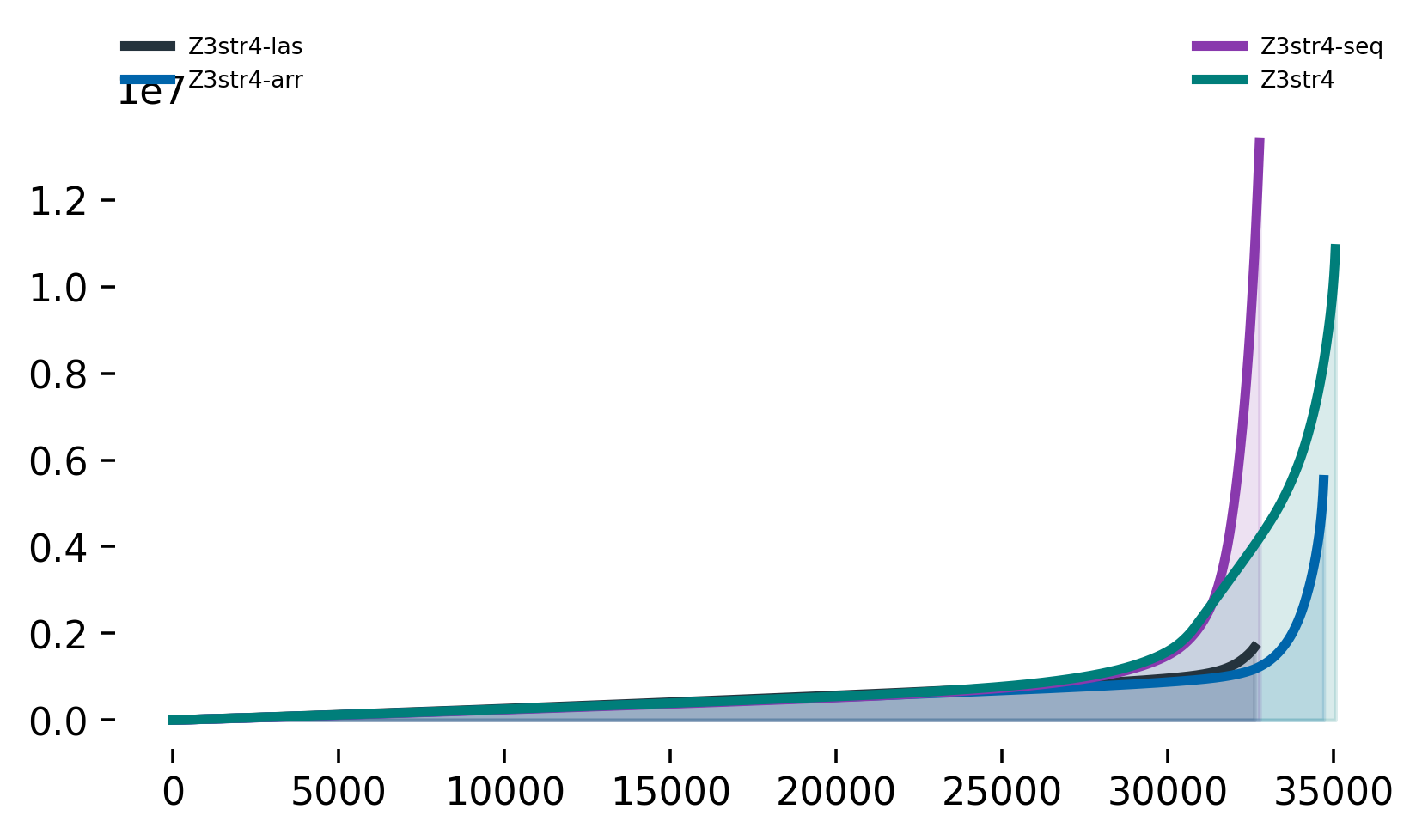 | | | | | | | | | | | | | |
| --- | --- | --- | --- | --- | --- | --- | --- | --- | --- | --- | --- | --- |
| Solver | Cor. class. (contr.) | SAT | UNSAT | UNKN | ERR | CRA | TO | Par2 | Tot. inst. | Tot. inst. w/o TO | Tot. time | Tot. time w/o TO |
| Z3str4 | 35046 (3.77) | 22840 | 12206 | 9 | 0 | 0 | 290 | 10914204 | 35345 | 35055 | 16702244 | 10902244 |
| Z3str4-arr | 34692 (4.03) | 22632 | 12060 | 73 | 0 | 0 | 580 | 5596872 | 35345 | 34765 | 17170752 | 5570752 |
| Z3str4-seq | 32758 (13.33) | 20767 | 11991 | 9 | 0 | 0 | 2578 | 13525831 | 35345 | 32767 | 64982351 | 13422351 |
| Z3str4-las | 32603 (1.51) | 20762 | 11842 | 2727 | 1 | 117 | 14 | 3807951 | 35345 | 35331 | 3978171 | 3698171 |
| | |
| --- | --- |
| Note | Z3str4 had the biggest lead with 1.01 and Z3str4-seq hat the largest contribution with 13.33. Other solvers contributed as follows: Z3str4-arr: 4.03,Z3str4: 3.77,Z3str4-las: 1.51. |
SeqFragment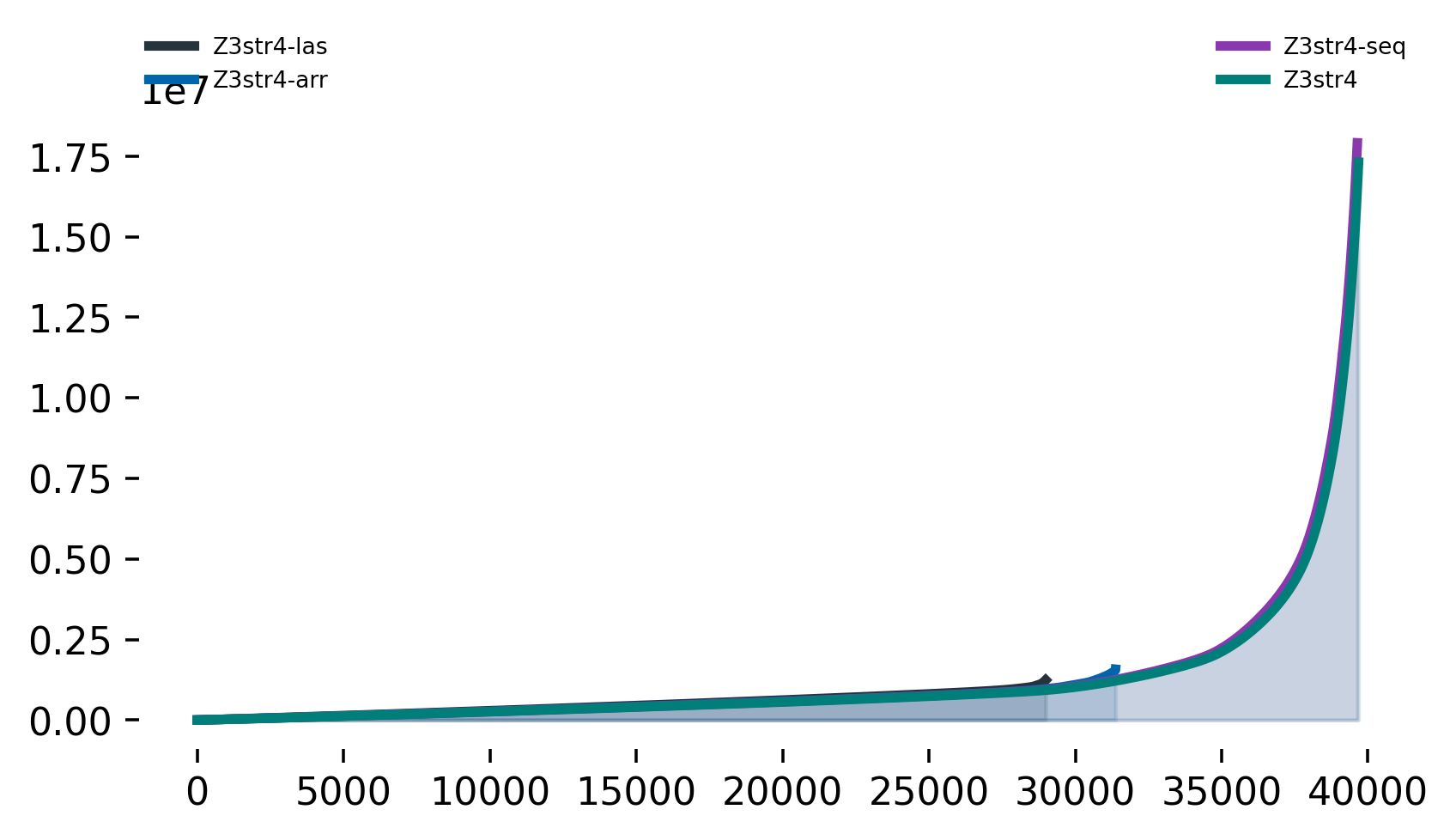 | | | | | | | | | | | | | |
| --- | --- | --- | --- | --- | --- | --- | --- | --- | --- | --- | --- | --- |
| Solver | Cor. class. (contr.) | SAT | UNSAT | UNKN | ERR | CRA | TO | Par2 | Tot. inst. | Tot. inst. w/o TO | Tot. time | Tot. time w/o TO |
| Z3str4 | 39680 (7.71) | 23227 | 16453 | 87 | 0 | 0 | 2755 | 18104566 | 42522 | 39767 | 73090886 | 17990886 |
| Z3str4-seq | 39639 (0.77) | 23187 | 16452 | 83 | 0 | 0 | 2800 | 18680405 | 42522 | 39722 | 74565085 | 18565085 |
| Z3str4-arr | 31376 (303.68) | 14937 | 16439 | 314 | 0 | 0 | 10832 | 3882773 | 42522 | 31690 | 220076933 | 3436933 |
| Z3str4-las | 28990 (65.26) | 13185 | 15805 | 13532 | 0 | 141 | 0 | 12629361 | 42522 | 42522 | 12088081 | 12088081 |
| | |
| --- | --- |
| Note | Z3str4 had the biggest lead with 1.0 and Z3str4-arr hat the largest contribution with 303.68. Other solvers contributed as follows: Z3str4-las: 65.26,Z3str4: 7.71,Z3str4-seq: 0.77. |
ConjunctiveFragment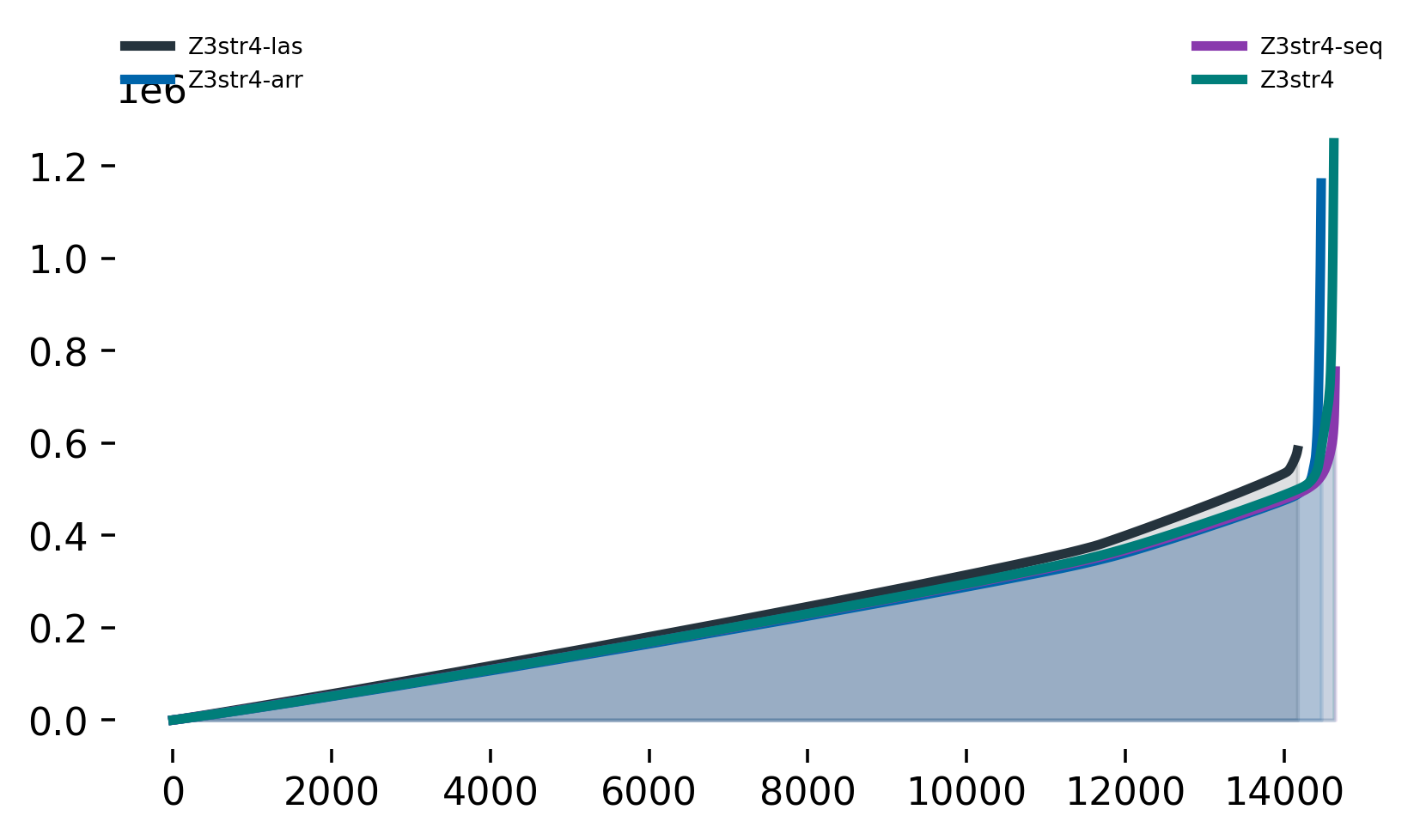 | | | | | | | | | | | | | |
| --- | --- | --- | --- | --- | --- | --- | --- | --- | --- | --- | --- | --- |
| Solver | Cor. class. (contr.) | SAT | UNSAT | UNKN | ERR | CRA | TO | Par2 | Tot. inst. | Tot. inst. w/o TO | Tot. time | Tot. time w/o TO |
| Z3str4-seq | 14647 (37.95) | 12115 | 2532 | 1 | 0 | 0 | 465 | 774663 | 15113 | 14648 | 10056023 | 756023 |
| Z3str4 | 14631 (3.57) | 11954 | 2677 | 13 | 0 | 0 | 469 | 1338043 | 15113 | 14644 | 10698763 | 1318763 |
| Z3str4-las | 14172 (0.0) | 11693 | 2479 | 941 | 0 | 0 | 0 | 1127231 | 15113 | 15113 | 1089591 | 1089591 |
| Z3str4-arr | 14471 (3.82) | 11887 | 2592 | 90 | 8 | 0 | 544 | 1702357 | 15113 | 14569 | 12555877 | 1675877 |
| | |
| --- | --- |
| Note | Z3str4-seq had the biggest lead with 1.0 and Z3str4-seq hat the largest contribution with 37.95. Other solvers contributed as follows: Z3str4-arr: 3.82,Z3str4: 3.57,Z3str4-las: 0.0. |
NonConjFragment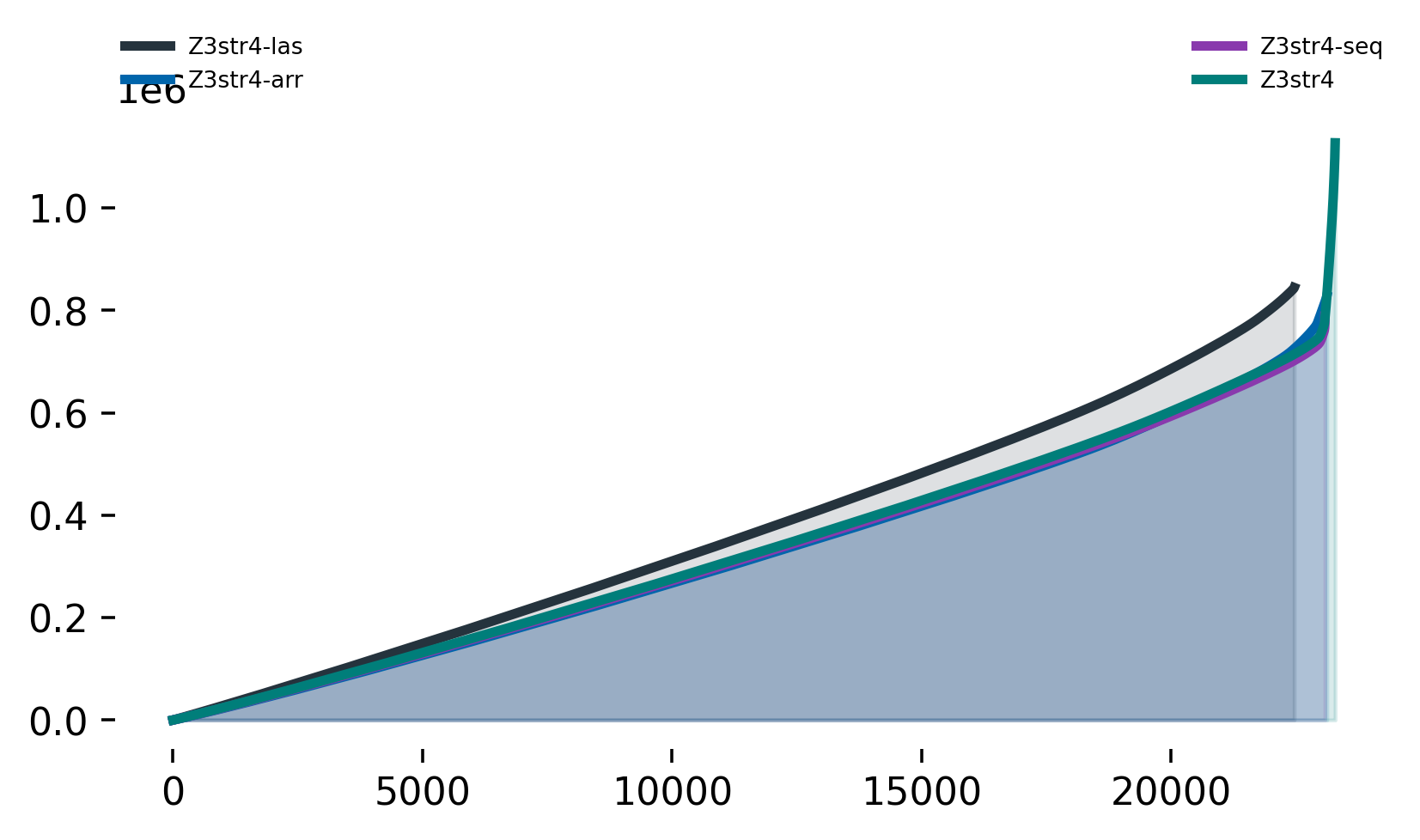 | | | | | | | | | | | | | |
| --- | --- | --- | --- | --- | --- | --- | --- | --- | --- | --- | --- | --- |
| Solver | Cor. class. (contr.) | SAT | UNSAT | UNKN | ERR | CRA | TO | Par2 | Tot. inst. | Tot. inst. w/o TO | Tot. time | Tot. time w/o TO |
| Z3str4 | 23286 (1.27) | 13749 | 9537 | 68 | 0 | 0 | 289 | 1813757 | 23643 | 23354 | 7579477 | 1799477 |
| Z3str4-arr | 23120 (1.52) | 13611 | 9509 | 51 | 0 | 0 | 472 | 1185261 | 23643 | 23171 | 10604341 | 1164341 |
| Z3str4-seq | 23081 (0.25) | 13740 | 9341 | 1 | 0 | 0 | 561 | 815911 | 23643 | 23082 | 12013431 | 793431 |
| Z3str4-las | 22466 (0.0) | 13478 | 8988 | 1177 | 0 | 0 | 0 | 1186235 | 23643 | 23643 | 1139155 | 1139155 |
| | |
| --- | --- |
| Note | Z3str4 had the biggest lead with 1.01 and Z3str4-arr hat the largest contribution with 1.52. Other solvers contributed as follows: Z3str4: 1.27,Z3str4-seq: 0.25,Z3str4-las: 0.0. |
Simple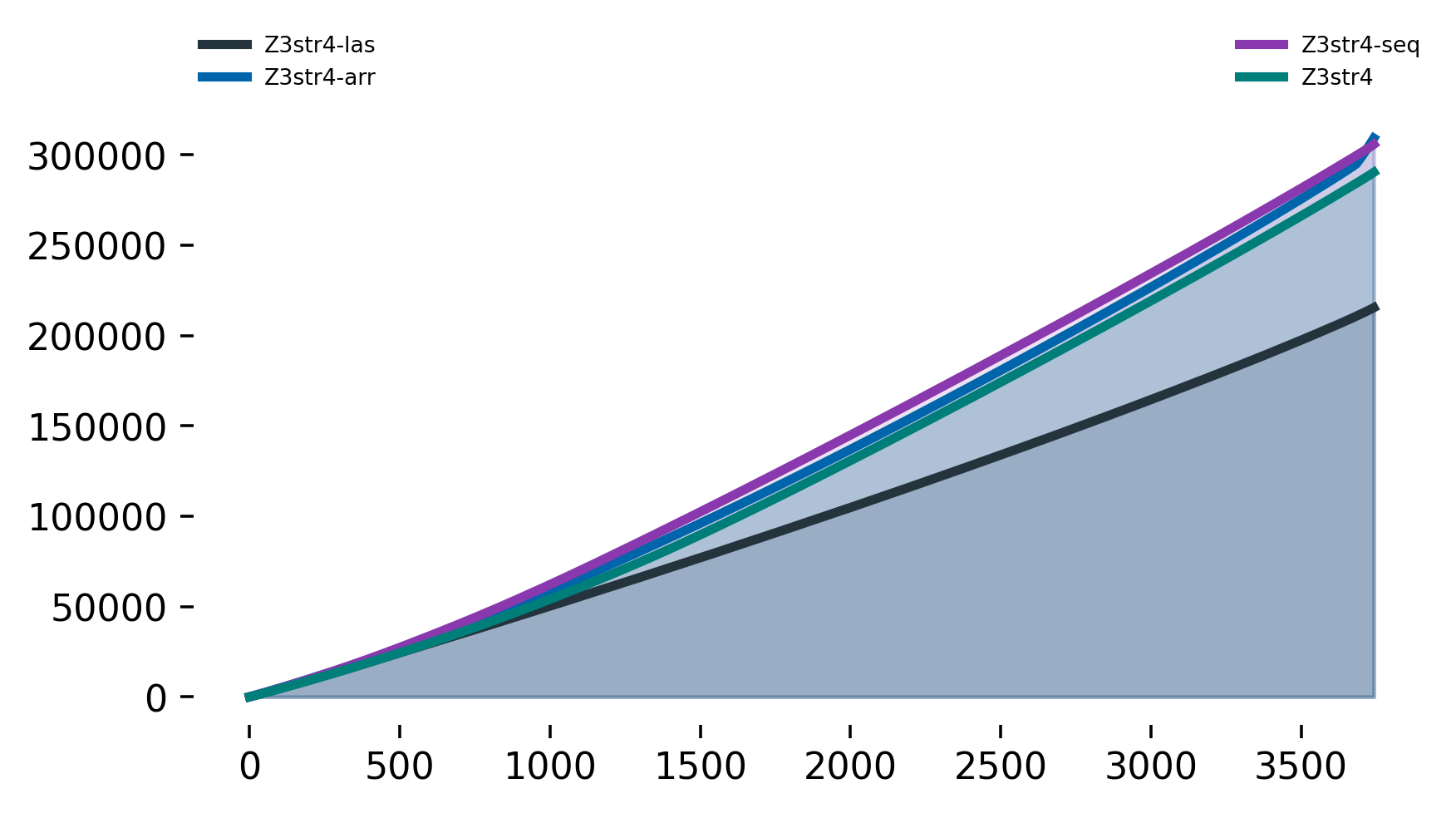 | | | | | | | | | | | | | |
| --- | --- | --- | --- | --- | --- | --- | --- | --- | --- | --- | --- | --- |
| Solver | Cor. class. (contr.) | SAT | UNSAT | UNKN | ERR | CRA | TO | Par2 | Tot. inst. | Tot. inst. w/o TO | Tot. time | Tot. time w/o TO |
| Z3str4-las | 3743 (0.0) | 27 | 3716 | 0 | 0 | 0 | 0 | 215468 | 3743 | 3743 | 215468 | 215468 |
| Z3str4 | 3743 (0.0) | 27 | 3716 | 0 | 0 | 0 | 0 | 290379 | 3743 | 3743 | 290379 | 290379 |
| Z3str4-seq | 3743 (0.0) | 27 | 3716 | 0 | 0 | 0 | 0 | 305838 | 3743 | 3743 | 305838 | 305838 |
| Z3str4-arr | 3743 (0.0) | 27 | 3716 | 0 | 0 | 0 | 0 | 309255 | 3743 | 3743 | 309255 | 309255 |
| | |
| --- | --- |
| Note | Z3str4-las had the biggest lead with 1.0 and Z3str4 hat the largest contribution with 0.0. Other solvers contributed as follows: Z3str4-seq: 0.0,Z3str4-arr: 0.0,Z3str4-las: 0.0. |
Total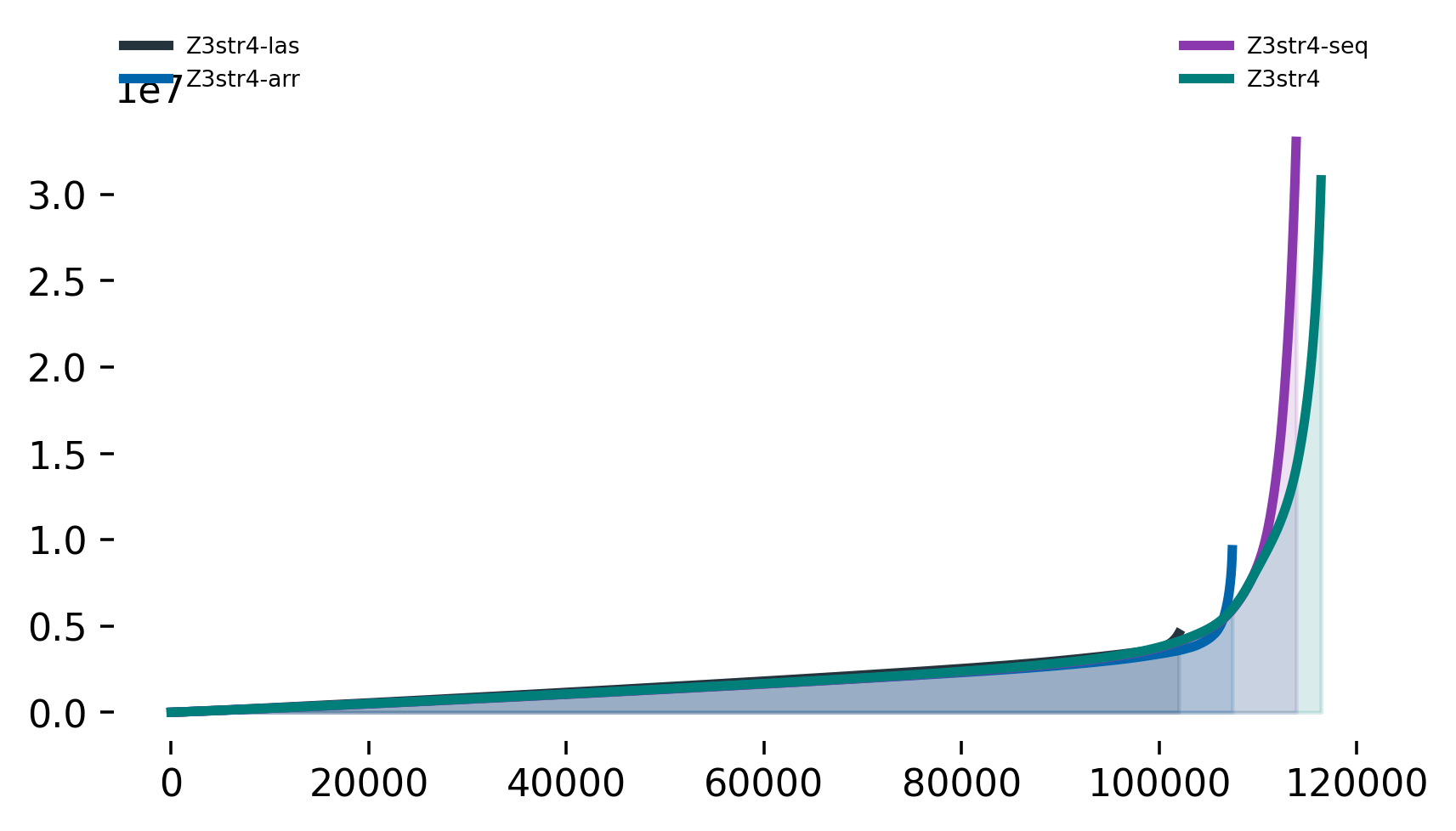 | | | | | | | | | | | | | |
| --- | --- | --- | --- | --- | --- | --- | --- | --- | --- | --- | --- | --- |
| Solver | Cor. class. (contr.) | SAT | UNSAT | UNKN | ERR | CRA | TO | Par2 | Tot. inst. | Tot. inst. w/o TO | Tot. time | Tot. time w/o TO |
| Z3str4 | 116386 (16.27) | 71797 | 44589 | 177 | 0 | 0 | 3803 | 32460949 | 120366 | 116563 | 108361749 | 32301749 |
| Z3str4-seq | 113868 (52.37) | 69836 | 44032 | 94 | 0 | 0 | 6404 | 34102648 | 120366 | 113962 | 161922728 | 33842728 |
| Z3str4-las | 101974 (66.1) | 59145 | 42830 | 18377 | 1 | 258 | 14 | 18966246 | 120366 | 120352 | 18510466 | 18230466 |
| Z3str4-arr | 107402 (309.89) | 63094 | 44316 | 528 | 8 | 0 | 12428 | 12676518 | 120366 | 107938 | 260717158 | 12157158 |
| | |
| --- | --- |
| Note | Z3str4 had the biggest lead with 1.02 and Z3str4-arr hat the largest contribution with 309.89. Other solvers contributed as follows: Z3str4-las: 66.1,Z3str4-seq: 52.37,Z3str4: 16.27. |
Bit-vector integration Experiment
PyEx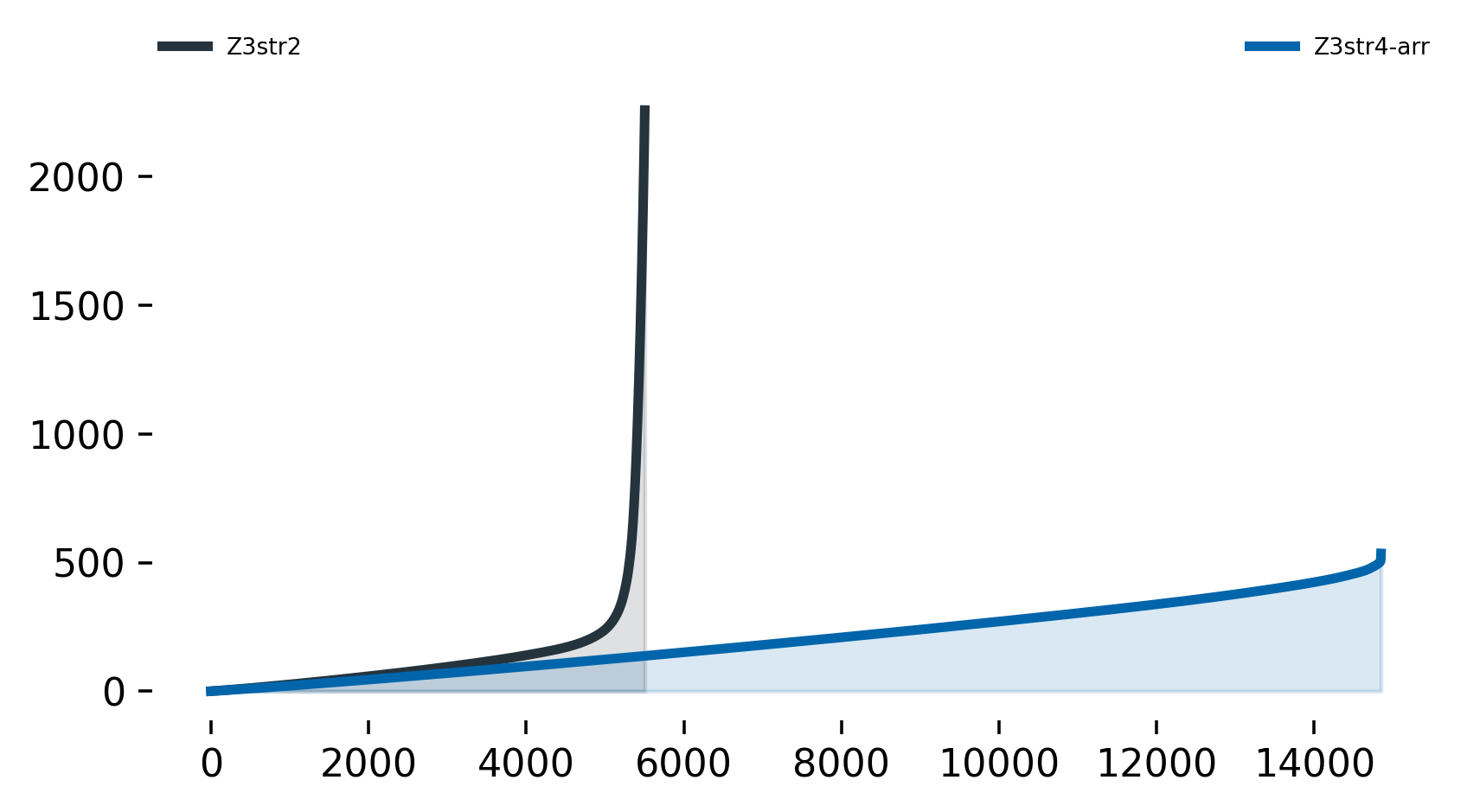 | | | | | | | | | | | | | |
| --- | --- | --- | --- | --- | --- | --- | --- | --- | --- | --- | --- | --- |
| Solver | Cor. class. (contr.) | SAT | UNSAT | UNKN | ERR | CRA | TO | Par2 | Tot. inst. | Tot. inst. w/o TO | Tot. time | Tot. time w/o TO |
| Z3str4-arr | 14848 (6385.12) | 1143 | 13705 | 240 | 0 | 0 | 10333 | 425001881 | 25421 | 15088 | 208741881 | 2081881 |
| Z3str2 | 5506 (1025.89) | 6381 | 3812 | 574 | 4687 | 0 | 14654 | 1277049099 | 25421 | 10767 | 304829099 | 11749099 |
| | |
| --- | --- |
| Note | Z3str4-arr had the biggest lead with 2.7 and Z3str4-arr hat the largest contribution with 6385.12. Other solvers contributed as follows: Z3str2: 1025.89. |
SMTLIB25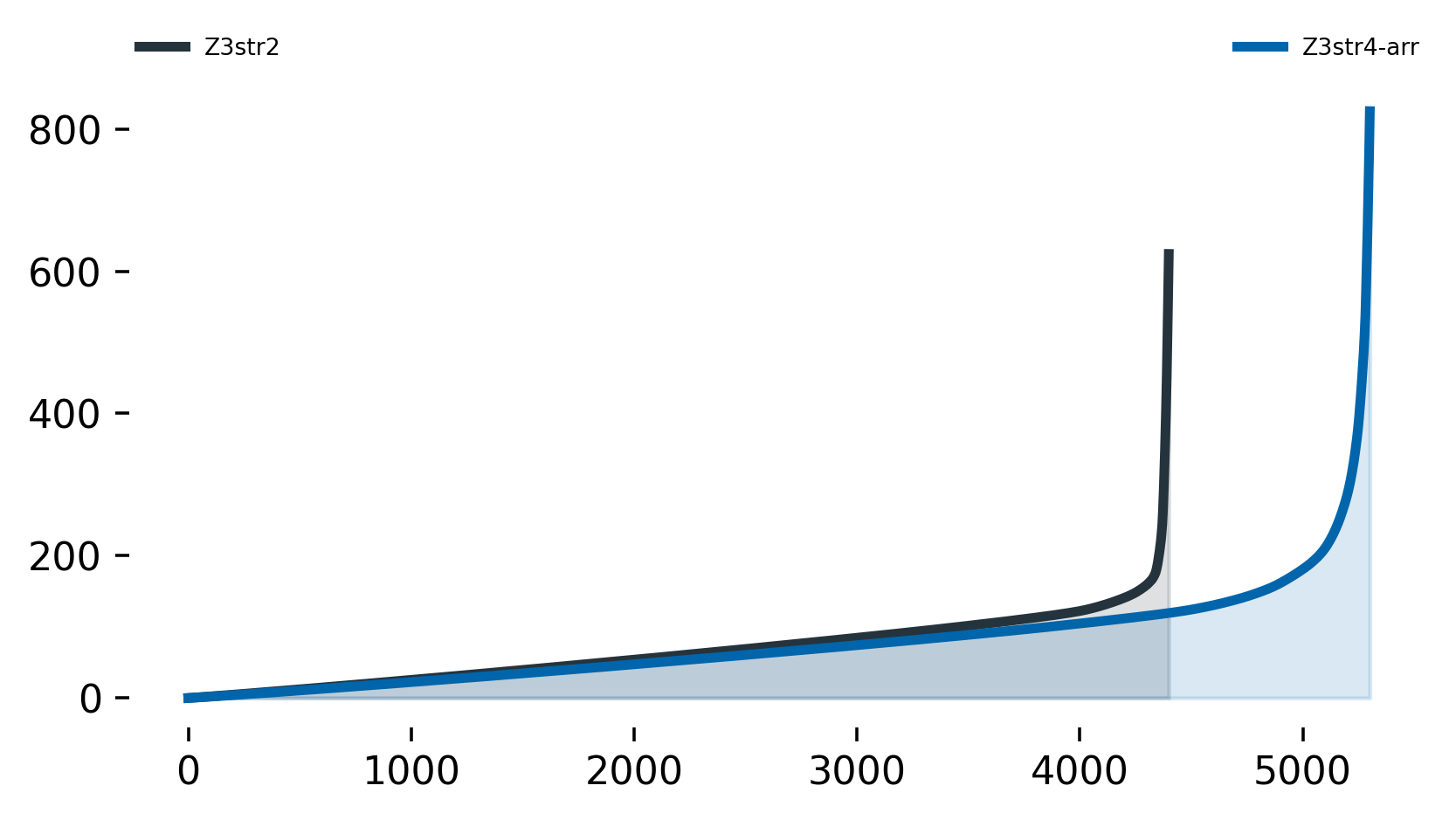 | | | | | | | | | | | | | |
| --- | --- | --- | --- | --- | --- | --- | --- | --- | --- | --- | --- | --- |
| Solver | Cor. class. (contr.) | SAT | UNSAT | UNKN | ERR | CRA | TO | Par2 | Tot. inst. | Tot. inst. w/o TO | Tot. time | Tot. time w/o TO |
| Z3str4-arr | 5302 (140.76) | 1800 | 3502 | 77 | 0 | 0 | 534 | 25715170 | 5913 | 5379 | 11955170 | 1275170 |
| Z3str2 | 4401 (68.46) | 1793 | 3455 | 110 | 847 | 0 | 555 | 146025612 | 5913 | 5358 | 11945612 | 845612 |
| | |
| --- | --- |
| Note | Z3str4-arr had the biggest lead with 1.2 and Z3str4-arr hat the largest contribution with 140.76. Other solvers contributed as follows: Z3str2: 68.46. |
Pisa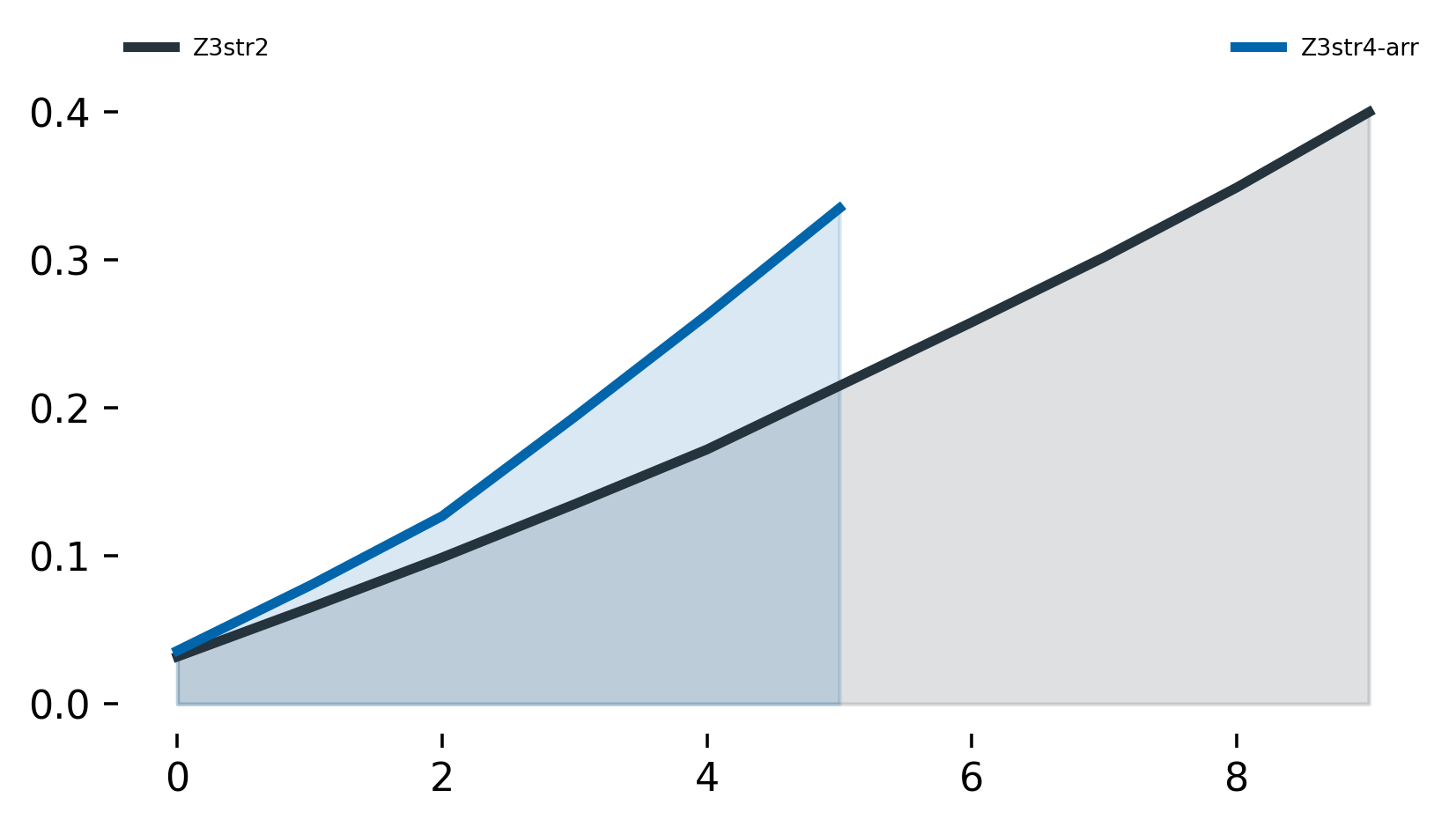 | | | | | | | | | | | | | |
| --- | --- | --- | --- | --- | --- | --- | --- | --- | --- | --- | --- | --- |
| Solver | Cor. class. (contr.) | SAT | UNSAT | UNKN | ERR | CRA | TO | Par2 | Tot. inst. | Tot. inst. w/o TO | Tot. time | Tot. time w/o TO |
| Z3str4-arr | 6 (0.0) | 6 | 0 | 0 | 0 | 0 | 6 | 240335 | 12 | 6 | 120335 | 335 |
| Z3str2 | 10 (3.0) | 7 | 4 | 0 | 1 | 0 | 1 | 180458 | 12 | 11 | 20458 | 458 |
| | |
| --- | --- |
| Note | Z3str4-arr had the biggest lead with 0.6 and Z3str2 hat the largest contribution with 3.0. Other solvers contributed as follows: Z3str4-arr: 0.0. |
Norn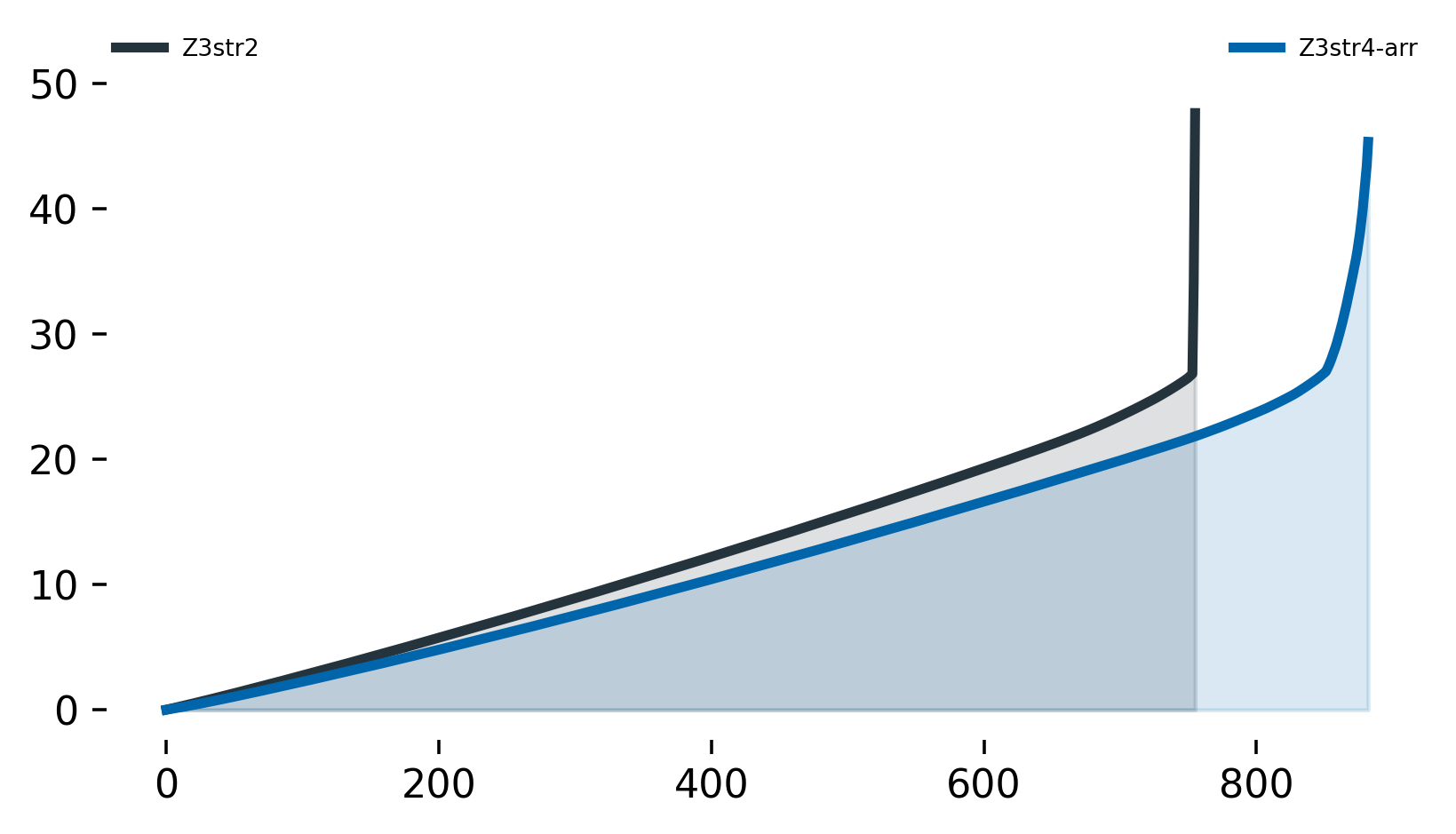 | | | | | | | | | | | | | |
| --- | --- | --- | --- | --- | --- | --- | --- | --- | --- | --- | --- | --- |
| Solver | Cor. class. (contr.) | SAT | UNSAT | UNKN | ERR | CRA | TO | Par2 | Tot. inst. | Tot. inst. w/o TO | Tot. time | Tot. time w/o TO |
| Z3str4-arr | 883 (71.85) | 693 | 190 | 0 | 0 | 0 | 144 | 5805341 | 1027 | 883 | 2925341 | 45341 |
| Z3str2 | 756 (0.0) | 675 | 85 | 0 | 4 | 0 | 267 | 11289739 | 1027 | 760 | 5389739 | 49739 |
| | |
| --- | --- |
| Note | Z3str4-arr had the biggest lead with 1.17 and Z3str4-arr hat the largest contribution with 71.85. Other solvers contributed as follows: Z3str2: 0.0. |
Trau Light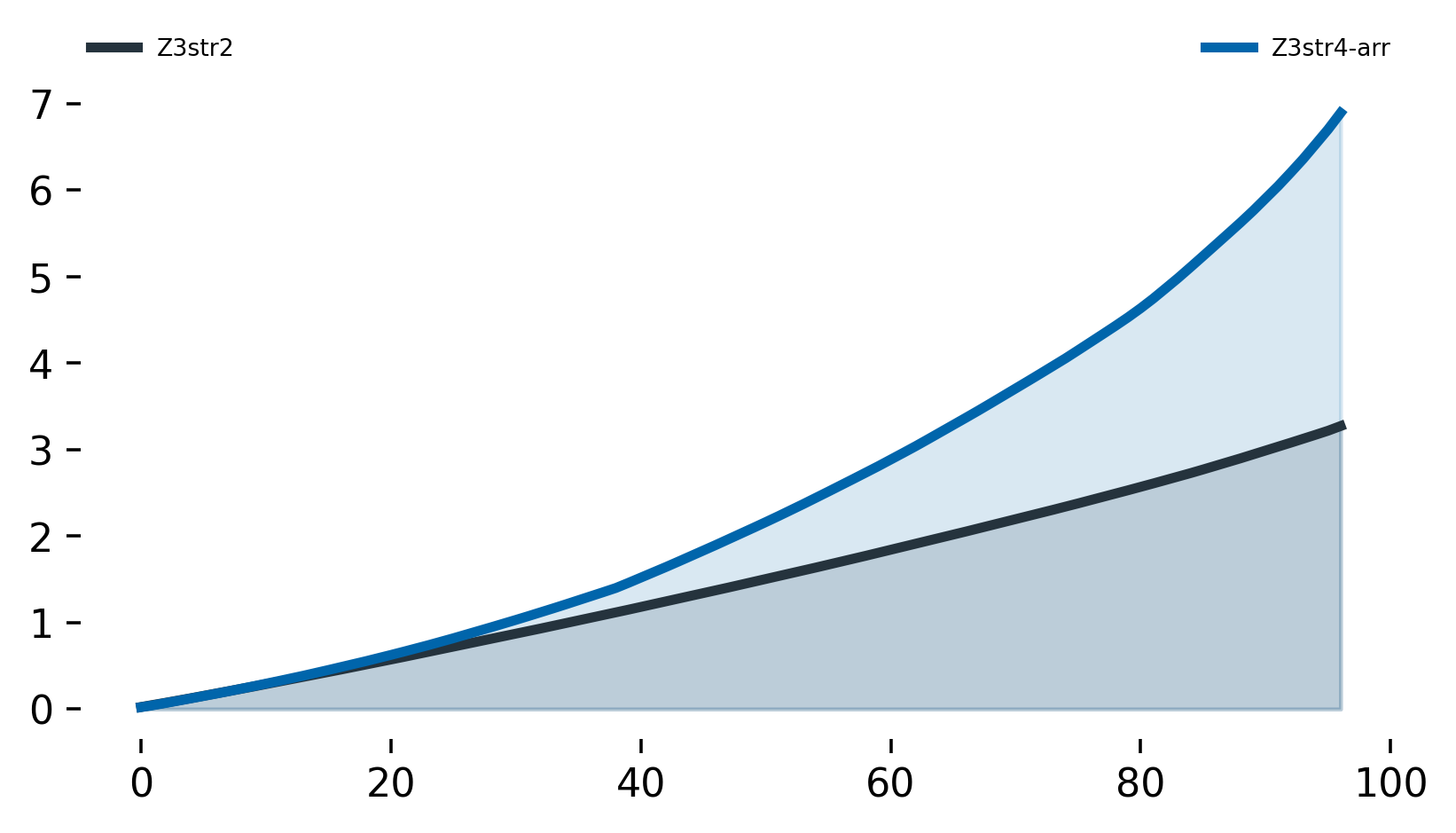 | | | | | | | | | | | | | |
| --- | --- | --- | --- | --- | --- | --- | --- | --- | --- | --- | --- | --- |
| Solver | Cor. class. (contr.) | SAT | UNSAT | UNKN | ERR | CRA | TO | Par2 | Tot. inst. | Tot. inst. w/o TO | Tot. time | Tot. time w/o TO |
| Z3str2 | 97 (0.0) | 4 | 93 | 1 | 0 | 0 | 2 | 123366 | 100 | 98 | 43366 | 3366 |
| Z3str4-arr | 97 (0.0) | 4 | 93 | 1 | 0 | 0 | 2 | 133050 | 100 | 98 | 53050 | 13050 |
| | |
| --- | --- |
| Note | Z3str2 had the biggest lead with 1.0 and Z3str2 hat the largest contribution with 0.0. Other solvers contributed as follows: Z3str4-arr: 0.0. |
Leetcode Strings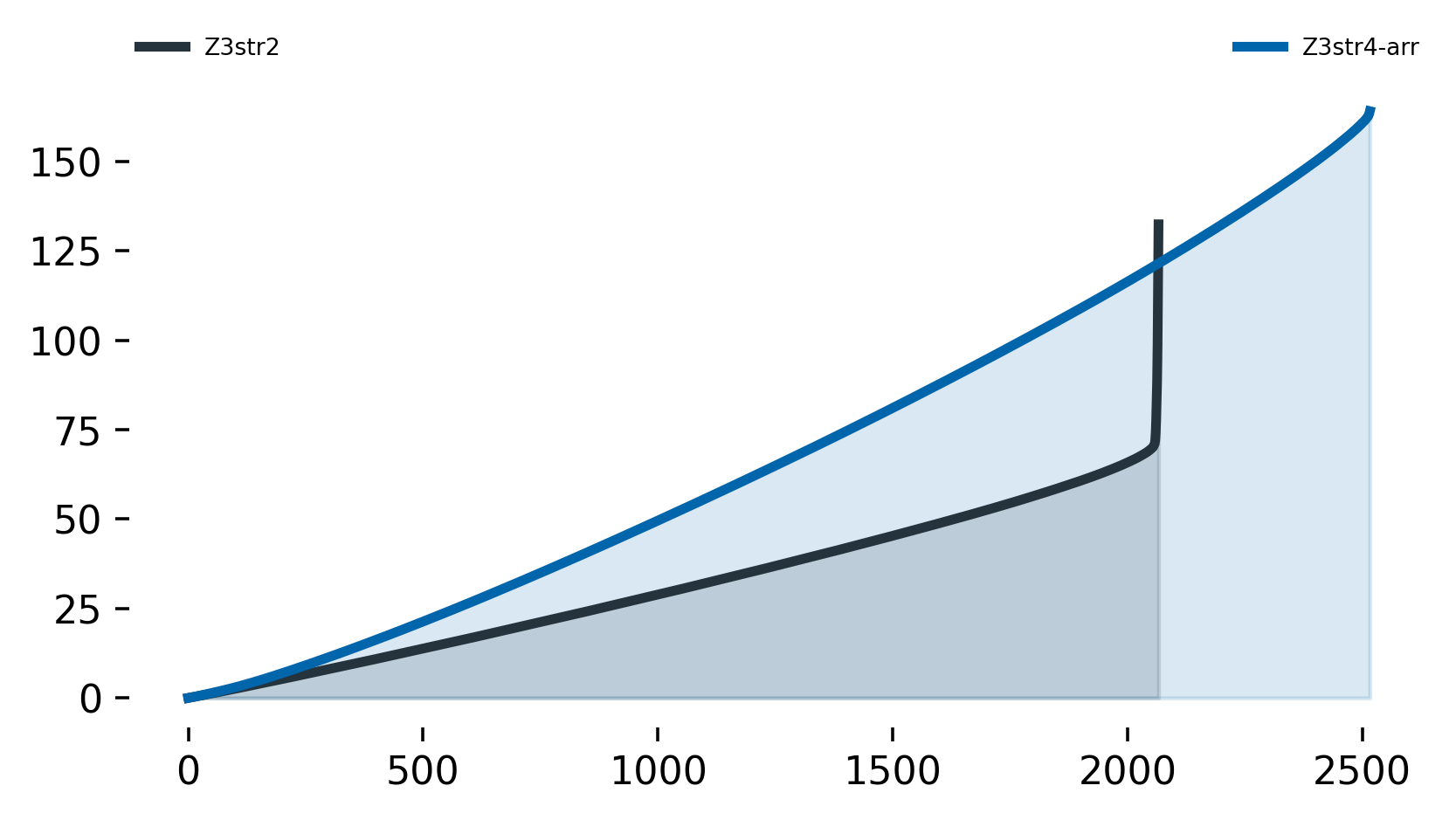 | | | | | | | | | | | | | |
| --- | --- | --- | --- | --- | --- | --- | --- | --- | --- | --- | --- | --- |
| Solver | Cor. class. (contr.) | SAT | UNSAT | UNKN | ERR | CRA | TO | Par2 | Tot. inst. | Tot. inst. w/o TO | Tot. time | Tot. time w/o TO |
| Z3str4-arr | 2517 (87.22) | 706 | 1811 | 14 | 0 | 0 | 130 | 5962291 | 2661 | 2531 | 2802291 | 202291 |
| Z3str2 | 2067 (16.84) | 620 | 1785 | 131 | 338 | 0 | 125 | 57730966 | 2661 | 2536 | 2670966 | 170966 |
| | |
| --- | --- |
| Note | Z3str4-arr had the biggest lead with 1.22 and Z3str4-arr hat the largest contribution with 87.22. Other solvers contributed as follows: Z3str2: 16.84. |
IBM Appscan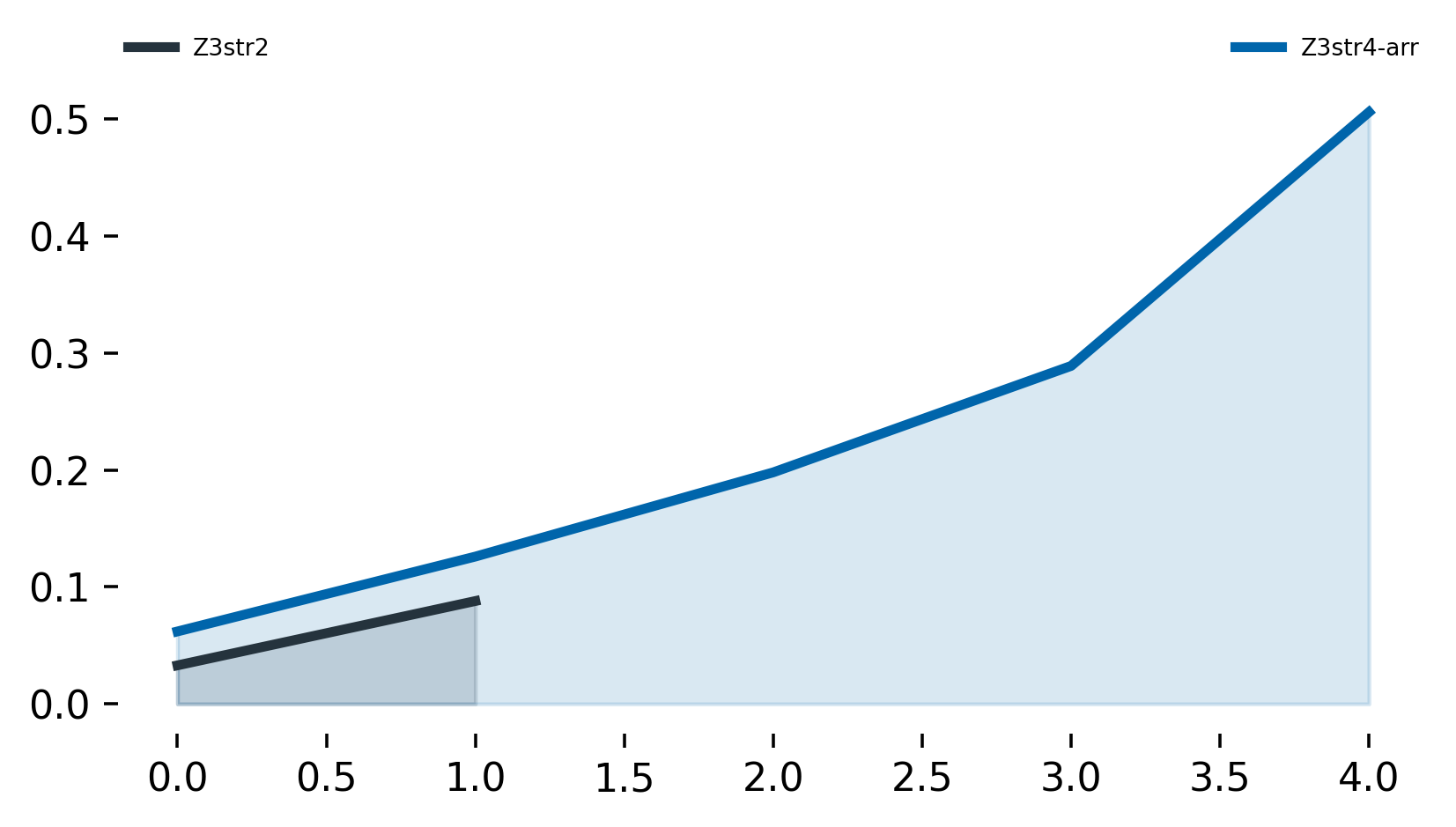 | | | | | | | | | | | | | |
| --- | --- | --- | --- | --- | --- | --- | --- | --- | --- | --- | --- | --- |
| Solver | Cor. class. (contr.) | SAT | UNSAT | UNKN | ERR | CRA | TO | Par2 | Tot. inst. | Tot. inst. w/o TO | Tot. time | Tot. time w/o TO |
| Z3str4-arr | 5 (1.33) | 5 | 0 | 0 | 0 | 0 | 3 | 120506 | 8 | 5 | 60506 | 506 |
| Z3str2 | 2 (0.0) | 4 | 0 | 0 | 2 | 0 | 4 | 440193 | 8 | 4 | 80193 | 193 |
| | |
| --- | --- |
| Note | Z3str4-arr had the biggest lead with 2.5 and Z3str4-arr hat the largest contribution with 1.33. Other solvers contributed as follows: Z3str2: 0.0. |
Sloth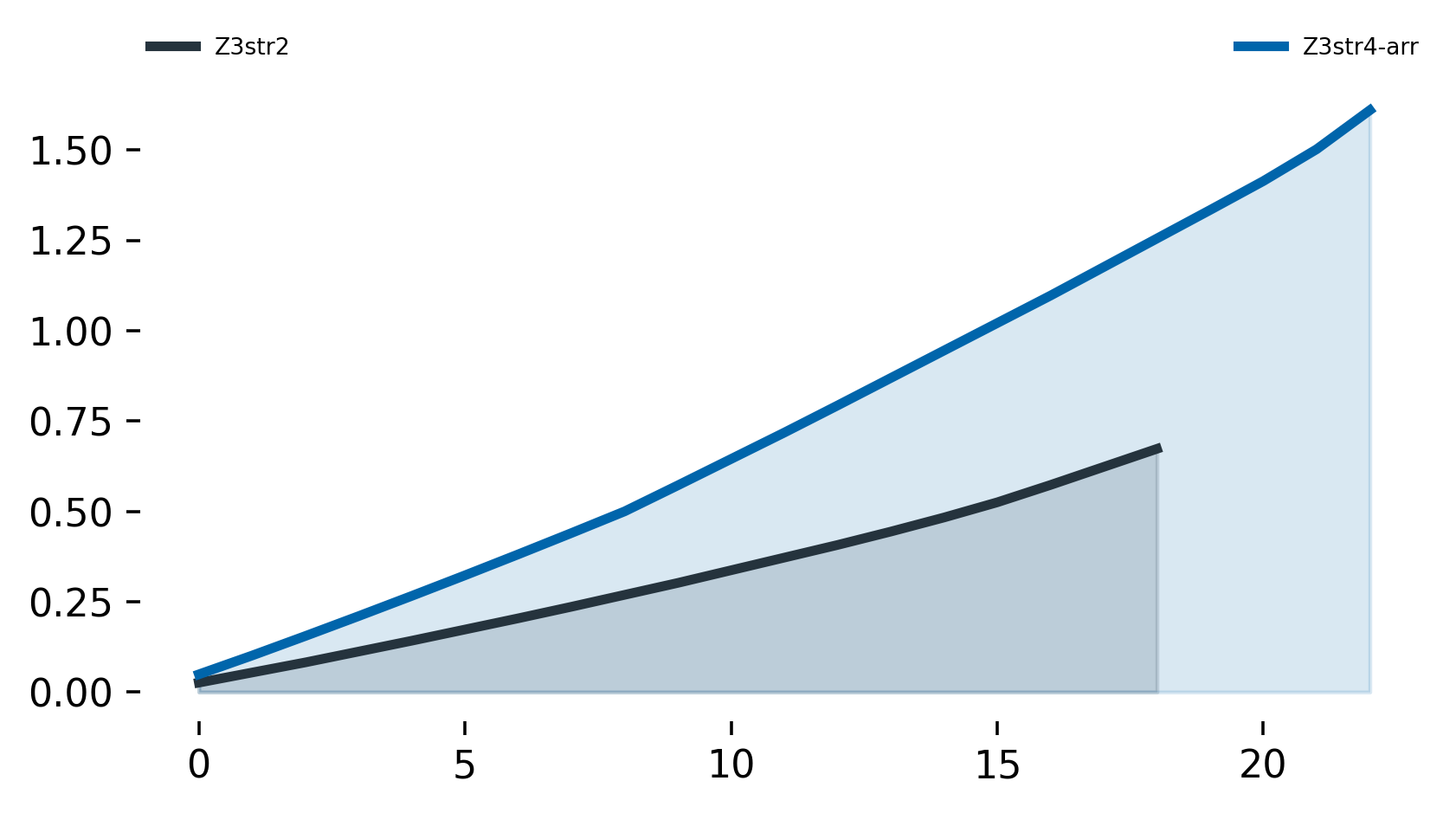 | | | | | | | | | | | | | |
| --- | --- | --- | --- | --- | --- | --- | --- | --- | --- | --- | --- | --- |
| Solver | Cor. class. (contr.) | SAT | UNSAT | UNKN | ERR | CRA | TO | Par2 | Tot. inst. | Tot. inst. w/o TO | Tot. time | Tot. time w/o TO |
| Z3str4-arr | 23 (2.09) | 10 | 13 | 0 | 0 | 0 | 1 | 41610 | 24 | 23 | 21610 | 1610 |
| Z3str2 | 19 (0.0) | 9 | 10 | 0 | 0 | 0 | 5 | 200673 | 24 | 19 | 100673 | 673 |
| | |
| --- | --- |
| Note | Z3str4-arr had the biggest lead with 1.21 and Z3str4-arr hat the largest contribution with 2.09. Other solvers contributed as follows: Z3str2: 0.0. |
Woorpje Word Equations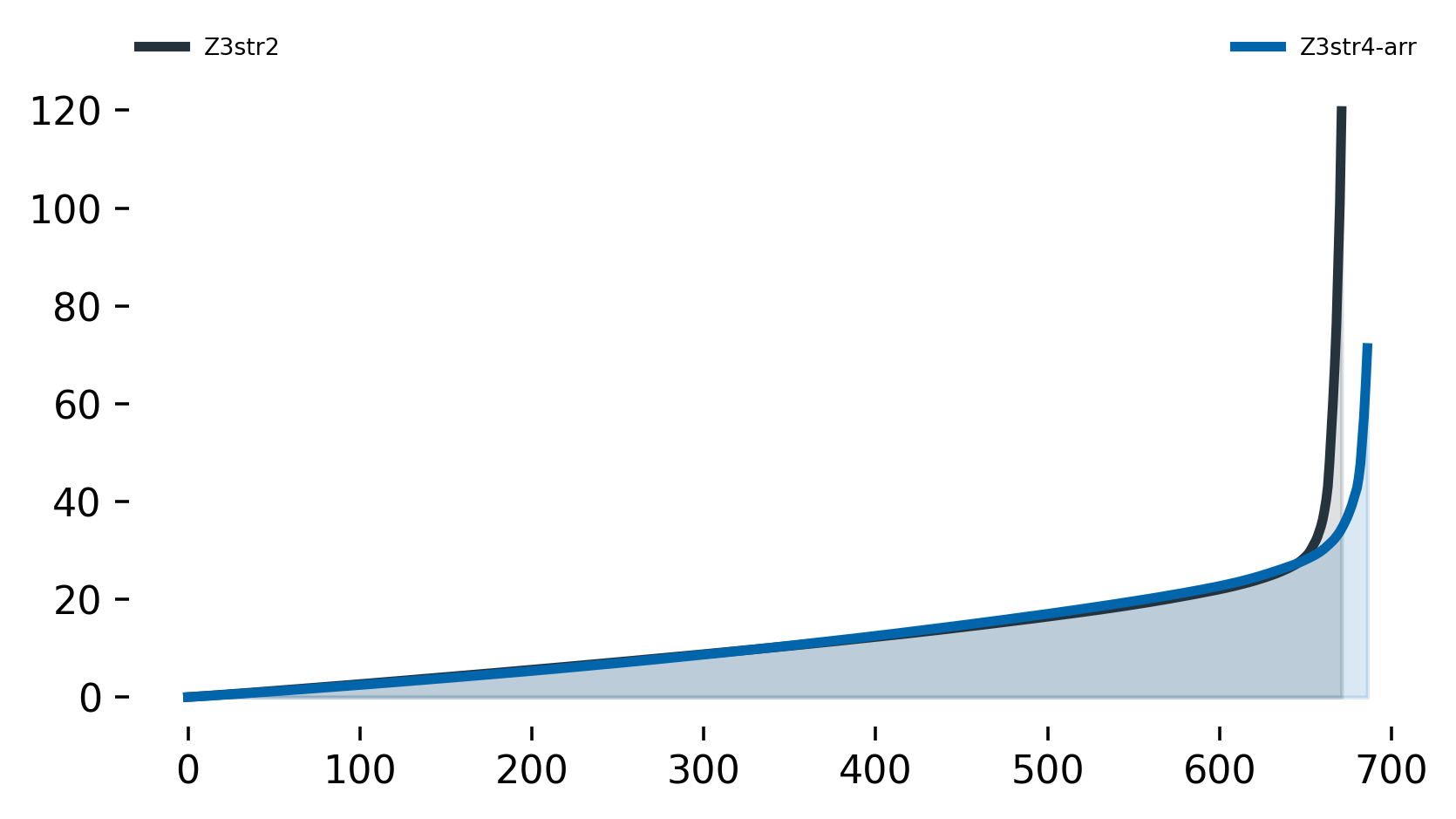 | | | | | | | | | | | | | |
| --- | --- | --- | --- | --- | --- | --- | --- | --- | --- | --- | --- | --- |
| Solver | Cor. class. (contr.) | SAT | UNSAT | UNKN | ERR | CRA | TO | Par2 | Tot. inst. | Tot. inst. w/o TO | Tot. time | Tot. time w/o TO |
| Z3str4-arr | 687 (9.41) | 523 | 172 | 11 | 8 | 0 | 103 | 5819968 | 809 | 706 | 2199968 | 139968 |
| Z3str2 | 672 (7.64) | 521 | 171 | 14 | 20 | 0 | 103 | 7625988 | 809 | 706 | 2205988 | 145988 |
| | |
| --- | --- |
| Note | Z3str4-arr had the biggest lead with 1.02 and Z3str4-arr hat the largest contribution with 9.41. Other solvers contributed as follows: Z3str2: 7.64. |
Kaluza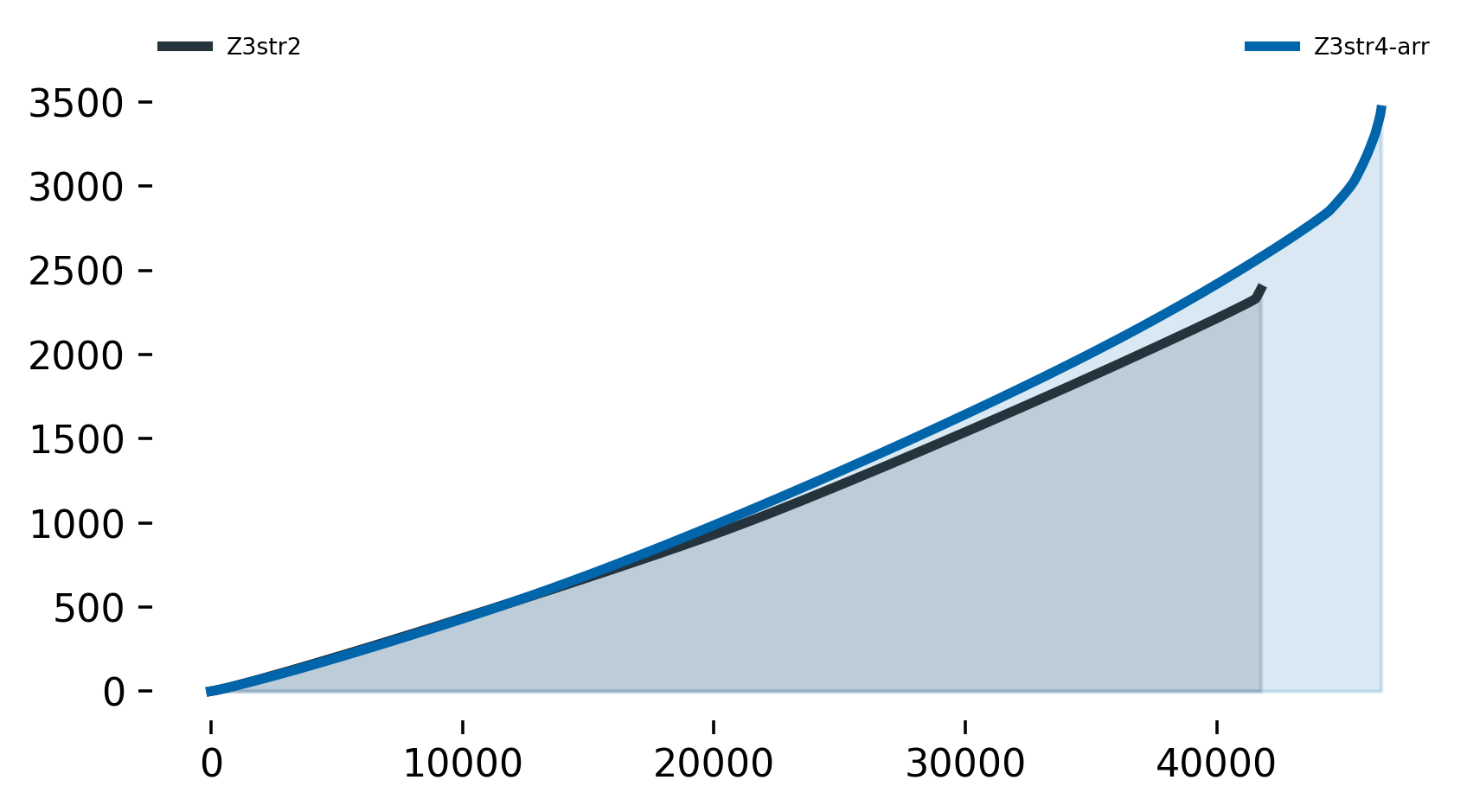 | | | | | | | | | | | | | |
| --- | --- | --- | --- | --- | --- | --- | --- | --- | --- | --- | --- | --- |
| Solver | Cor. class. (contr.) | SAT | UNSAT | UNKN | ERR | CRA | TO | Par2 | Tot. inst. | Tot. inst. w/o TO | Tot. time | Tot. time w/o TO |
| Z3str4-arr | 46526 (110.46) | 34539 | 11987 | 99 | 0 | 0 | 659 | 34304368 | 47284 | 46625 | 17164368 | 3984368 |
| Z3str2 | 41753 (8.45) | 34406 | 11975 | 39 | 4628 | 0 | 864 | 687633462 | 47284 | 46420 | 20873462 | 3593462 |
| | |
| --- | --- |
| Note | Z3str4-arr had the biggest lead with 1.11 and Z3str4-arr hat the largest contribution with 110.46. Other solvers contributed as follows: Z3str2: 8.45. |
StringFuzz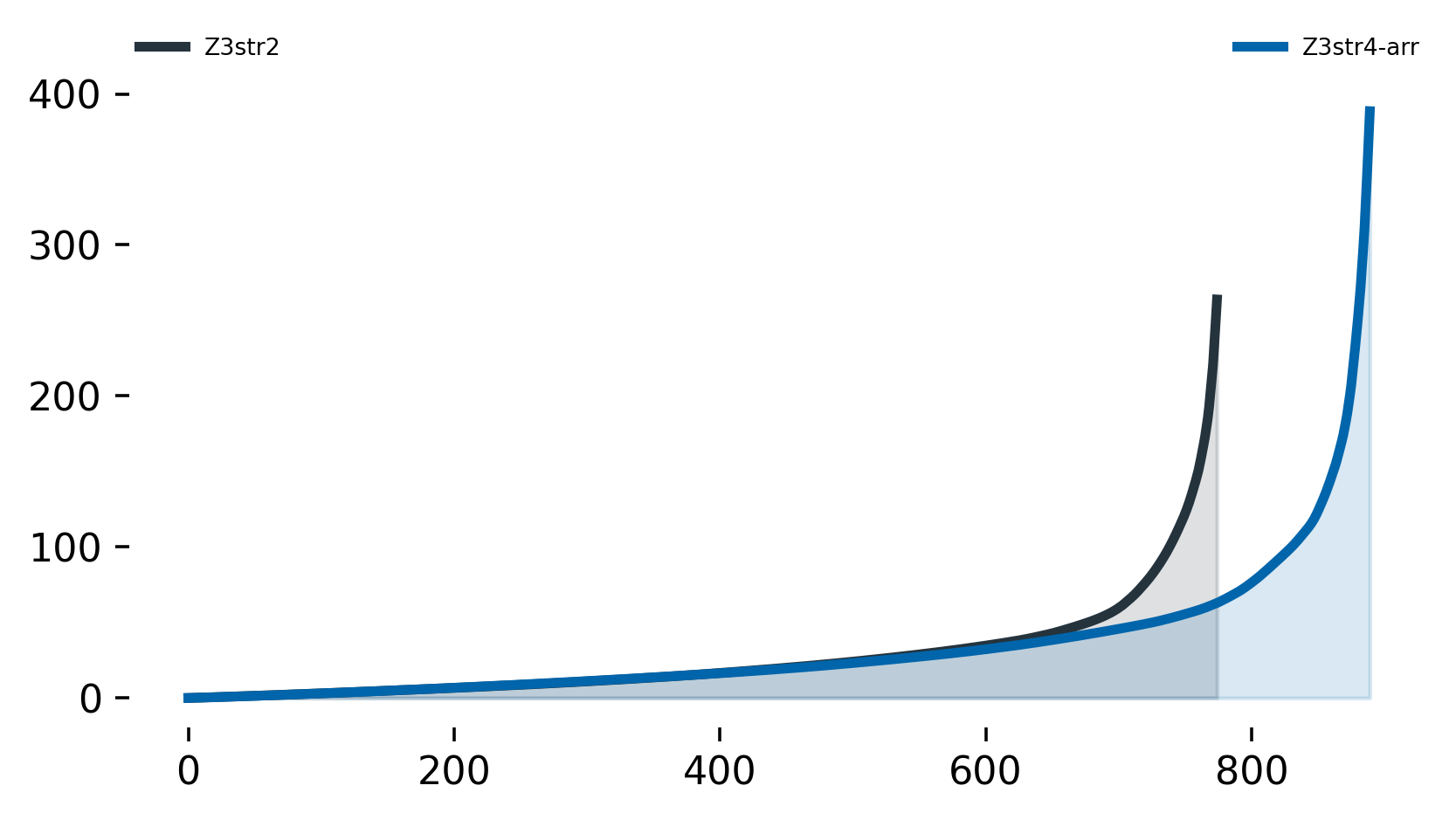 | | | | | | | | | | | | | |
| --- | --- | --- | --- | --- | --- | --- | --- | --- | --- | --- | --- | --- |
| Solver | Cor. class. (contr.) | SAT | UNSAT | UNKN | ERR | CRA | TO | Par2 | Tot. inst. | Tot. inst. w/o TO | Tot. time | Tot. time w/o TO |
| Z3str4-arr | 890 (68.81) | 662 | 228 | 0 | 0 | 0 | 175 | 7388595 | 1065 | 890 | 3888595 | 388595 |
| Z3str2 | 775 (0.0) | 592 | 183 | 5 | 0 | 0 | 285 | 11865466 | 1065 | 780 | 5965466 | 265466 |
| | |
| --- | --- |
| Note | Z3str4-arr had the biggest lead with 1.15 and Z3str4-arr hat the largest contribution with 68.81. Other solvers contributed as follows: Z3str2: 0.0. |
z3Str3 Regression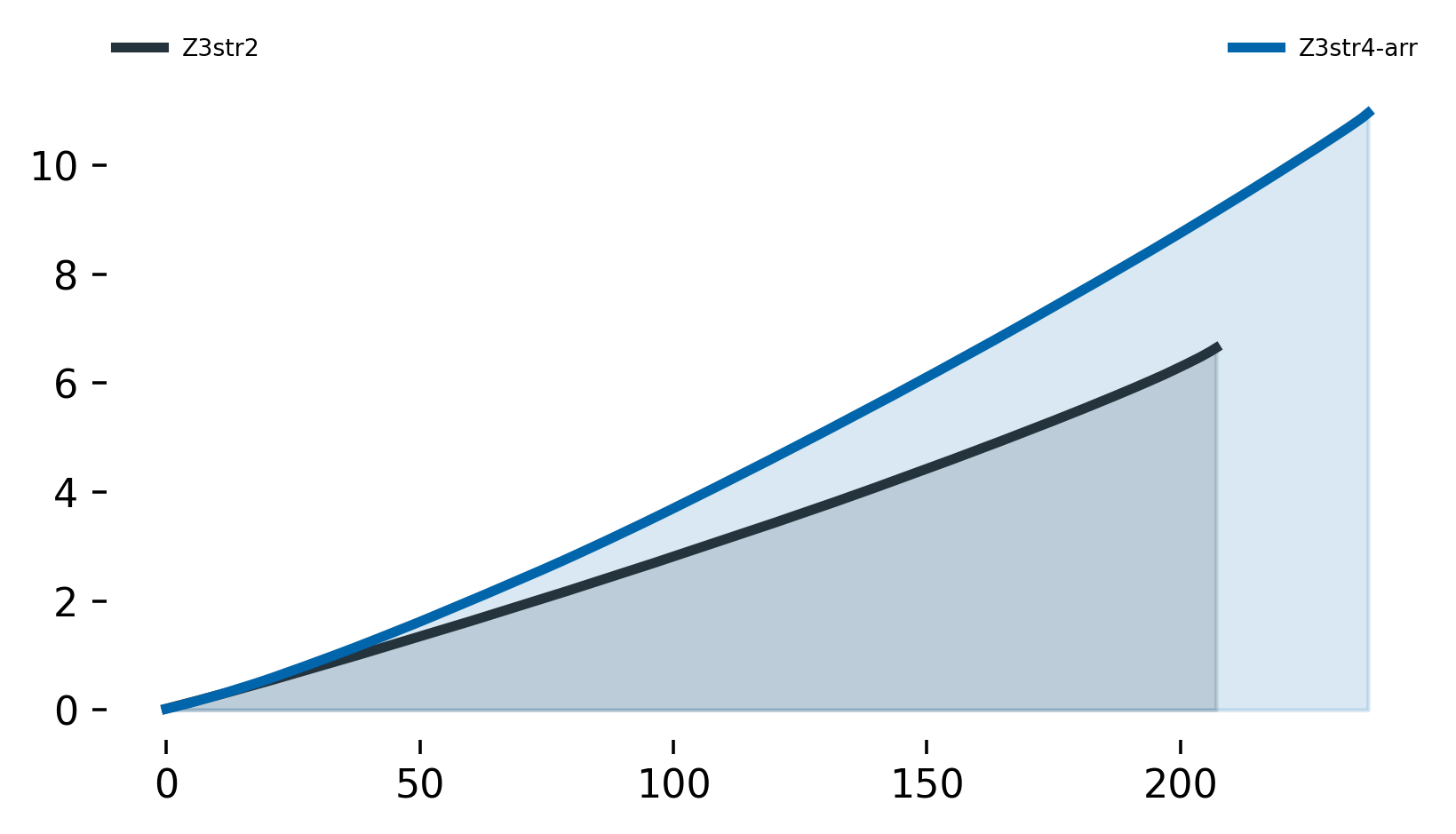 | | | | | | | | | | | | | |
| --- | --- | --- | --- | --- | --- | --- | --- | --- | --- | --- | --- | --- |
| Solver | Cor. class. (contr.) | SAT | UNSAT | UNKN | ERR | CRA | TO | Par2 | Tot. inst. | Tot. inst. w/o TO | Tot. time | Tot. time w/o TO |
| Z3str4-arr | 238 (2.28) | 192 | 46 | 0 | 0 | 0 | 4 | 170959 | 242 | 238 | 90959 | 10959 |
| Z3str2 | 208 (1.14) | 195 | 43 | 1 | 30 | 0 | 3 | 4368177 | 242 | 239 | 68177 | 8177 |
| | |
| --- | --- |
| Note | Z3str4-arr had the biggest lead with 1.14 and Z3str4-arr hat the largest contribution with 2.28. Other solvers contributed as follows: Z3str2: 1.14. |
Cashew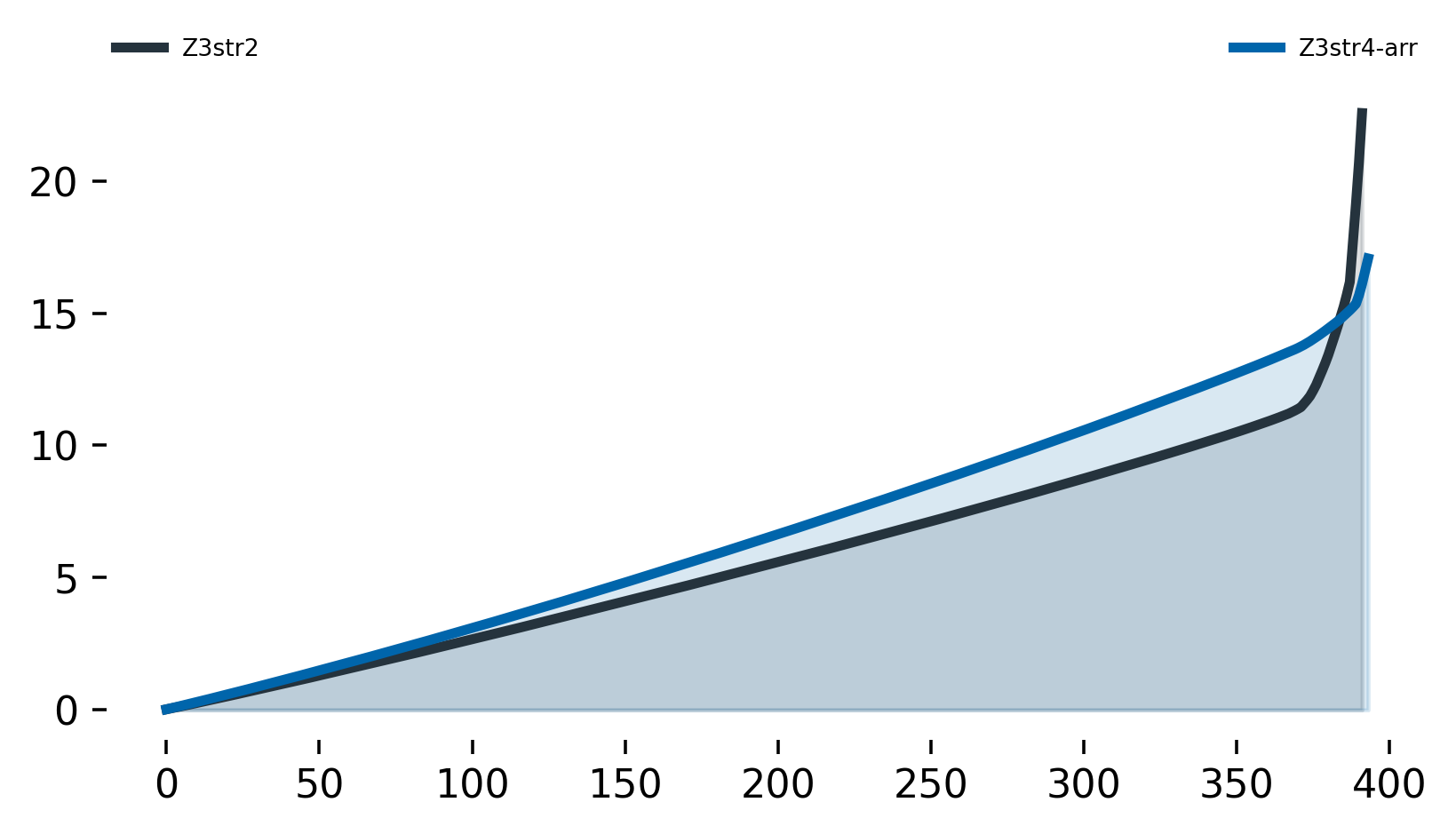 | | | | | | | | | | | | | |
| --- | --- | --- | --- | --- | --- | --- | --- | --- | --- | --- | --- | --- |
| Solver | Cor. class. (contr.) | SAT | UNSAT | UNKN | ERR | CRA | TO | Par2 | Tot. inst. | Tot. inst. w/o TO | Tot. time | Tot. time w/o TO |
| Z3str4-arr | 394 (0.0) | 382 | 12 | 0 | 0 | 0 | 0 | 17067 | 394 | 394 | 17067 | 17067 |
| Z3str2 | 392 (0.0) | 382 | 12 | 0 | 2 | 0 | 0 | 302628 | 394 | 394 | 22628 | 22628 |
| | |
| --- | --- |
| Note | Z3str4-arr had the biggest lead with 1.01 and Z3str2 hat the largest contribution with 0.0. Other solvers contributed as follows: Z3str4-arr: 0.0. |
JOACO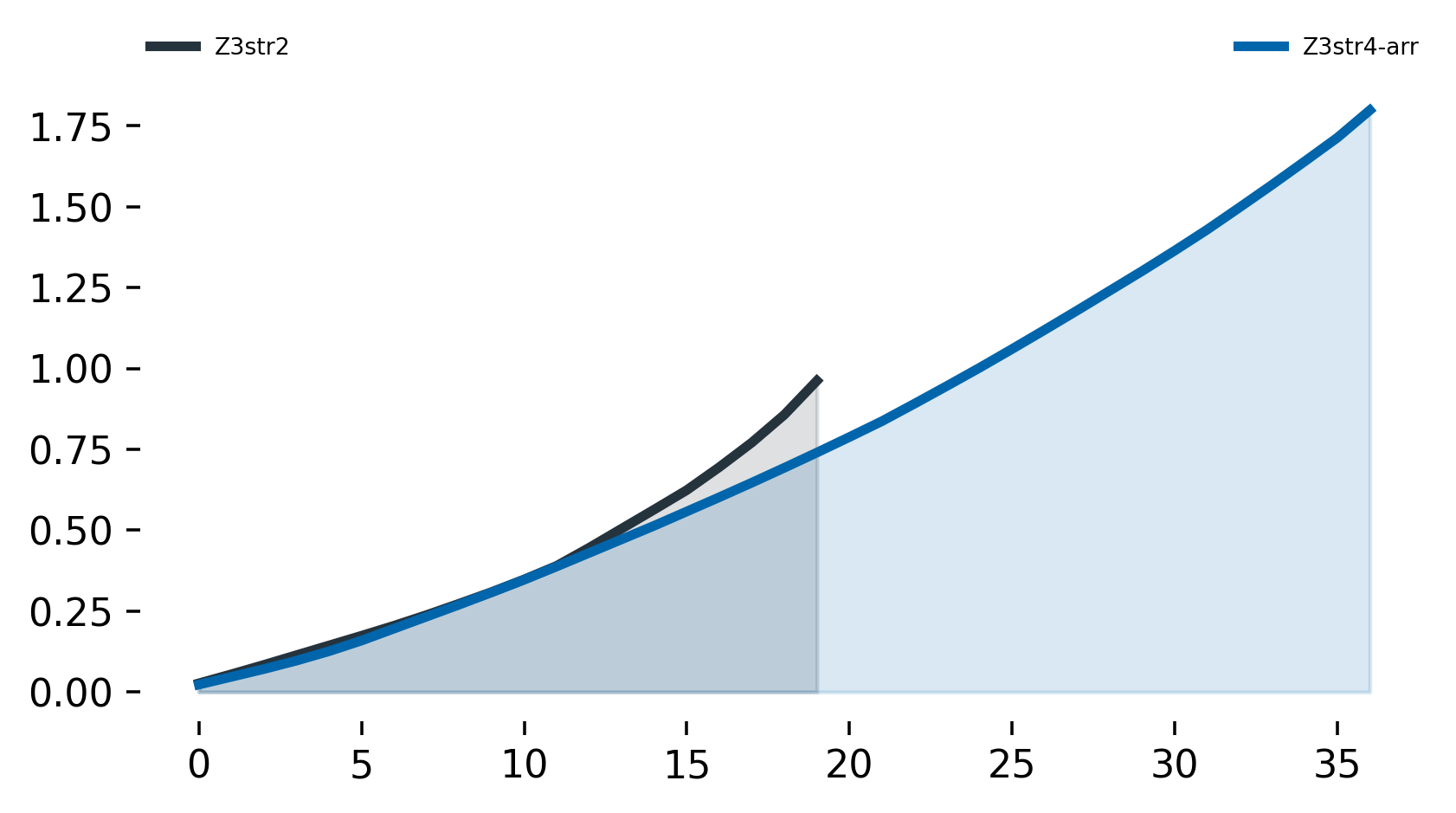 | | | | | | | | | | | | | |
| --- | --- | --- | --- | --- | --- | --- | --- | --- | --- | --- | --- | --- |
| Solver | Cor. class. (contr.) | SAT | UNSAT | UNKN | ERR | CRA | TO | Par2 | Tot. inst. | Tot. inst. w/o TO | Tot. time | Tot. time w/o TO |
| Z3str4-arr | 37 (15.67) | 17 | 20 | 57 | 0 | 0 | 0 | 2284465 | 94 | 94 | 4465 | 4465 |
| Z3str2 | 20 (0.0) | 7 | 20 | 67 | 7 | 0 | 0 | 3665957 | 94 | 94 | 5957 | 5957 |
| | |
| --- | --- |
| Note | Z3str4-arr had the biggest lead with 1.85 and Z3str4-arr hat the largest contribution with 15.67. Other solvers contributed as follows: Z3str2: 0.0. |
Stranger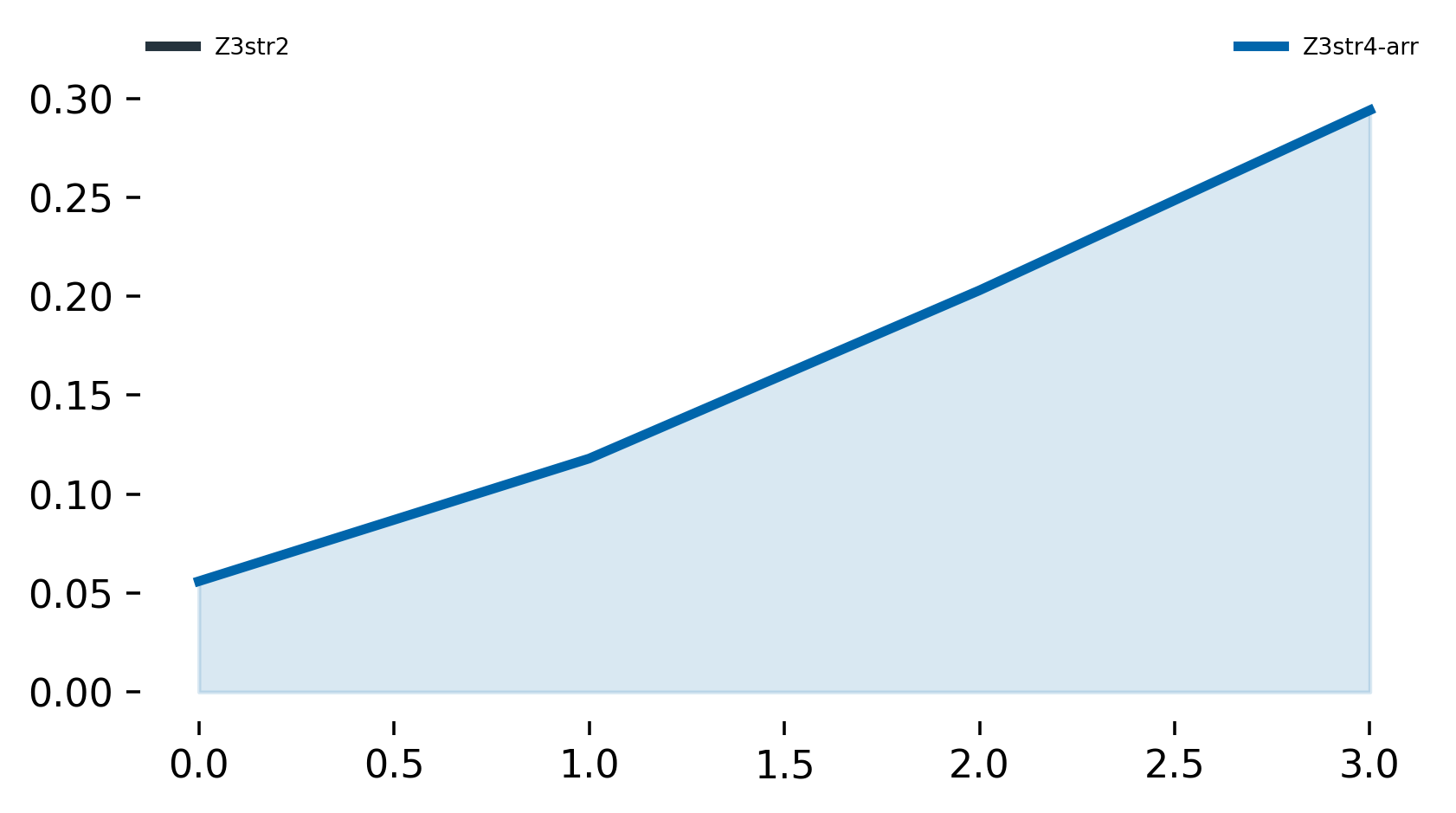 | | | | | | | | | | | | | |
| --- | --- | --- | --- | --- | --- | --- | --- | --- | --- | --- | --- | --- |
| Solver | Cor. class. (contr.) | SAT | UNSAT | UNKN | ERR | CRA | TO | Par2 | Tot. inst. | Tot. inst. w/o TO | Tot. time | Tot. time w/o TO |
| Z3str4-arr | 4 (2.0) | 4 | 0 | 0 | 0 | 0 | 0 | 294 | 4 | 4 | 294 | 294 |
| Z3str2 | 0 (0.0) | 0 | 0 | 4 | 0 | 0 | 0 | 160611 | 4 | 4 | 611 | 611 |
| | |
| --- | --- |
| Note | Z3str4-arr had the biggest lead with 0 and Z3str4-arr hat the largest contribution with 2.0. Other solvers contributed as follows: Z3str2: 0.0. |
Kausler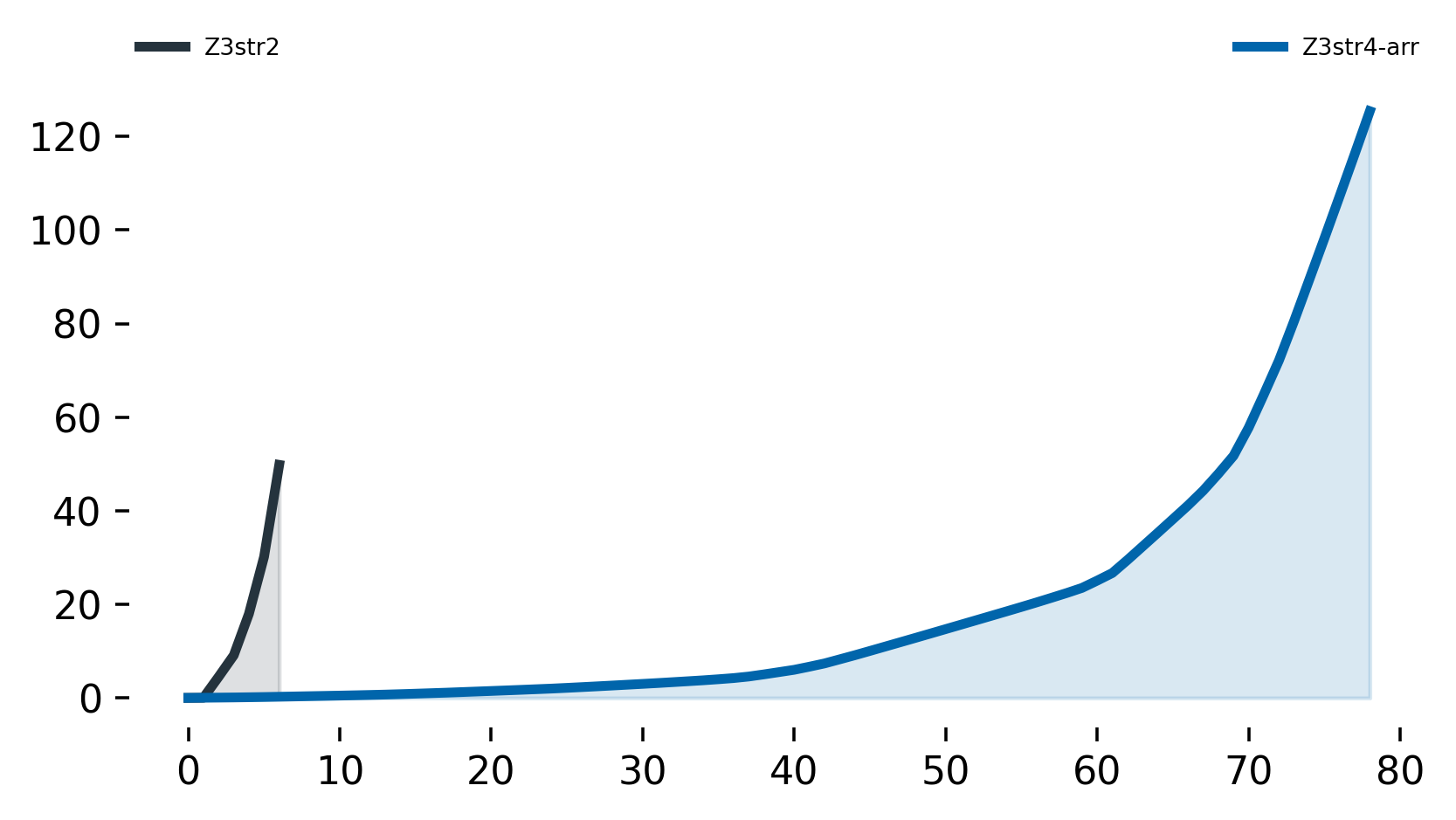 | | | | | | | | | | | | | |
| --- | --- | --- | --- | --- | --- | --- | --- | --- | --- | --- | --- | --- |
| Solver | Cor. class. (contr.) | SAT | UNSAT | UNKN | ERR | CRA | TO | Par2 | Tot. inst. | Tot. inst. w/o TO | Tot. time | Tot. time w/o TO |
| Z3str4-arr | 79 (0.0) | 79 | 0 | 5 | 0 | 0 | 36 | 1772295 | 120 | 84 | 852295 | 132295 |
| Z3str2 | 7 (42.86) | 119 | 0 | 0 | 112 | 0 | 1 | 15807510 | 120 | 119 | 107510 | 87510 |
| | |
| --- | --- |
| Note | Z3str4-arr had the biggest lead with 11.29 and Z3str2 hat the largest contribution with 42.86. Other solvers contributed as follows: Z3str4-arr: 0.0. |
BanditFuzz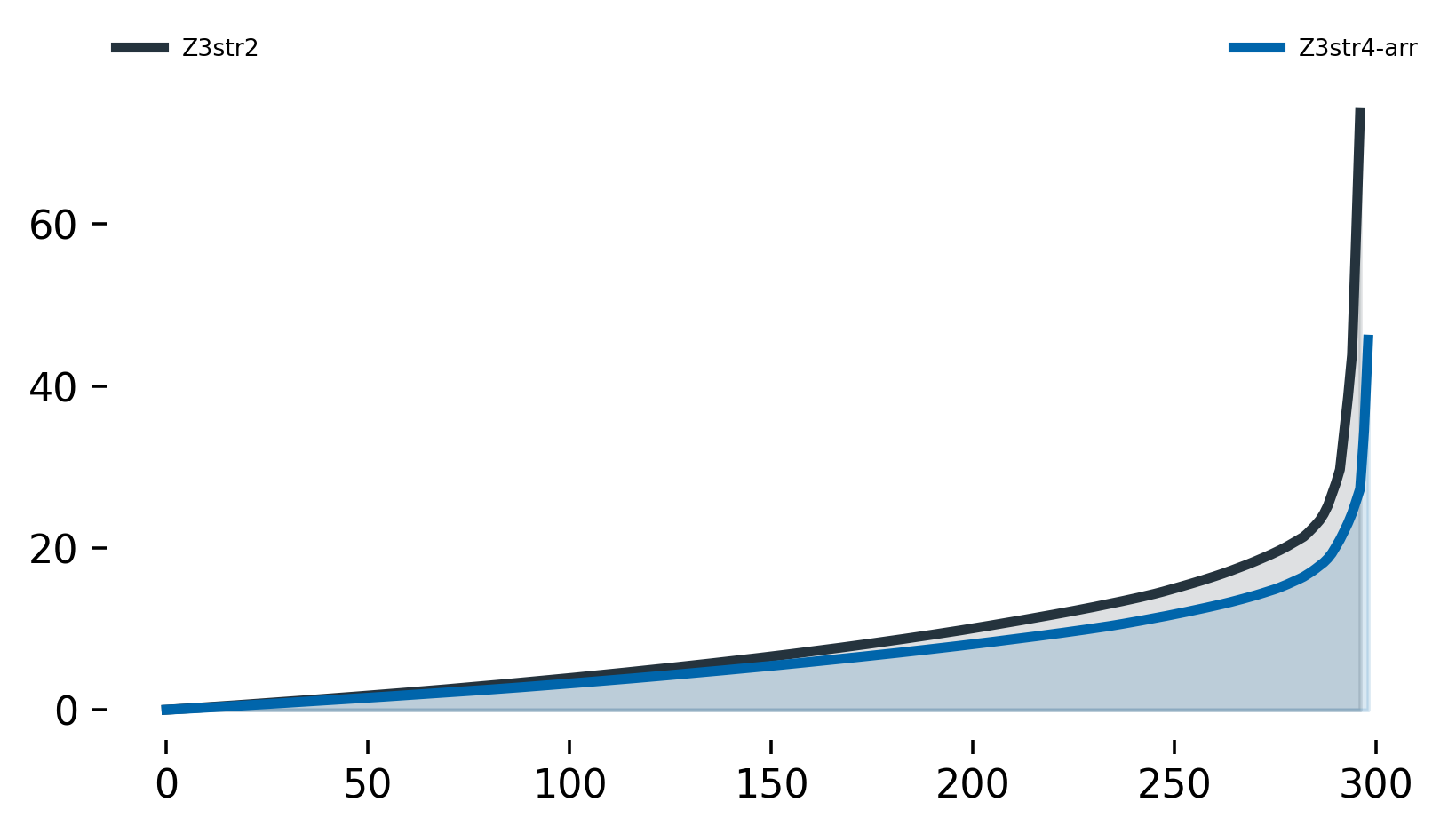 | | | | | | | | | | | | | |
| --- | --- | --- | --- | --- | --- | --- | --- | --- | --- | --- | --- | --- |
| Solver | Cor. class. (contr.) | SAT | UNSAT | UNKN | ERR | CRA | TO | Par2 | Tot. inst. | Tot. inst. w/o TO | Tot. time | Tot. time w/o TO |
| Z3str4-arr | 299 (3.53) | 14 | 285 | 5 | 0 | 0 | 53 | 2371549 | 357 | 304 | 1111549 | 51549 |
| Z3str2 | 297 (4.12) | 24 | 286 | 2 | 13 | 0 | 45 | 3782843 | 357 | 312 | 982843 | 82843 |
| | |
| --- | --- |
| Note | Z3str4-arr had the biggest lead with 1.01 and Z3str2 hat the largest contribution with 4.12. Other solvers contributed as follows: Z3str4-arr: 3.53. |
automatark25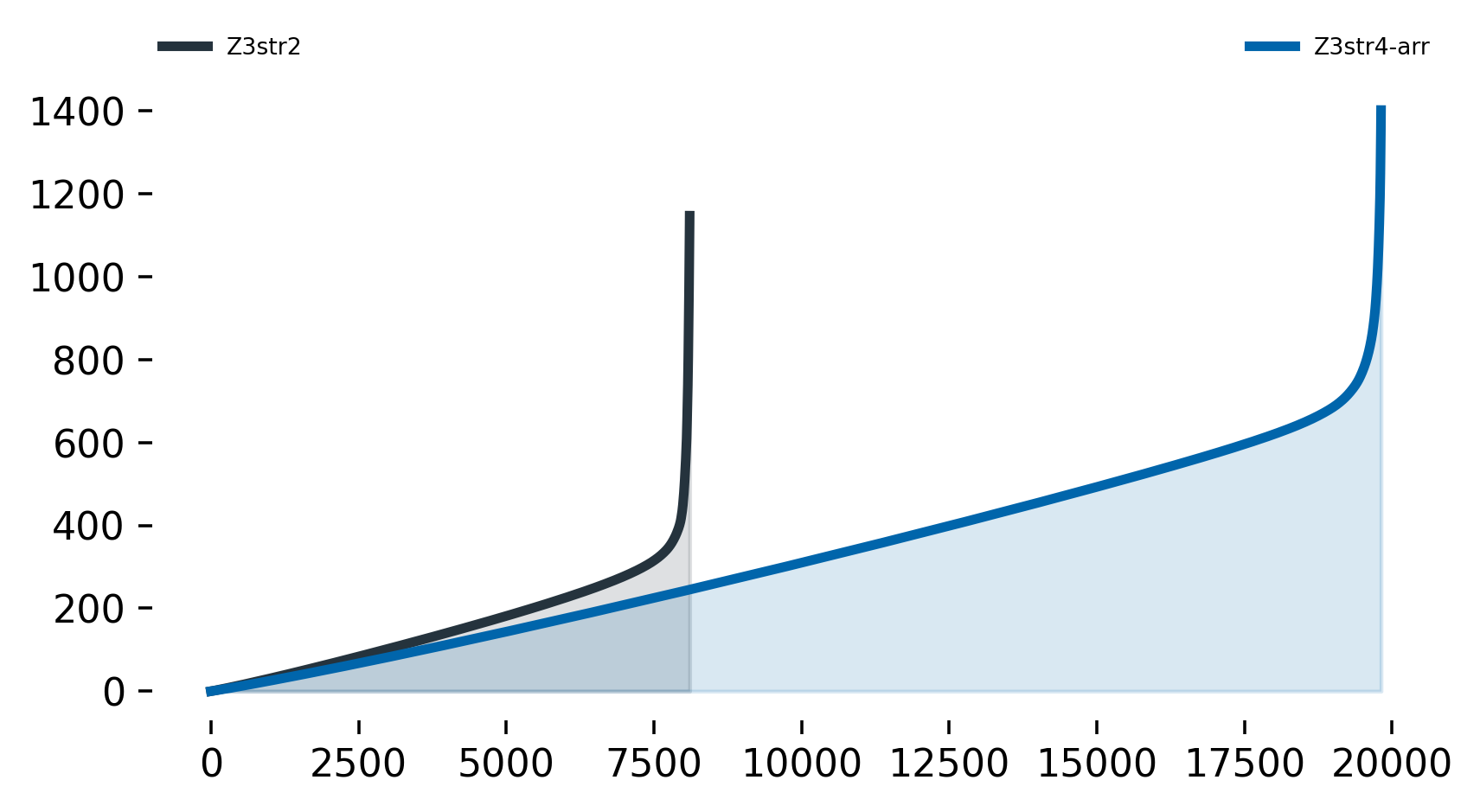 | | | | | | | | | | | | | |
| --- | --- | --- | --- | --- | --- | --- | --- | --- | --- | --- | --- | --- |
| Solver | Cor. class. (contr.) | SAT | UNSAT | UNKN | ERR | CRA | TO | Par2 | Tot. inst. | Tot. inst. w/o TO | Tot. time | Tot. time w/o TO |
| Z3str4-arr | 19816 (4026.98) | 14437 | 5379 | 0 | 0 | 0 | 163 | 7921911 | 19979 | 19816 | 4661911 | 1401911 |
| Z3str2 | 8108 (6.62) | 11643 | 2708 | 4759 | 6243 | 3 | 869 | 1101582230 | 19979 | 19110 | 19822230 | 2442230 |
| | |
| --- | --- |
| Note | Z3str4-arr had the biggest lead with 2.44 and Z3str4-arr hat the largest contribution with 4026.98. Other solvers contributed as follows: Z3str2: 6.62. |
stringfuzzregexgenerated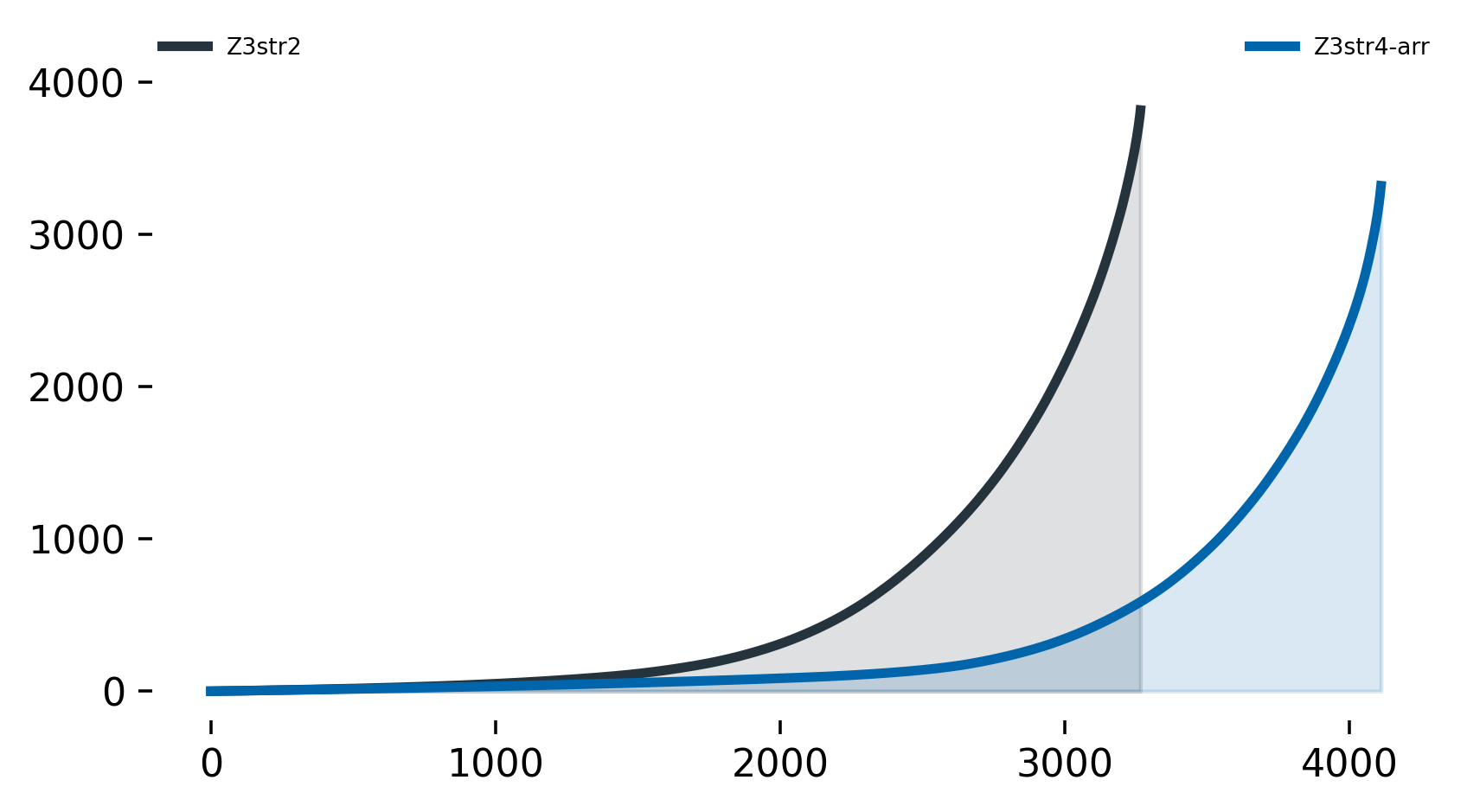 | | | | | | | | | | | | | |
| --- | --- | --- | --- | --- | --- | --- | --- | --- | --- | --- | --- | --- |
| Solver | Cor. class. (contr.) | SAT | UNSAT | UNKN | ERR | CRA | TO | Par2 | Tot. inst. | Tot. inst. w/o TO | Tot. time | Tot. time w/o TO |
| Z3str4-arr | 4111 (432.18) | 3281 | 830 | 10 | 0 | 0 | 49 | 5705209 | 4170 | 4121 | 4325209 | 3345209 |
| Z3str2 | 3266 (5.06) | 3232 | 35 | 0 | 1 | 0 | 903 | 40084881 | 4170 | 3267 | 21884881 | 3824881 |
| | |
| --- | --- |
| Note | Z3str4-arr had the biggest lead with 1.26 and Z3str4-arr hat the largest contribution with 432.18. Other solvers contributed as follows: Z3str2: 5.06. |
stringfuzzregextransformed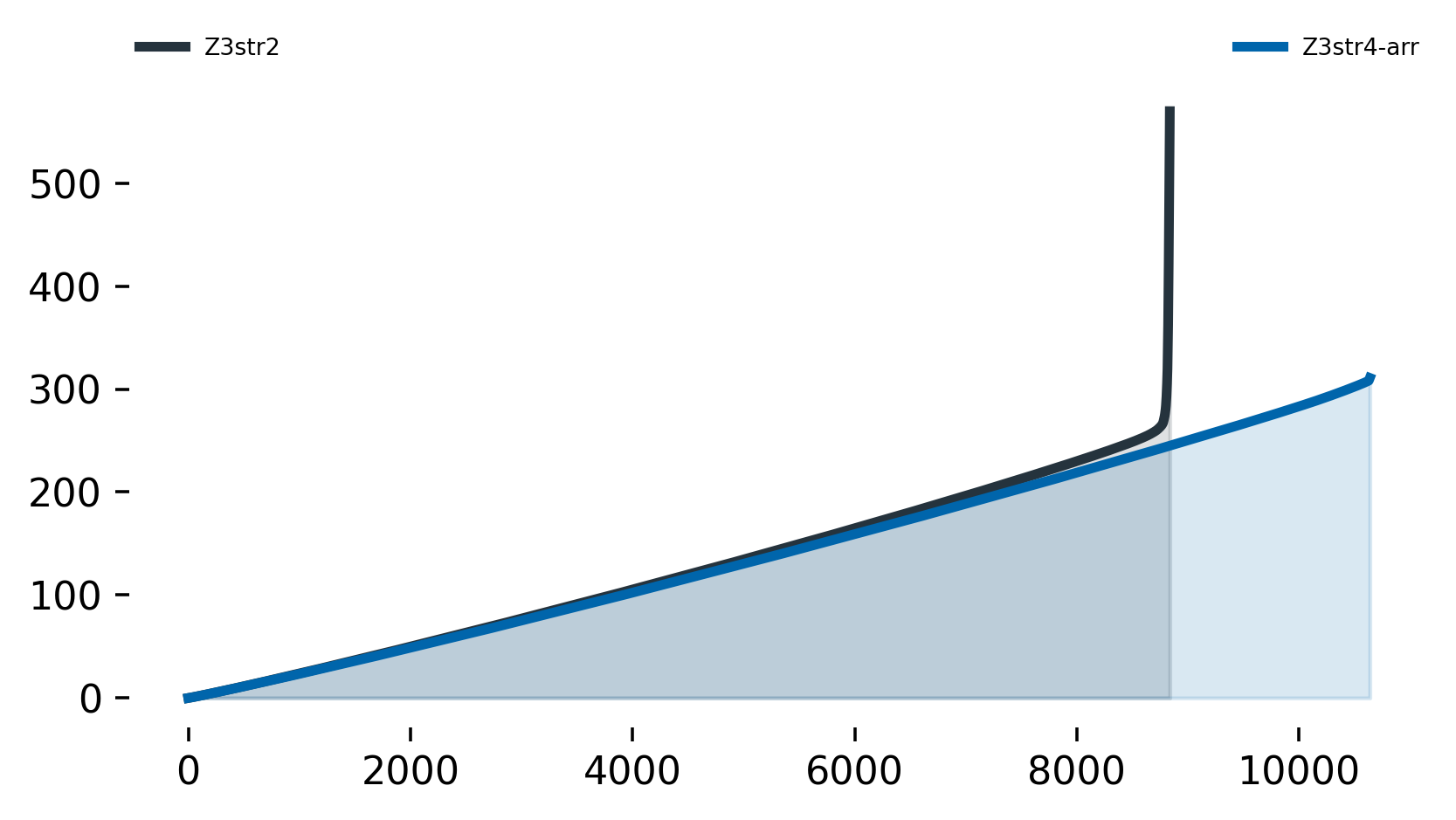 | | | | | | | | | | | | | |
| --- | --- | --- | --- | --- | --- | --- | --- | --- | --- | --- | --- | --- |
| Solver | Cor. class. (contr.) | SAT | UNSAT | UNKN | ERR | CRA | TO | Par2 | Tot. inst. | Tot. inst. w/o TO | Tot. time | Tot. time w/o TO |
| Z3str4-arr | 10639 (680.74) | 4598 | 6041 | 6 | 0 | 0 | 37 | 2031029 | 10682 | 10645 | 1051029 | 311029 |
| Z3str2 | 8838 (7.91) | 4459 | 4906 | 0 | 527 | 0 | 1317 | 127049304 | 10682 | 9365 | 26929304 | 589304 |
| | |
| --- | --- |
| Note | Z3str4-arr had the biggest lead with 1.2 and Z3str4-arr hat the largest contribution with 680.74. Other solvers contributed as follows: Z3str2: 7.91. |
Total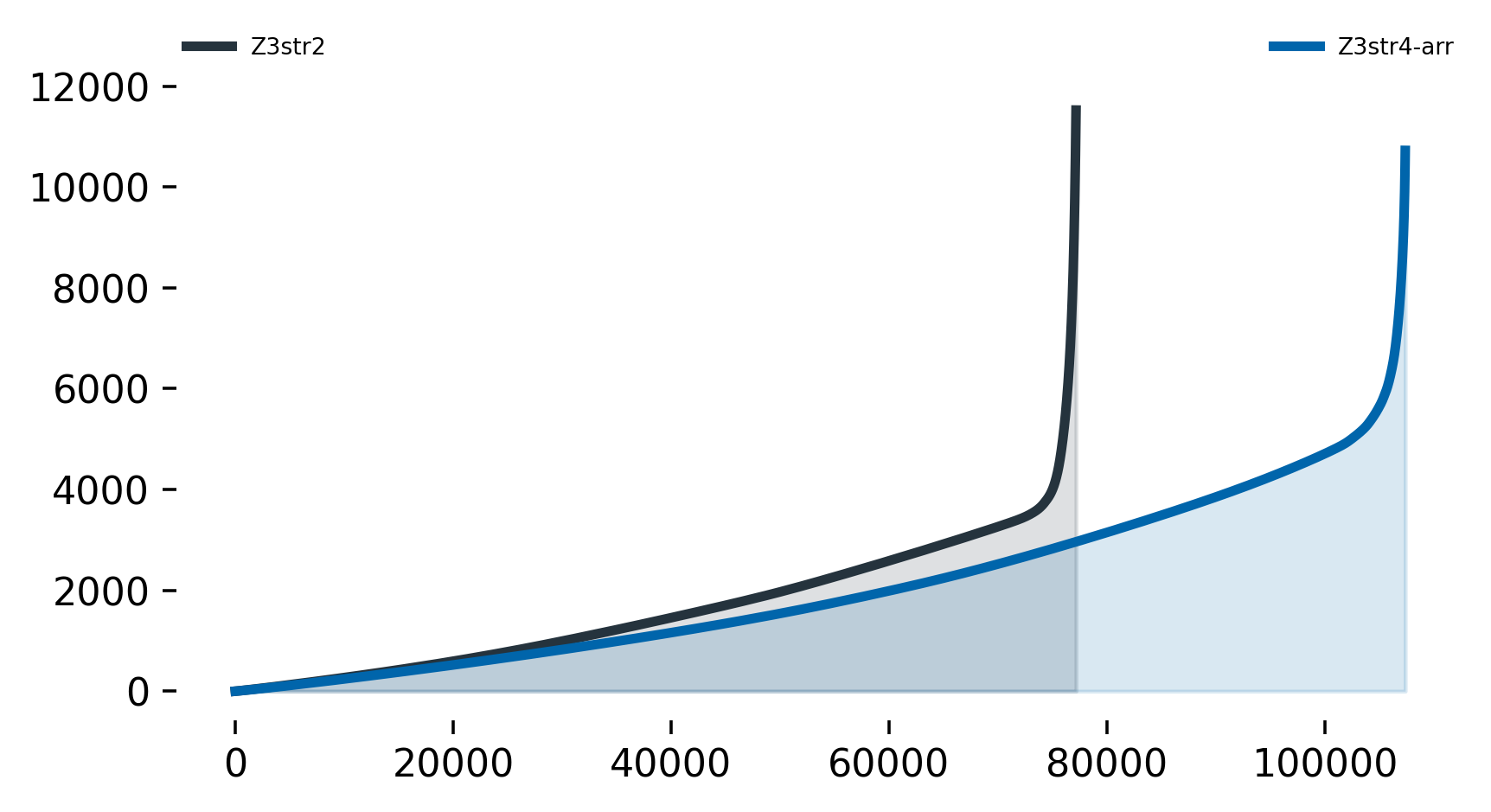 | | | | | | | | | | | | | |
| --- | --- | --- | --- | --- | --- | --- | --- | --- | --- | --- | --- | --- |
| Solver | Cor. class. (contr.) | SAT | UNSAT | UNKN | ERR | CRA | TO | Par2 | Tot. inst. | Tot. inst. w/o TO | Tot. time | Tot. time w/o TO |
| Z3str4-arr | 107401 (9252.07) | 63095 | 44314 | 525 | 8 | 0 | 12432 | 532807893 | 120366 | 107934 | 262047893 | 13407893 |
| Z3str2 | 77194 (731.69) | 65073 | 29583 | 5707 | 17462 | 3 | 20003 | 3496969163 | 120366 | 100363 | 423949163 | 23889163 |
| | |
| --- | --- |
| Note | Z3str4-arr had the biggest lead with 1.39 and Z3str4-arr hat the largest contribution with 9252.07. Other solvers contributed as follows: Z3str2: 731.69. |
Clause-sharing Experiment
PyEx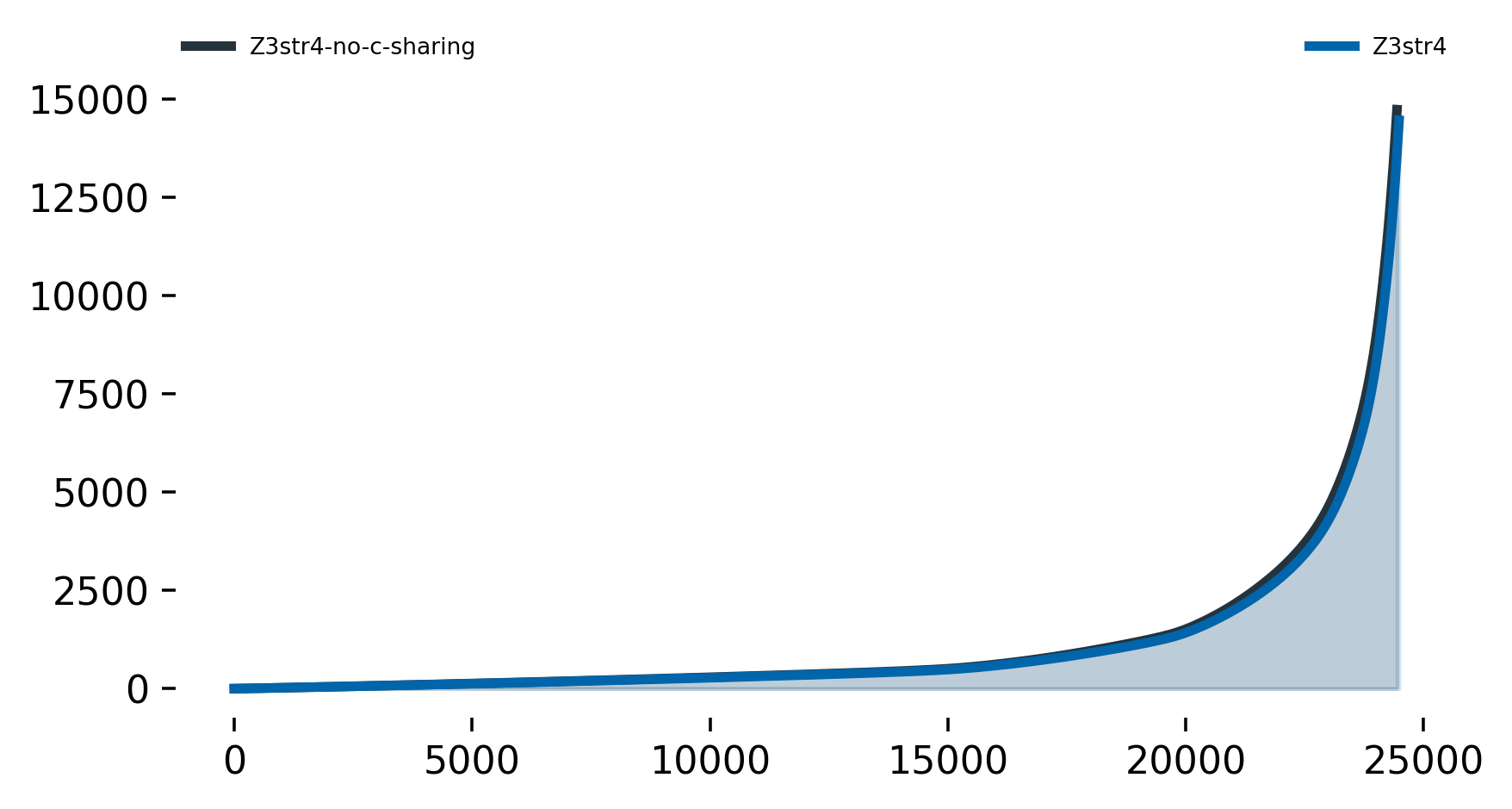 | | | | | | | | | | | | | |
| --- | --- | --- | --- | --- | --- | --- | --- | --- | --- | --- | --- | --- |
| Solver | Cor. class. (contr.) | SAT | UNSAT | UNKN | ERR | CRA | TO | Par2 | Tot. inst. | Tot. inst. w/o TO | Tot. time | Tot. time w/o TO |
| Z3str4 | 24483 (28.54) | 10789 | 13694 | 37 | 0 | 0 | 901 | 52372918 | 25421 | 24520 | 32872918 | 14852918 |
| Z3str4-no-c-sharing | 24439 (5.71) | 10747 | 13692 | 35 | 0 | 0 | 947 | 54429828 | 25421 | 24474 | 34089828 | 15149828 |
| | |
| --- | --- |
| Note | Z3str4 had the biggest lead with 1.0 and Z3str4 hat the largest contribution with 28.54. Other solvers contributed as follows: Z3str4-no-c-sharing: 5.71. |
SMTLIB25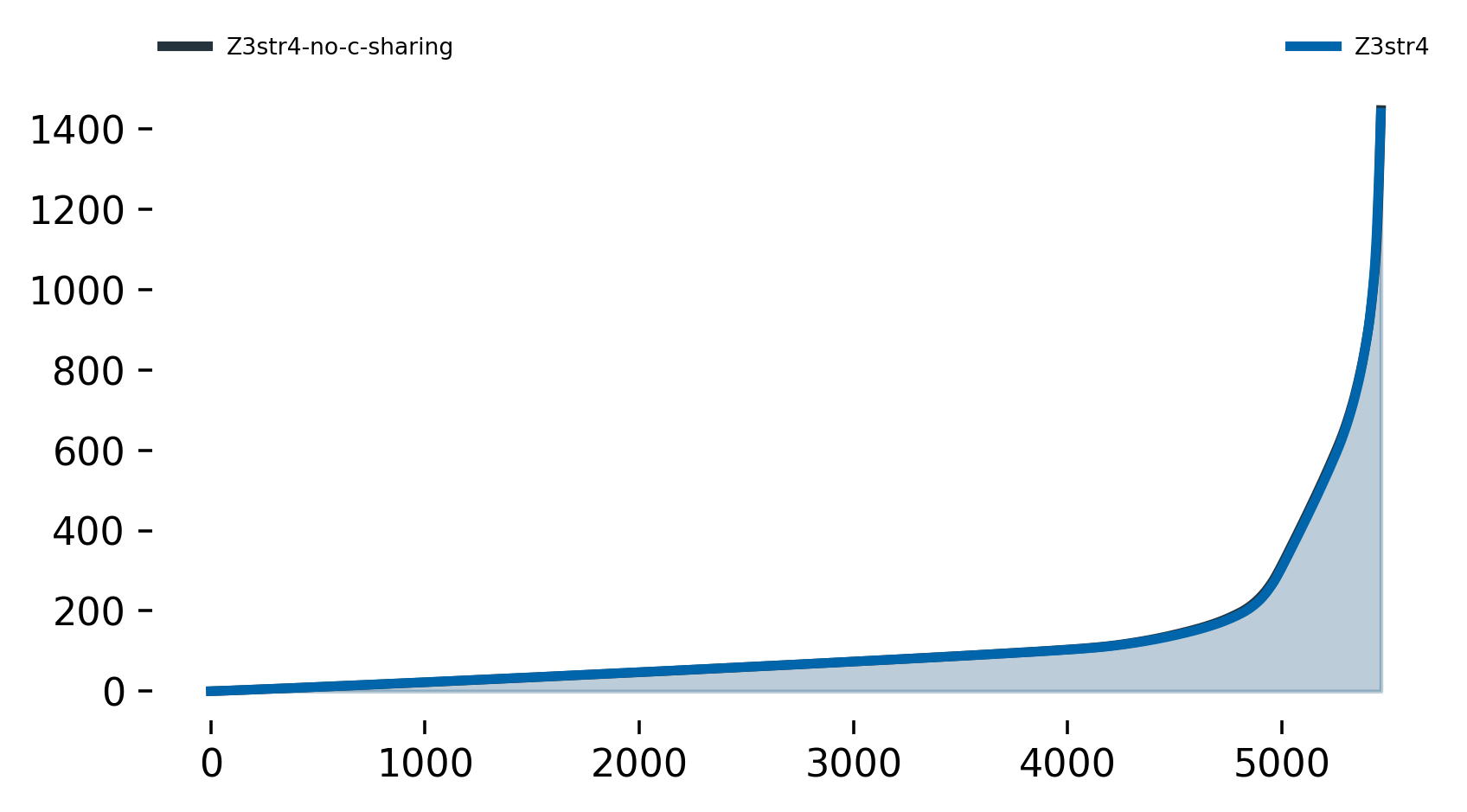 | | | | | | | | | | | | | |
| --- | --- | --- | --- | --- | --- | --- | --- | --- | --- | --- | --- | --- |
| Solver | Cor. class. (contr.) | SAT | UNSAT | UNKN | ERR | CRA | TO | Par2 | Tot. inst. | Tot. inst. w/o TO | Tot. time | Tot. time w/o TO |
| Z3str4-no-c-sharing | 5464 (19.89) | 1871 | 3593 | 4 | 0 | 1 | 445 | 19435405 | 5913 | 5468 | 10375405 | 1475405 |
| Z3str4 | 5463 (19.35) | 1869 | 3594 | 6 | 0 | 0 | 444 | 19503735 | 5913 | 5469 | 10383735 | 1503735 |
| | |
| --- | --- |
| Note | Z3str4-no-c-sharing had the biggest lead with 1.0 and Z3str4-no-c-sharing hat the largest contribution with 19.89. Other solvers contributed as follows: Z3str4: 19.35. |
Pisa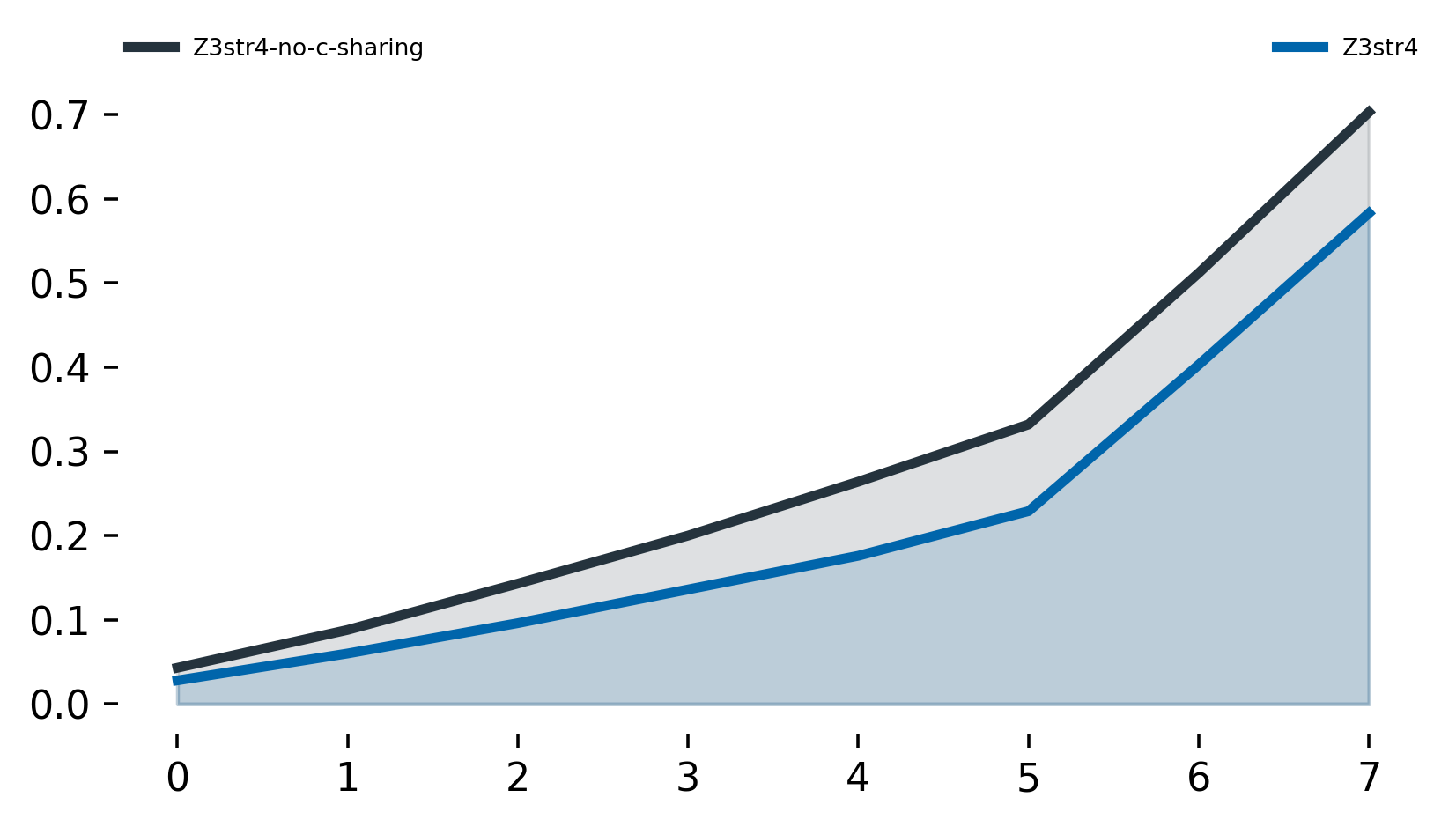 | | | | | | | | | | | | | |
| --- | --- | --- | --- | --- | --- | --- | --- | --- | --- | --- | --- | --- |
| Solver | Cor. class. (contr.) | SAT | UNSAT | UNKN | ERR | CRA | TO | Par2 | Tot. inst. | Tot. inst. w/o TO | Tot. time | Tot. time w/o TO |
| Z3str4 | 8 (0.0) | 8 | 0 | 0 | 0 | 0 | 4 | 160583 | 12 | 8 | 80583 | 583 |
| Z3str4-no-c-sharing | 8 (0.0) | 8 | 0 | 0 | 0 | 0 | 4 | 160703 | 12 | 8 | 80703 | 703 |
| | |
| --- | --- |
| Note | Z3str4 had the biggest lead with 1.0 and Z3str4-no-c-sharing hat the largest contribution with 0.0. Other solvers contributed as follows: Z3str4: 0.0. |
Norn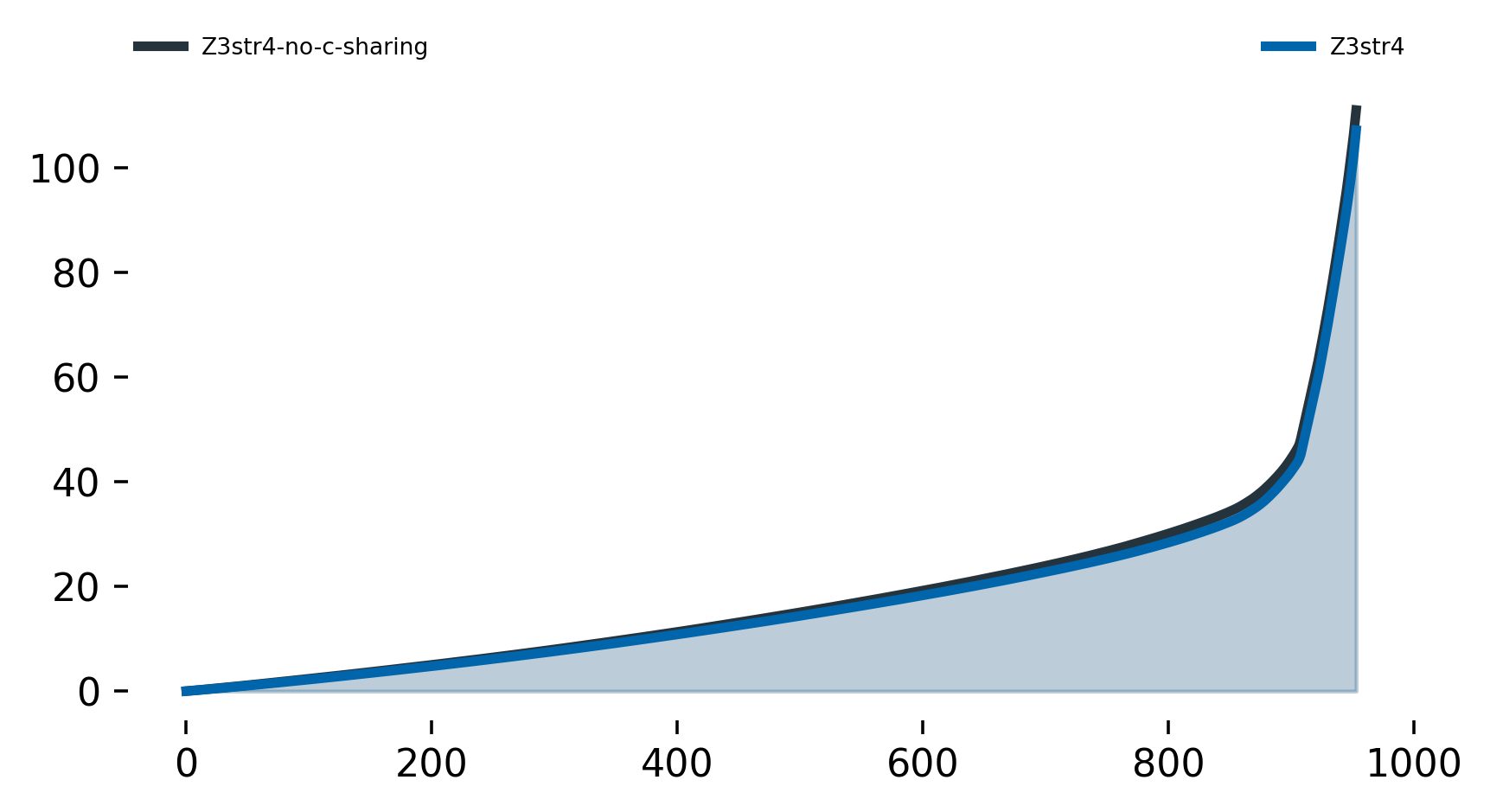 | | | | | | | | | | | | | |
| --- | --- | --- | --- | --- | --- | --- | --- | --- | --- | --- | --- | --- |
| Solver | Cor. class. (contr.) | SAT | UNSAT | UNKN | ERR | CRA | TO | Par2 | Tot. inst. | Tot. inst. w/o TO | Tot. time | Tot. time w/o TO |
| Z3str4 | 954 (0.0) | 712 | 242 | 0 | 0 | 0 | 73 | 3027248 | 1027 | 954 | 1567248 | 107248 |
| Z3str4-no-c-sharing | 954 (0.0) | 712 | 242 | 0 | 0 | 0 | 73 | 3031093 | 1027 | 954 | 1571093 | 111093 |
| | |
| --- | --- |
| Note | Z3str4 had the biggest lead with 1.0 and Z3str4-no-c-sharing hat the largest contribution with 0.0. Other solvers contributed as follows: Z3str4: 0.0. |
Trau Light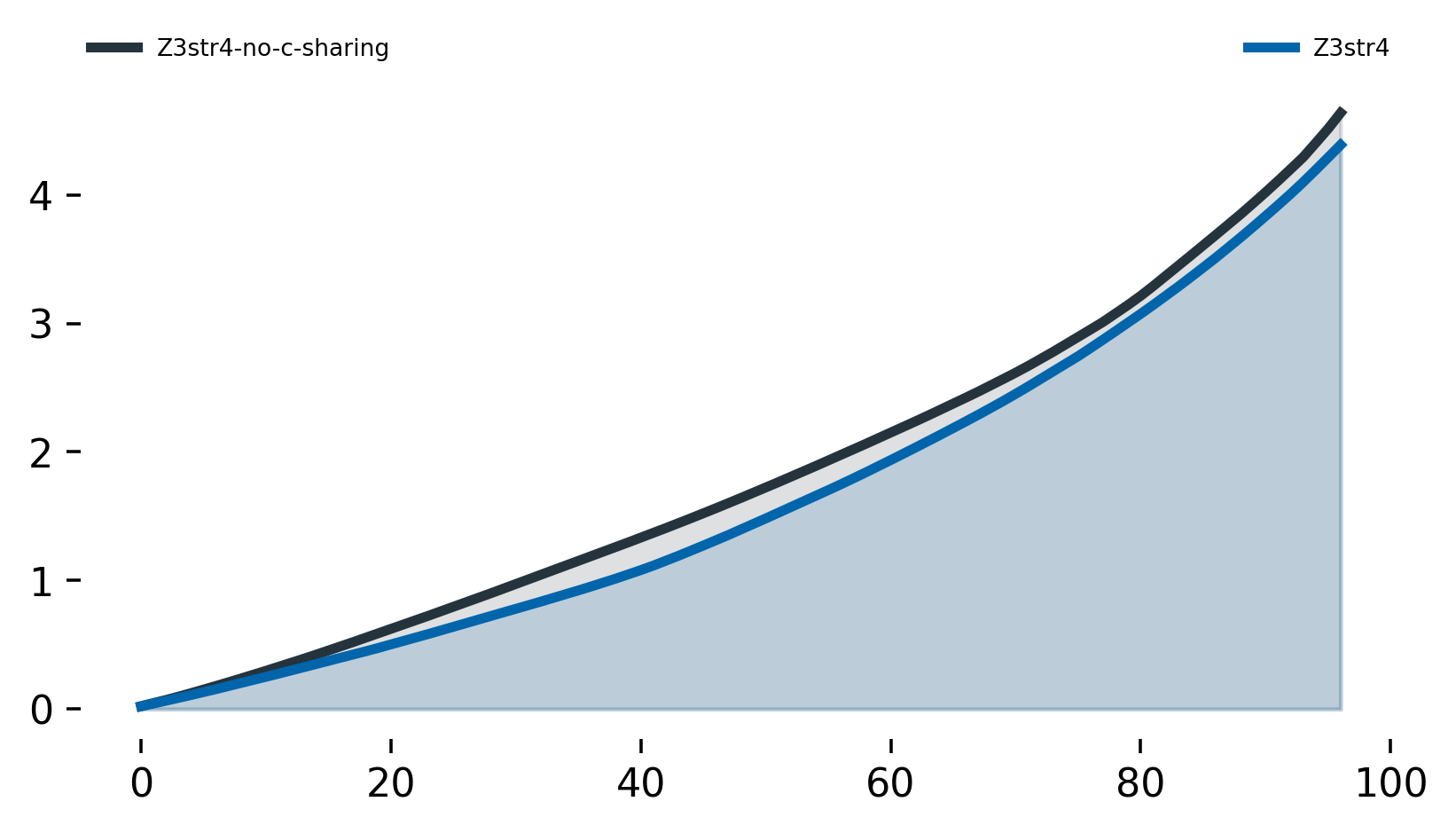 | | | | | | | | | | | | | |
| --- | --- | --- | --- | --- | --- | --- | --- | --- | --- | --- | --- | --- |
| Solver | Cor. class. (contr.) | SAT | UNSAT | UNKN | ERR | CRA | TO | Par2 | Tot. inst. | Tot. inst. w/o TO | Tot. time | Tot. time w/o TO |
| Z3str4 | 97 (0.0) | 4 | 93 | 0 | 0 | 0 | 3 | 124388 | 100 | 97 | 64388 | 4388 |
| Z3str4-no-c-sharing | 97 (0.0) | 4 | 93 | 0 | 0 | 0 | 3 | 124637 | 100 | 97 | 64637 | 4637 |
| | |
| --- | --- |
| Note | Z3str4 had the biggest lead with 1.0 and Z3str4-no-c-sharing hat the largest contribution with 0.0. Other solvers contributed as follows: Z3str4: 0.0. |
Leetcode Strings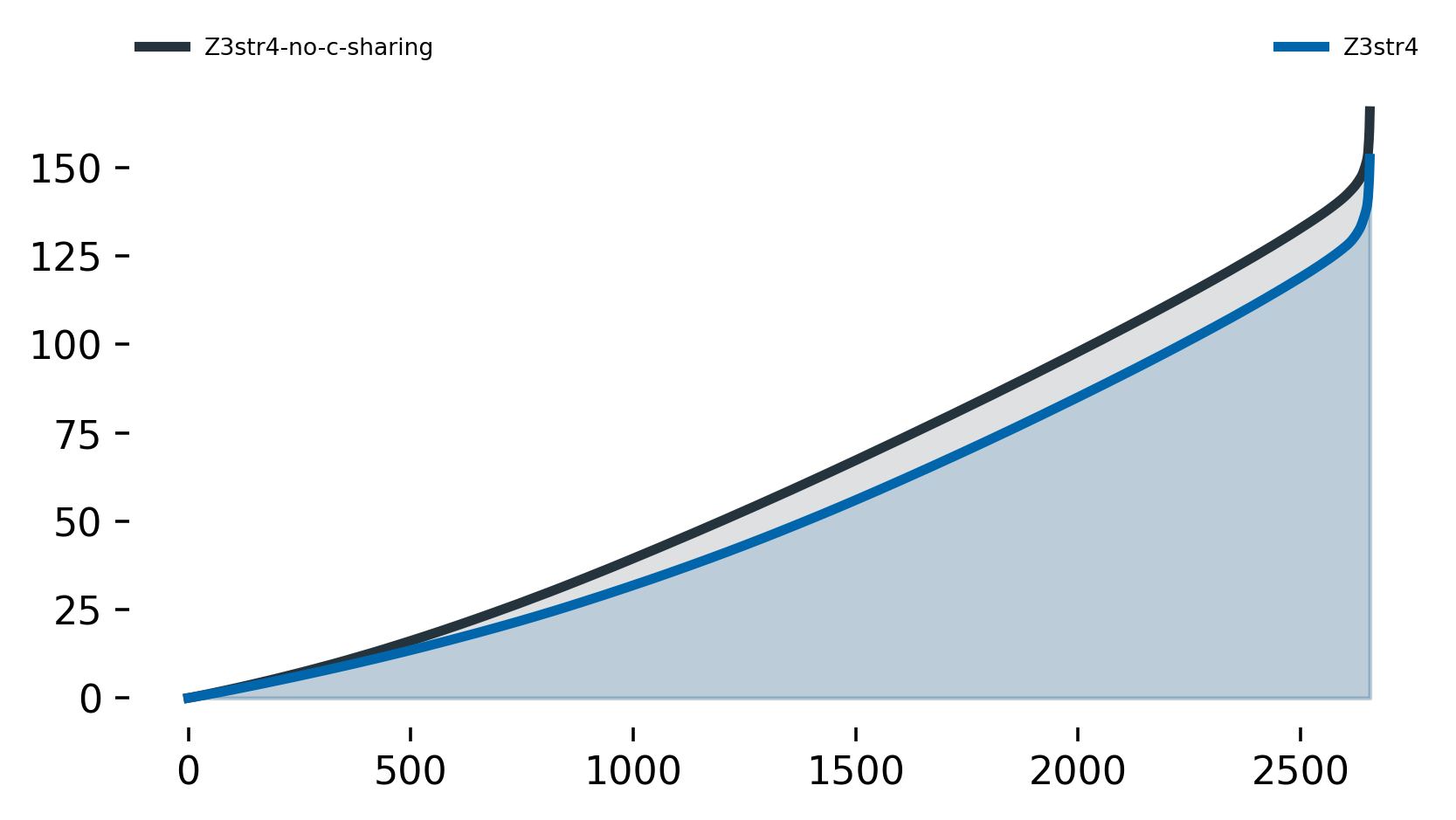 | | | | | | | | | | | | | |
| --- | --- | --- | --- | --- | --- | --- | --- | --- | --- | --- | --- | --- |
| Solver | Cor. class. (contr.) | SAT | UNSAT | UNKN | ERR | CRA | TO | Par2 | Tot. inst. | Tot. inst. w/o TO | Tot. time | Tot. time w/o TO |
| Z3str4 | 2657 (0.0) | 846 | 1811 | 1 | 0 | 0 | 3 | 312633 | 2661 | 2658 | 212633 | 152633 |
| Z3str4-no-c-sharing | 2657 (0.0) | 846 | 1811 | 1 | 0 | 0 | 3 | 326138 | 2661 | 2658 | 226138 | 166138 |
| | |
| --- | --- |
| Note | Z3str4 had the biggest lead with 1.0 and Z3str4-no-c-sharing hat the largest contribution with 0.0. Other solvers contributed as follows: Z3str4: 0.0. |
IBM Appscan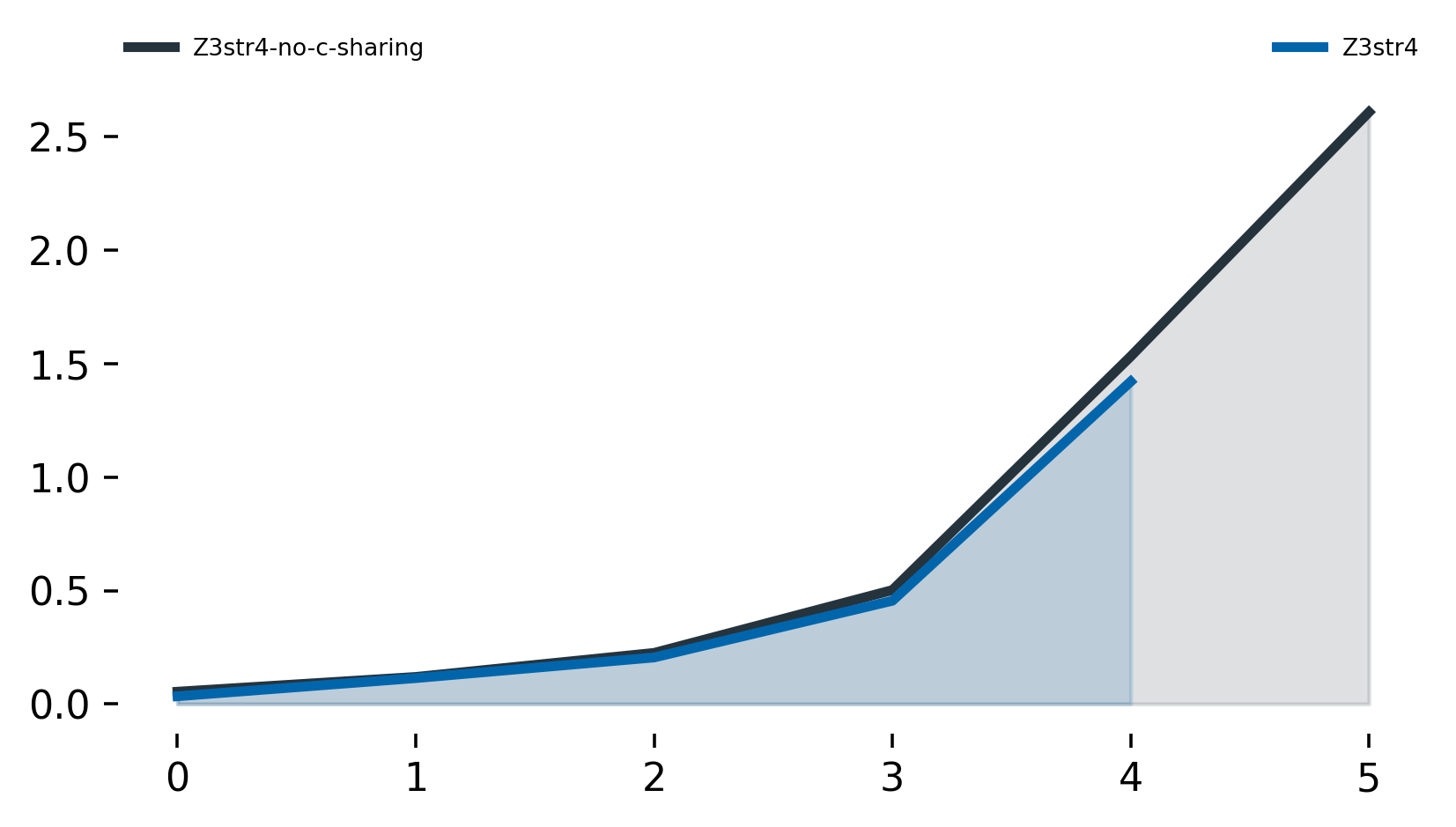 | | | | | | | | | | | | | |
| --- | --- | --- | --- | --- | --- | --- | --- | --- | --- | --- | --- | --- |
| Solver | Cor. class. (contr.) | SAT | UNSAT | UNKN | ERR | CRA | TO | Par2 | Tot. inst. | Tot. inst. w/o TO | Tot. time | Tot. time w/o TO |
| Z3str4-no-c-sharing | 6 (0.67) | 6 | 0 | 0 | 0 | 0 | 2 | 82609 | 8 | 6 | 42609 | 2609 |
| Z3str4 | 5 (0.0) | 5 | 0 | 0 | 0 | 0 | 3 | 121421 | 8 | 5 | 61421 | 1421 |
| | |
| --- | --- |
| Note | Z3str4-no-c-sharing had the biggest lead with 1.2 and Z3str4-no-c-sharing hat the largest contribution with 0.67. Other solvers contributed as follows: Z3str4: 0.0. |
Sloth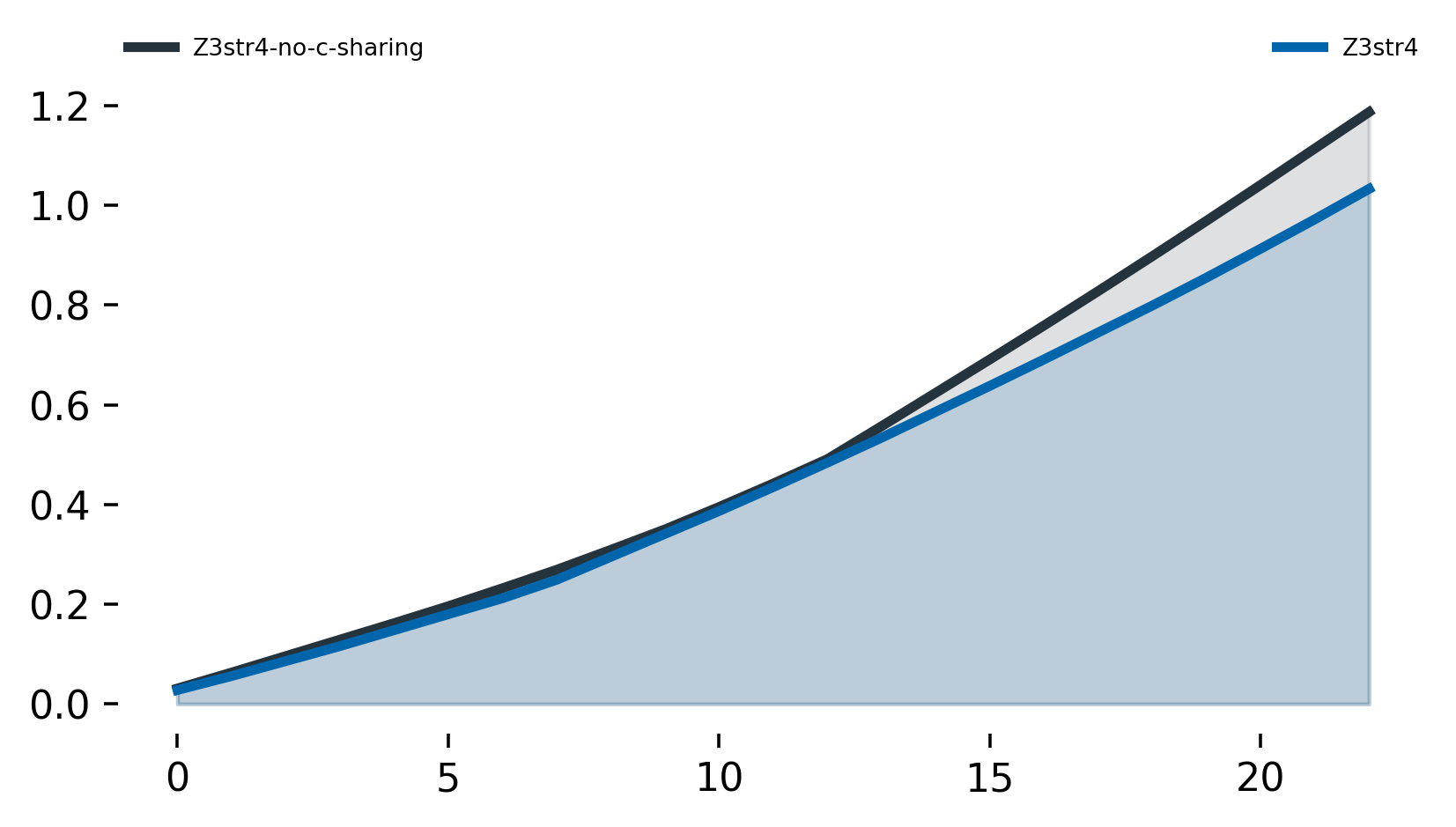 | | | | | | | | | | | | | |
| --- | --- | --- | --- | --- | --- | --- | --- | --- | --- | --- | --- | --- |
| Solver | Cor. class. (contr.) | SAT | UNSAT | UNKN | ERR | CRA | TO | Par2 | Tot. inst. | Tot. inst. w/o TO | Tot. time | Tot. time w/o TO |
| Z3str4 | 23 (0.0) | 10 | 13 | 0 | 0 | 0 | 1 | 41033 | 24 | 23 | 21033 | 1033 |
| Z3str4-no-c-sharing | 23 (0.0) | 10 | 13 | 0 | 0 | 0 | 1 | 41187 | 24 | 23 | 21187 | 1187 |
| | |
| --- | --- |
| Note | Z3str4 had the biggest lead with 1.0 and Z3str4-no-c-sharing hat the largest contribution with 0.0. Other solvers contributed as follows: Z3str4: 0.0. |
Woorpje Word Equations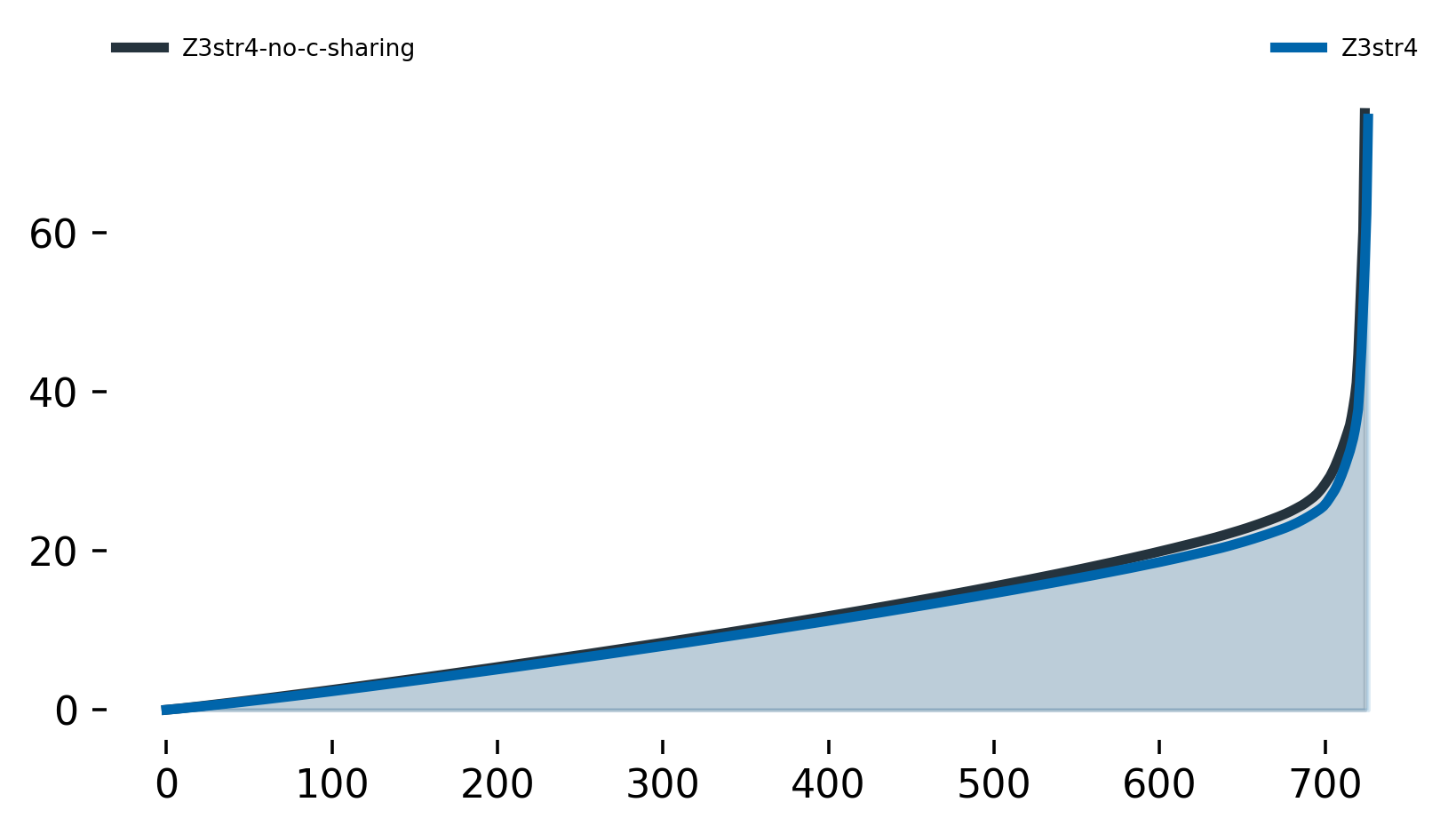 | | | | | | | | | | | | | |
| --- | --- | --- | --- | --- | --- | --- | --- | --- | --- | --- | --- | --- |
| Solver | Cor. class. (contr.) | SAT | UNSAT | UNKN | ERR | CRA | TO | Par2 | Tot. inst. | Tot. inst. w/o TO | Tot. time | Tot. time w/o TO |
| Z3str4 | 727 (6.05) | 563 | 164 | 0 | 0 | 0 | 82 | 3354318 | 809 | 727 | 1714318 | 74318 |
| Z3str4-no-c-sharing | 725 (4.95) | 561 | 164 | 0 | 0 | 0 | 84 | 3435015 | 809 | 725 | 1755015 | 75015 |
| | |
| --- | --- |
| Note | Z3str4 had the biggest lead with 1.0 and Z3str4 hat the largest contribution with 6.05. Other solvers contributed as follows: Z3str4-no-c-sharing: 4.95. |
Kaluza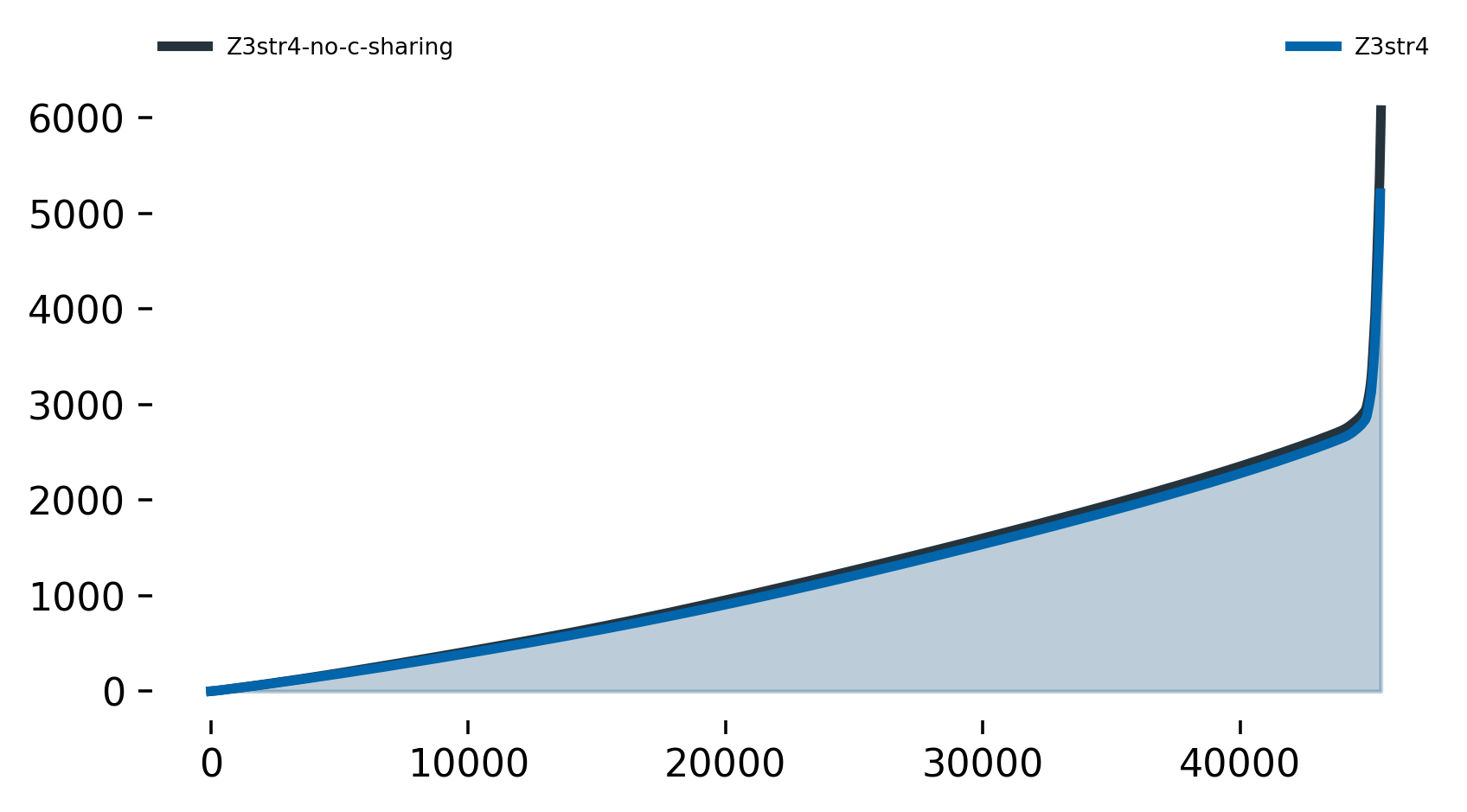 | | | | | | | | | | | | | |
| --- | --- | --- | --- | --- | --- | --- | --- | --- | --- | --- | --- | --- |
| Solver | Cor. class. (contr.) | SAT | UNSAT | UNKN | ERR | CRA | TO | Par2 | Tot. inst. | Tot. inst. w/o TO | Tot. time | Tot. time w/o TO |
| Z3str4-no-c-sharing | 45471 (16.64) | 33484 | 11987 | 60 | 0 | 0 | 1753 | 79203808 | 47284 | 45531 | 41743808 | 6683808 |
| Z3str4 | 45444 (2.6) | 33458 | 11986 | 64 | 0 | 0 | 1776 | 79420496 | 47284 | 45508 | 41340496 | 5820496 |
| | |
| --- | --- |
| Note | Z3str4-no-c-sharing had the biggest lead with 1.0 and Z3str4-no-c-sharing hat the largest contribution with 16.64. Other solvers contributed as follows: Z3str4: 2.6. |
StringFuzz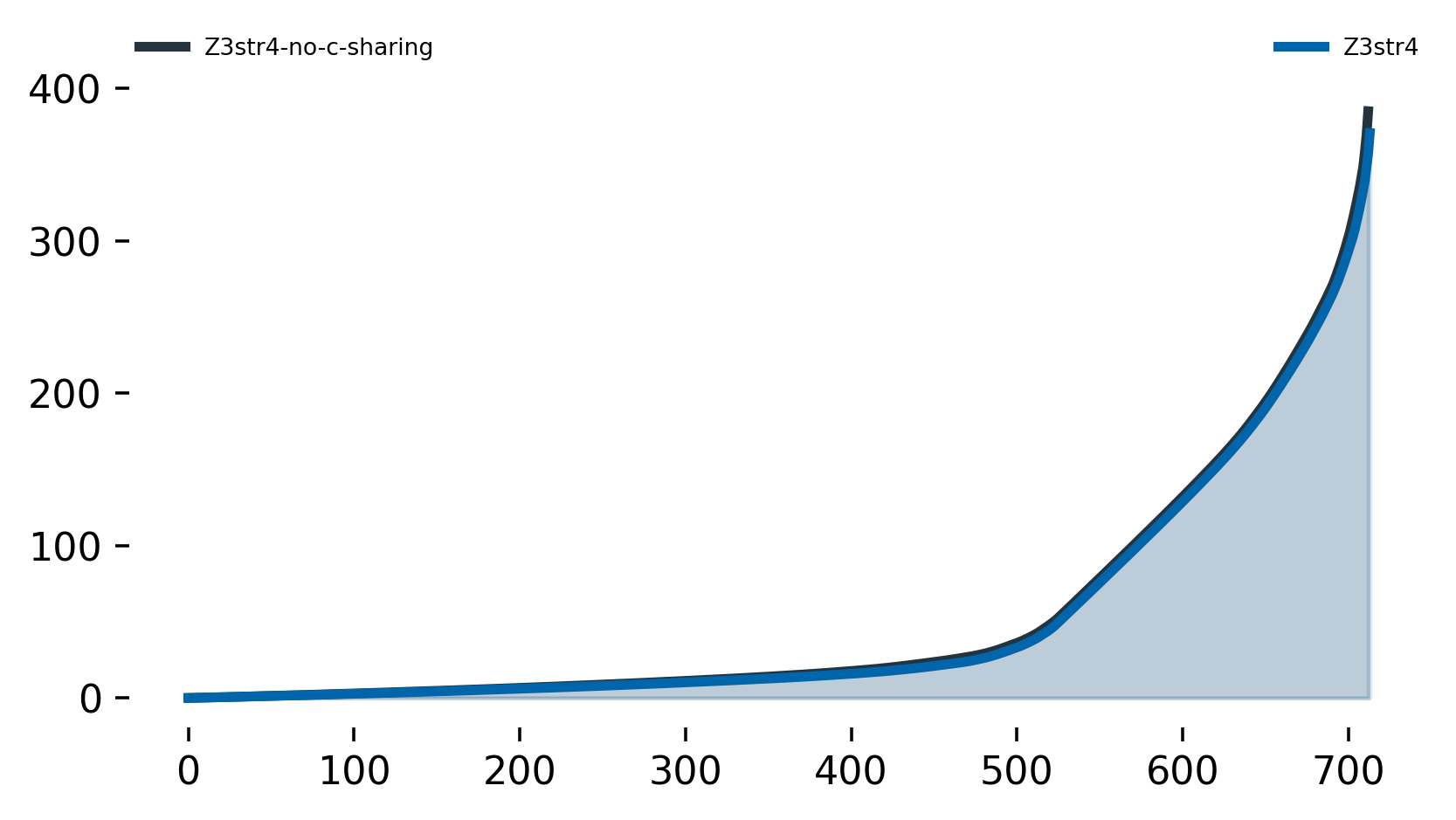 | | | | | | | | | | | | | |
| --- | --- | --- | --- | --- | --- | --- | --- | --- | --- | --- | --- | --- |
| Solver | Cor. class. (contr.) | SAT | UNSAT | UNKN | ERR | CRA | TO | Par2 | Tot. inst. | Tot. inst. w/o TO | Tot. time | Tot. time w/o TO |
| Z3str4 | 714 (0.75) | 412 | 302 | 45 | 0 | 0 | 306 | 14595111 | 1065 | 759 | 6675111 | 555111 |
| Z3str4-no-c-sharing | 713 (0.0) | 411 | 302 | 46 | 0 | 0 | 306 | 14683708 | 1065 | 759 | 6723708 | 603708 |
| | |
| --- | --- |
| Note | Z3str4 had the biggest lead with 1.0 and Z3str4 hat the largest contribution with 0.75. Other solvers contributed as follows: Z3str4-no-c-sharing: 0.0. |
z3Str3 Regression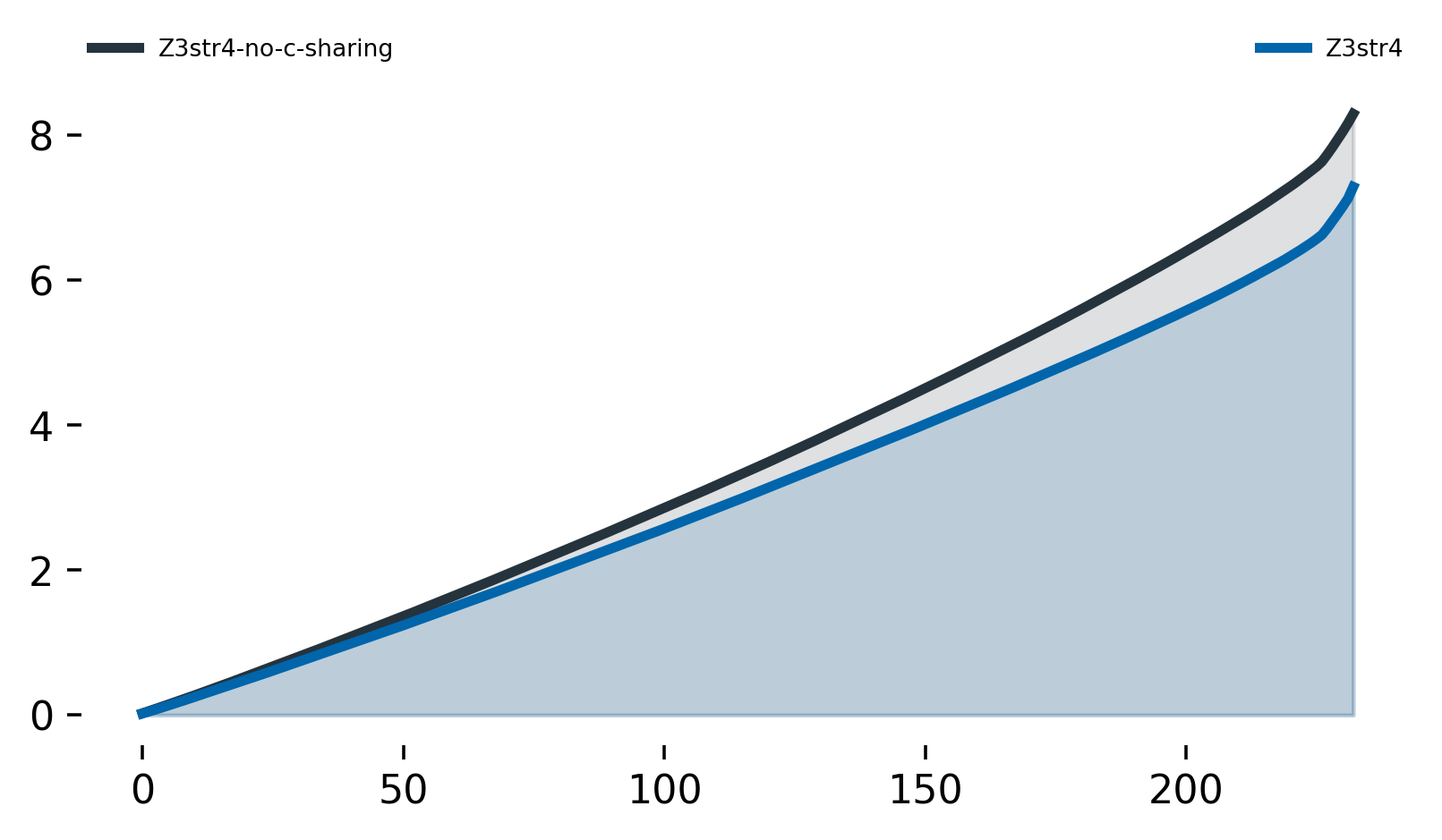 | | | | | | | | | | | | | |
| --- | --- | --- | --- | --- | --- | --- | --- | --- | --- | --- | --- | --- |
| Solver | Cor. class. (contr.) | SAT | UNSAT | UNKN | ERR | CRA | TO | Par2 | Tot. inst. | Tot. inst. w/o TO | Tot. time | Tot. time w/o TO |
| Z3str4 | 233 (0.0) | 196 | 37 | 0 | 0 | 0 | 9 | 367287 | 242 | 233 | 187287 | 7287 |
| Z3str4-no-c-sharing | 233 (0.0) | 196 | 37 | 0 | 0 | 0 | 9 | 368294 | 242 | 233 | 188294 | 8294 |
| | |
| --- | --- |
| Note | Z3str4 had the biggest lead with 1.0 and Z3str4-no-c-sharing hat the largest contribution with 0.0. Other solvers contributed as follows: Z3str4: 0.0. |
Cashew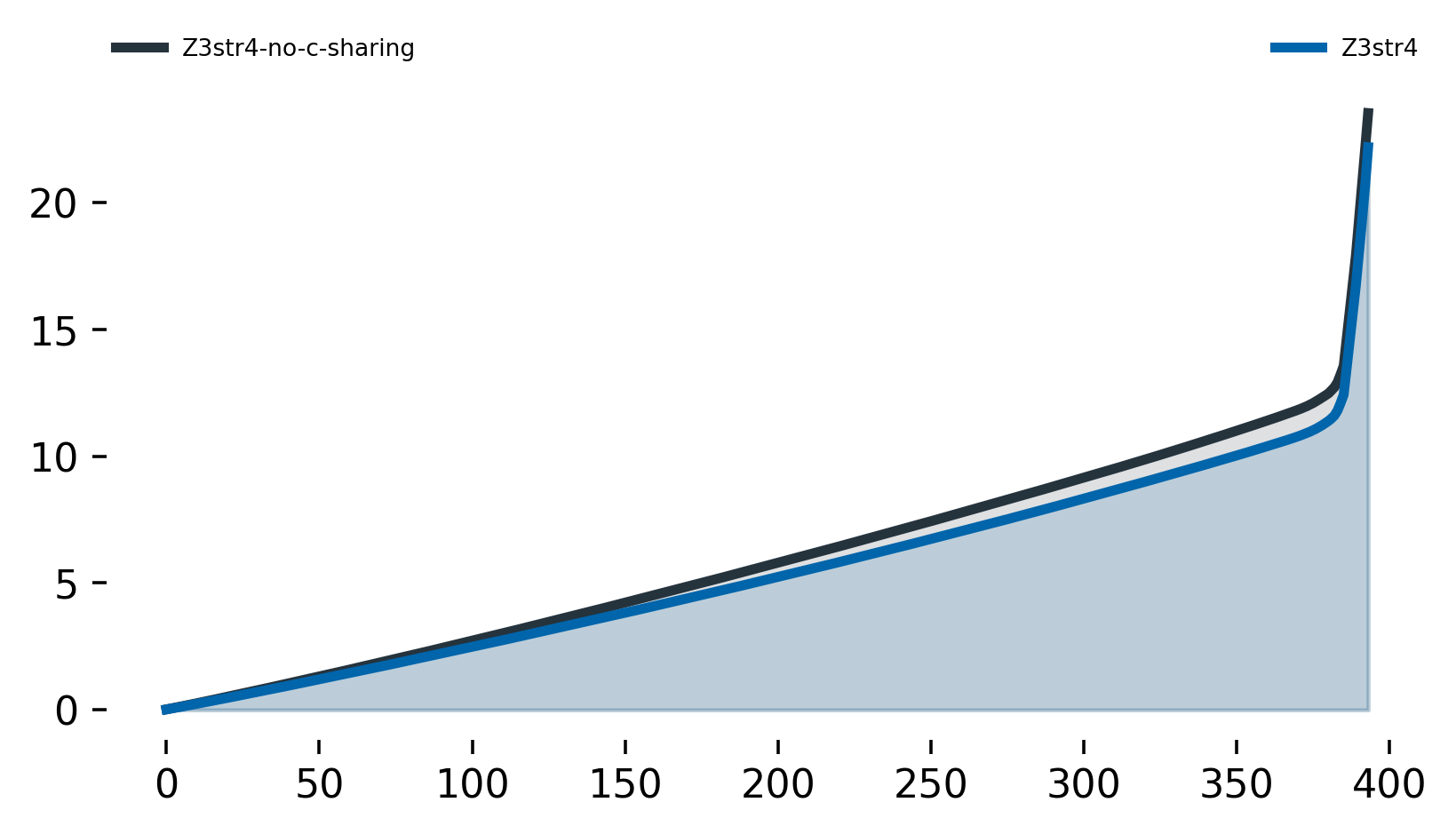 | | | | | | | | | | | | | |
| --- | --- | --- | --- | --- | --- | --- | --- | --- | --- | --- | --- | --- |
| Solver | Cor. class. (contr.) | SAT | UNSAT | UNKN | ERR | CRA | TO | Par2 | Tot. inst. | Tot. inst. w/o TO | Tot. time | Tot. time w/o TO |
| Z3str4 | 394 (0.0) | 382 | 12 | 0 | 0 | 0 | 0 | 22184 | 394 | 394 | 22184 | 22184 |
| Z3str4-no-c-sharing | 394 (0.0) | 382 | 12 | 0 | 0 | 0 | 0 | 23527 | 394 | 394 | 23527 | 23527 |
| | |
| --- | --- |
| Note | Z3str4 had the biggest lead with 1.0 and Z3str4-no-c-sharing hat the largest contribution with 0.0. Other solvers contributed as follows: Z3str4: 0.0. |
JOACO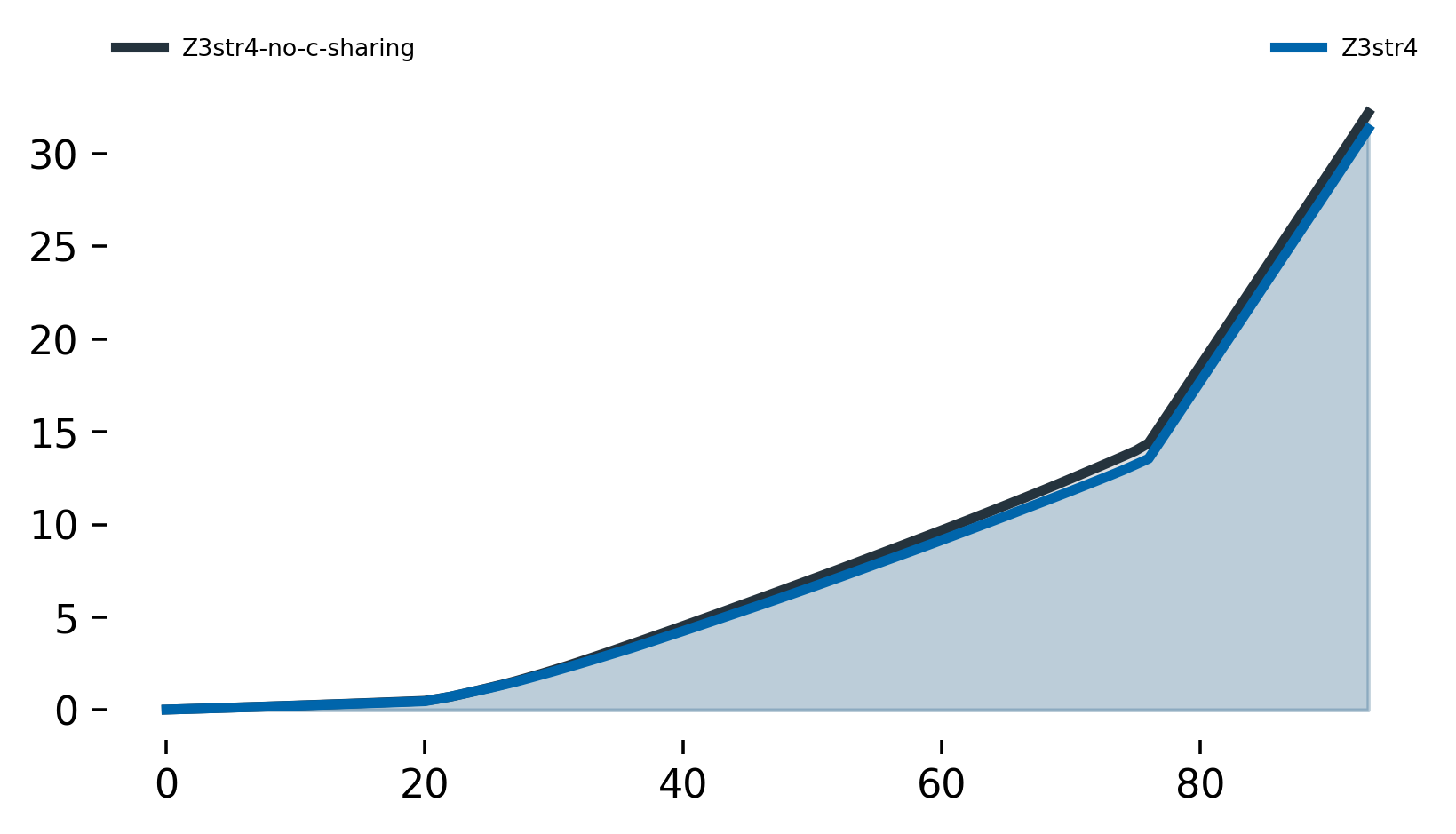 | | | | | | | | | | | | | |
| --- | --- | --- | --- | --- | --- | --- | --- | --- | --- | --- | --- | --- |
| Solver | Cor. class. (contr.) | SAT | UNSAT | UNKN | ERR | CRA | TO | Par2 | Tot. inst. | Tot. inst. w/o TO | Tot. time | Tot. time w/o TO |
| Z3str4 | 94 (0.0) | 73 | 21 | 0 | 0 | 0 | 0 | 31331 | 94 | 94 | 31331 | 31331 |
| Z3str4-no-c-sharing | 94 (0.0) | 73 | 21 | 0 | 0 | 0 | 0 | 32194 | 94 | 94 | 32194 | 32194 |
| | |
| --- | --- |
| Note | Z3str4 had the biggest lead with 1.0 and Z3str4-no-c-sharing hat the largest contribution with 0.0. Other solvers contributed as follows: Z3str4: 0.0. |
Stranger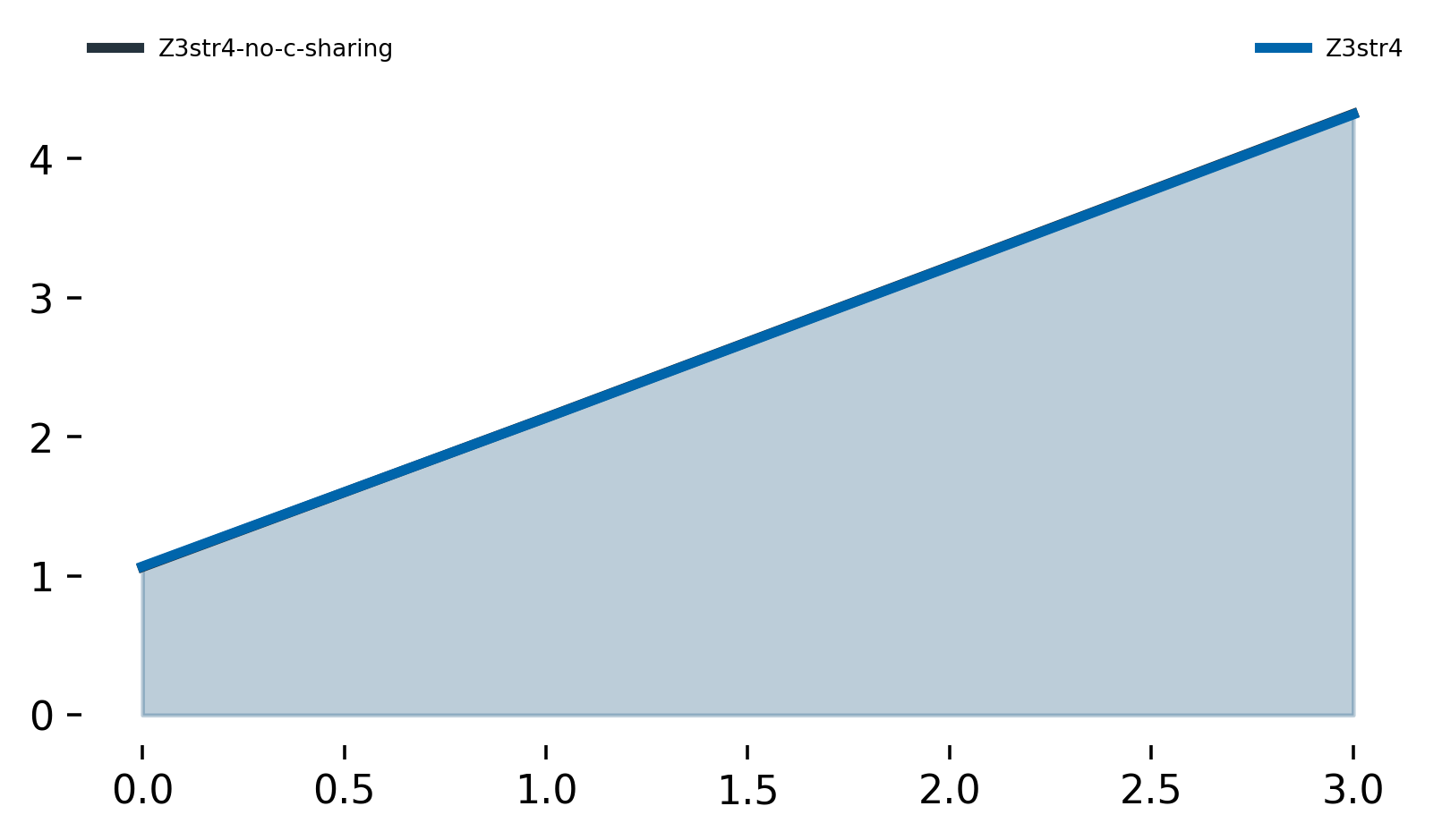 | | | | | | | | | | | | | |
| --- | --- | --- | --- | --- | --- | --- | --- | --- | --- | --- | --- | --- |
| Solver | Cor. class. (contr.) | SAT | UNSAT | UNKN | ERR | CRA | TO | Par2 | Tot. inst. | Tot. inst. w/o TO | Tot. time | Tot. time w/o TO |
| Z3str4 | 4 (0.0) | 4 | 0 | 0 | 0 | 0 | 0 | 4317 | 4 | 4 | 4317 | 4317 |
| Z3str4-no-c-sharing | 4 (0.0) | 4 | 0 | 0 | 0 | 0 | 0 | 4321 | 4 | 4 | 4321 | 4321 |
| | |
| --- | --- |
| Note | Z3str4 had the biggest lead with 1.0 and Z3str4-no-c-sharing hat the largest contribution with 0.0. Other solvers contributed as follows: Z3str4: 0.0. |
Kausler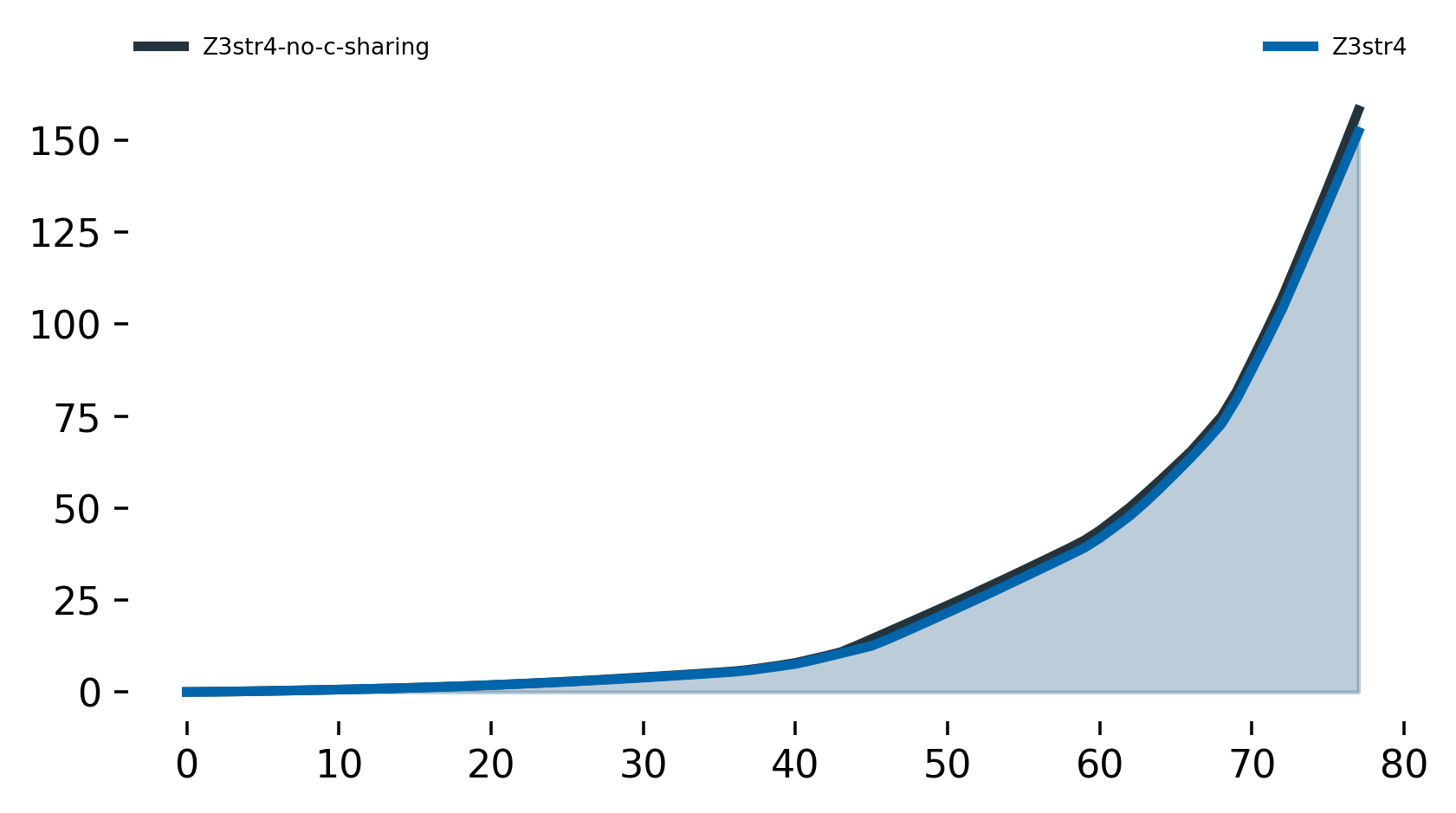 | | | | | | | | | | | | | |
| --- | --- | --- | --- | --- | --- | --- | --- | --- | --- | --- | --- | --- |
| Solver | Cor. class. (contr.) | SAT | UNSAT | UNKN | ERR | CRA | TO | Par2 | Tot. inst. | Tot. inst. w/o TO | Tot. time | Tot. time w/o TO |
| Z3str4 | 78 (0.0) | 78 | 0 | 7 | 0 | 0 | 35 | 1845602 | 120 | 85 | 865602 | 165602 |
| Z3str4-no-c-sharing | 78 (0.0) | 78 | 0 | 7 | 0 | 0 | 35 | 1852083 | 120 | 85 | 872083 | 172083 |
| | |
| --- | --- |
| Note | Z3str4 had the biggest lead with 1.0 and Z3str4-no-c-sharing hat the largest contribution with 0.0. Other solvers contributed as follows: Z3str4: 0.0. |
BanditFuzz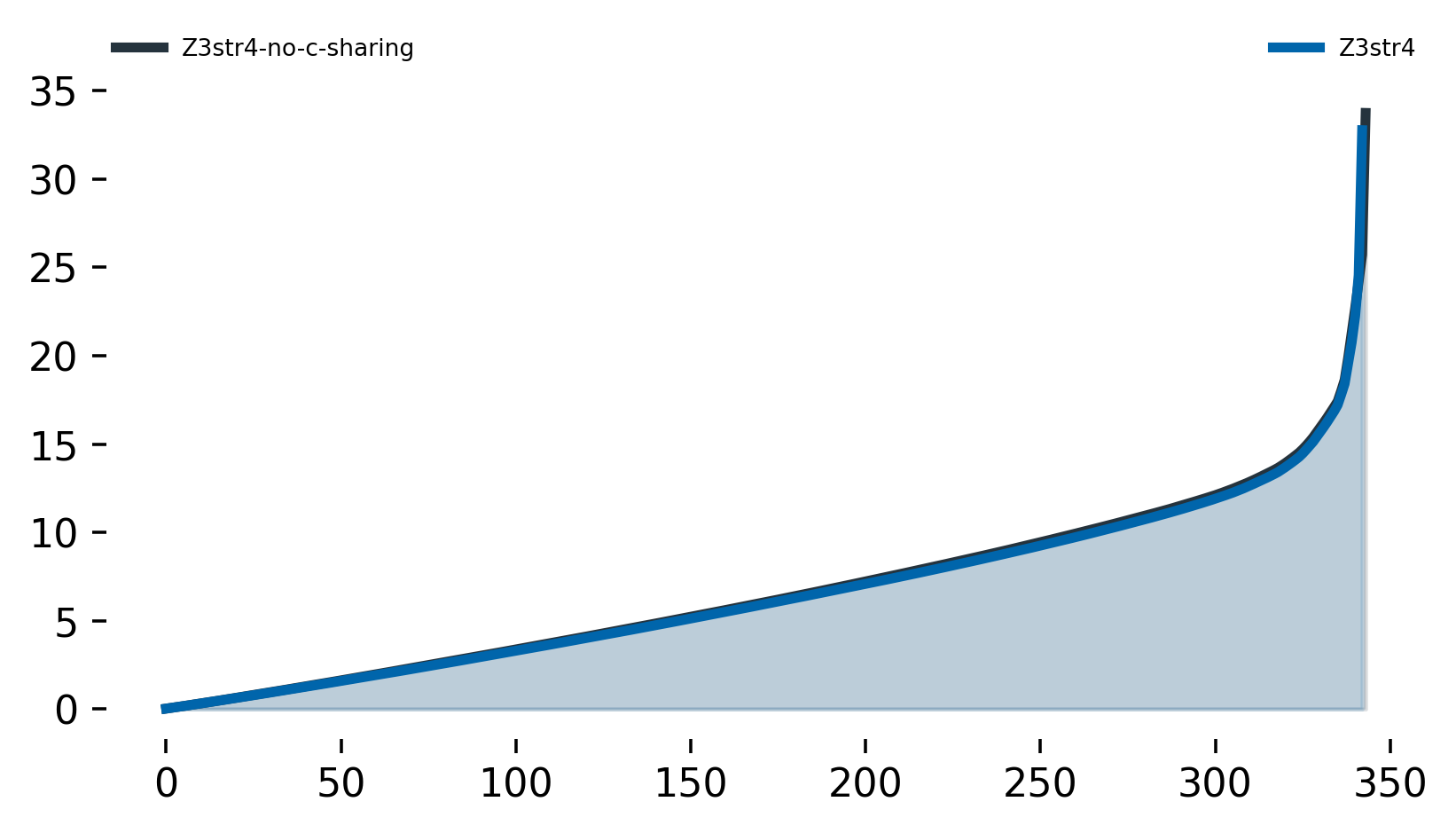 | | | | | | | | | | | | | |
| --- | --- | --- | --- | --- | --- | --- | --- | --- | --- | --- | --- | --- |
| Solver | Cor. class. (contr.) | SAT | UNSAT | UNKN | ERR | CRA | TO | Par2 | Tot. inst. | Tot. inst. w/o TO | Tot. time | Tot. time w/o TO |
| Z3str4-no-c-sharing | 344 (0.52) | 54 | 290 | 0 | 0 | 0 | 13 | 553746 | 357 | 344 | 293746 | 33746 |
| Z3str4 | 343 (0.0) | 53 | 290 | 0 | 0 | 0 | 14 | 592769 | 357 | 343 | 312769 | 32769 |
| | |
| --- | --- |
| Note | Z3str4-no-c-sharing had the biggest lead with 1.0 and Z3str4-no-c-sharing hat the largest contribution with 0.52. Other solvers contributed as follows: Z3str4: 0.0. |
automatark25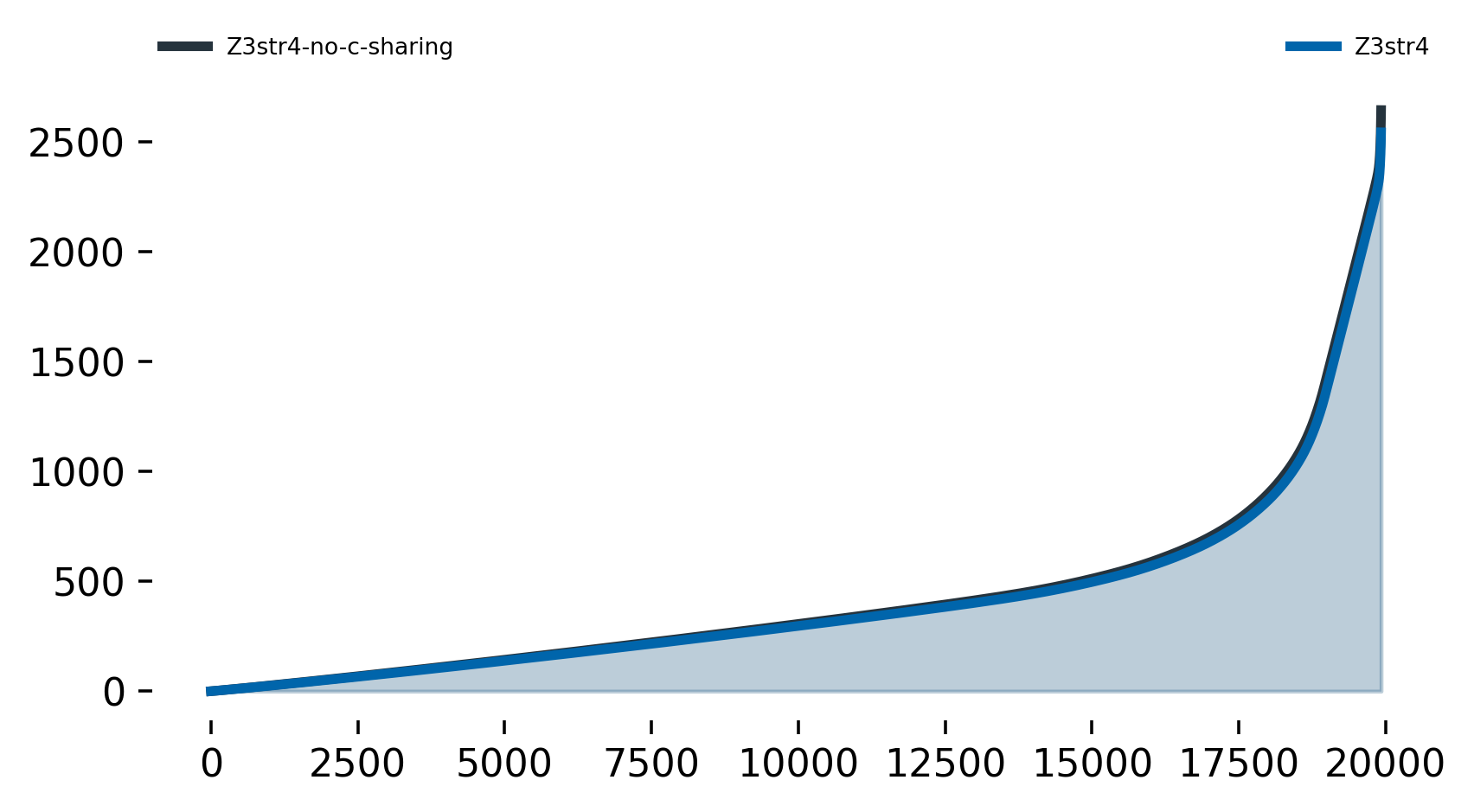 | | | | | | | | | | | | | |
| --- | --- | --- | --- | --- | --- | --- | --- | --- | --- | --- | --- | --- |
| Solver | Cor. class. (contr.) | SAT | UNSAT | UNKN | ERR | CRA | TO | Par2 | Tot. inst. | Tot. inst. w/o TO | Tot. time | Tot. time w/o TO |
| Z3str4 | 19925 (0.0) | 14465 | 5460 | 0 | 0 | 0 | 54 | 4703025 | 19979 | 19925 | 3623025 | 2543025 |
| Z3str4-no-c-sharing | 19925 (0.0) | 14465 | 5460 | 0 | 0 | 0 | 54 | 4804125 | 19979 | 19925 | 3724125 | 2644125 |
| | |
| --- | --- |
| Note | Z3str4 had the biggest lead with 1.0 and Z3str4-no-c-sharing hat the largest contribution with 0.0. Other solvers contributed as follows: Z3str4: 0.0. |
stringfuzzregexgenerated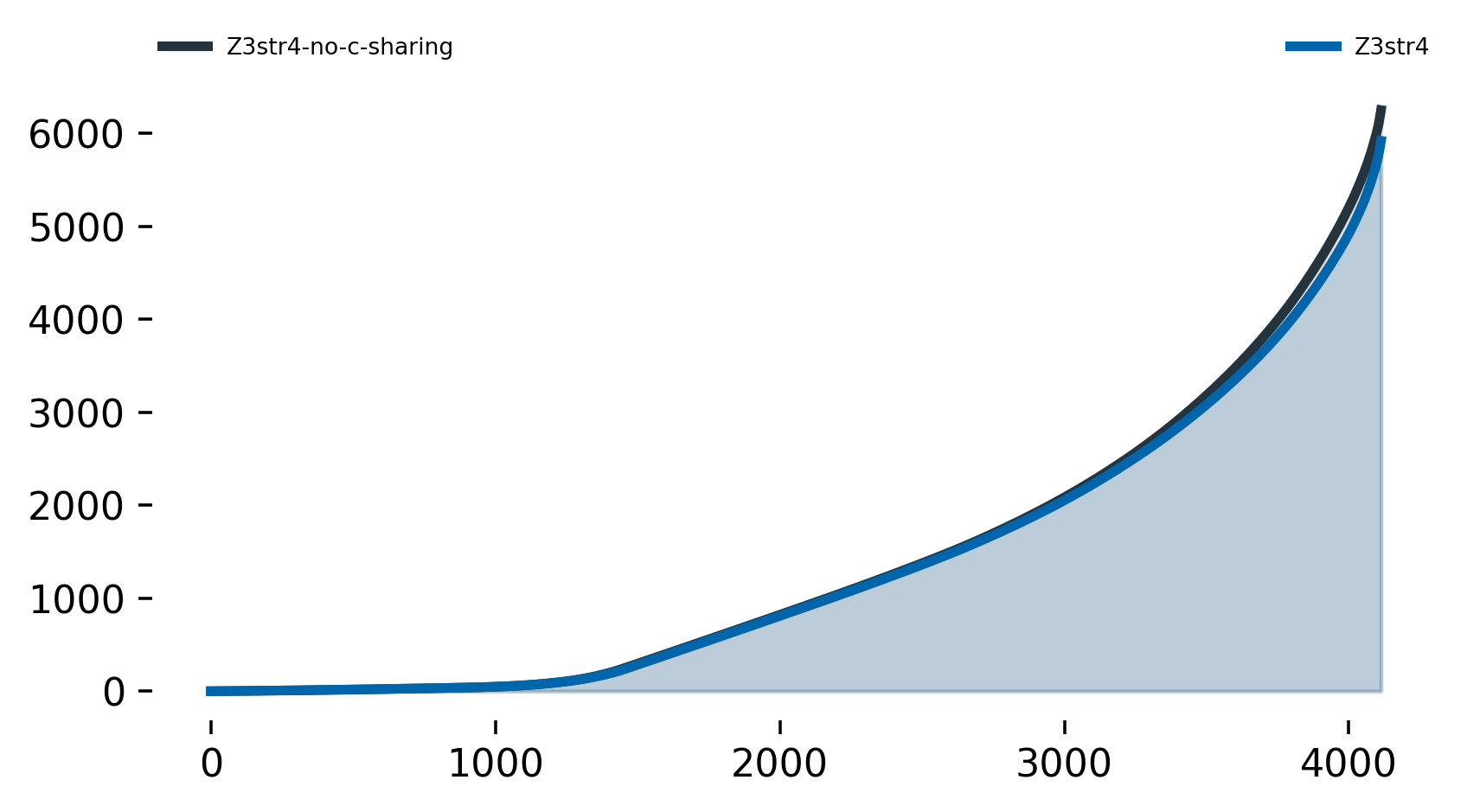 | | | | | | | | | | | | | |
| --- | --- | --- | --- | --- | --- | --- | --- | --- | --- | --- | --- | --- |
| Solver | Cor. class. (contr.) | SAT | UNSAT | UNKN | ERR | CRA | TO | Par2 | Tot. inst. | Tot. inst. w/o TO | Tot. time | Tot. time w/o TO |
| Z3str4 | 4114 (5.56) | 3284 | 830 | 10 | 0 | 0 | 46 | 8199002 | 4170 | 4124 | 6879002 | 5959002 |
| Z3str4-no-c-sharing | 4114 (5.56) | 3284 | 830 | 6 | 0 | 0 | 50 | 8517994 | 4170 | 4120 | 7277994 | 6277994 |
| | |
| --- | --- |
| Note | Z3str4 had the biggest lead with 1.0 and Z3str4-no-c-sharing hat the largest contribution with 5.56. Other solvers contributed as follows: Z3str4: 5.56. |
stringfuzzregextransformed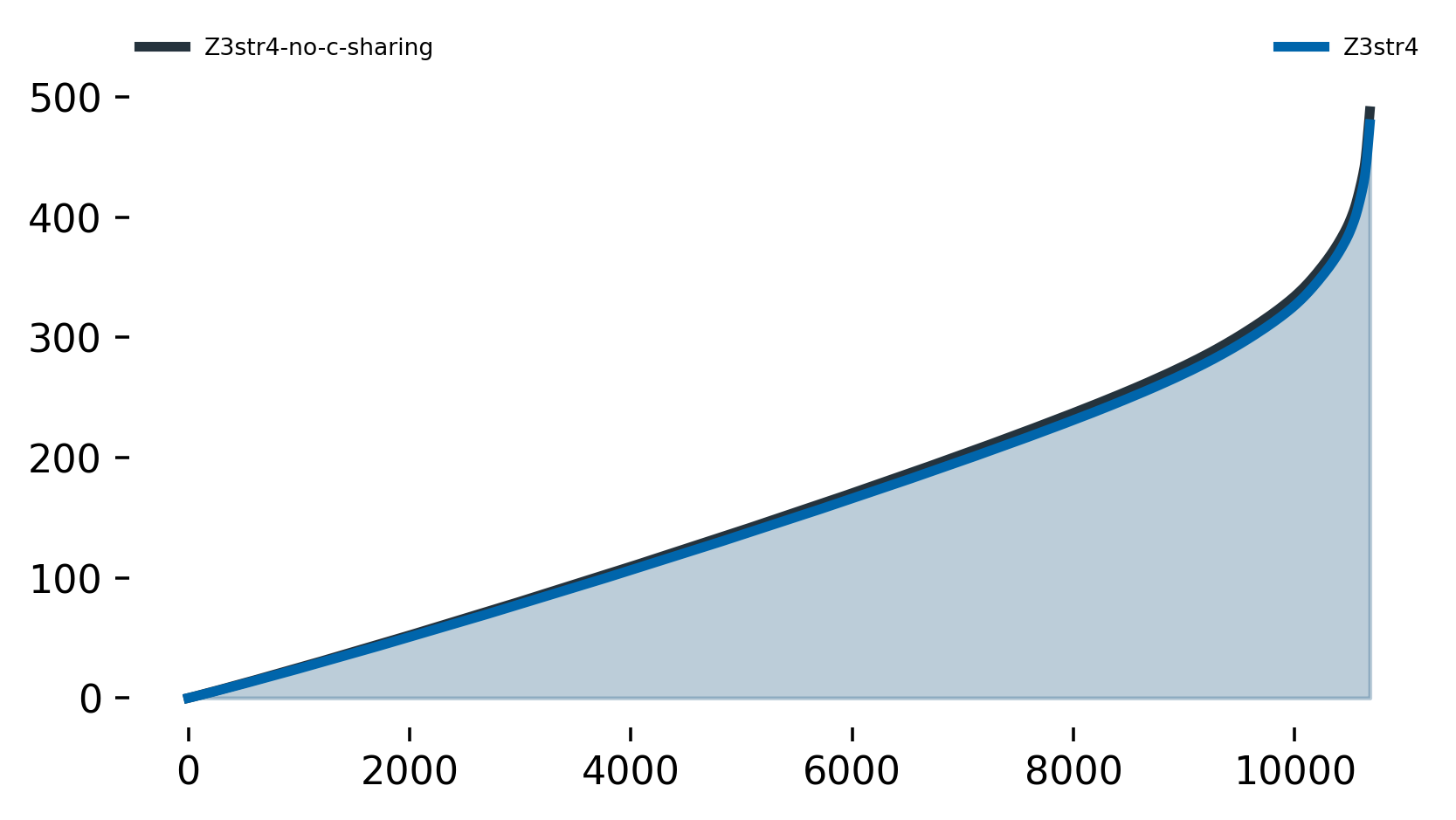 | | | | | | | | | | | | | |
| --- | --- | --- | --- | --- | --- | --- | --- | --- | --- | --- | --- | --- |
| Solver | Cor. class. (contr.) | SAT | UNSAT | UNKN | ERR | CRA | TO | Par2 | Tot. inst. | Tot. inst. w/o TO | Tot. time | Tot. time w/o TO |
| Z3str4 | 10679 (0.0) | 4631 | 6048 | 0 | 0 | 0 | 3 | 597563 | 10682 | 10679 | 537563 | 477563 |
| Z3str4-no-c-sharing | 10679 (0.0) | 4631 | 6048 | 0 | 0 | 0 | 3 | 608339 | 10682 | 10679 | 548339 | 488339 |
| | |
| --- | --- |
| Note | Z3str4 had the biggest lead with 1.0 and Z3str4-no-c-sharing hat the largest contribution with 0.0. Other solvers contributed as follows: Z3str4: 0.0. |
Total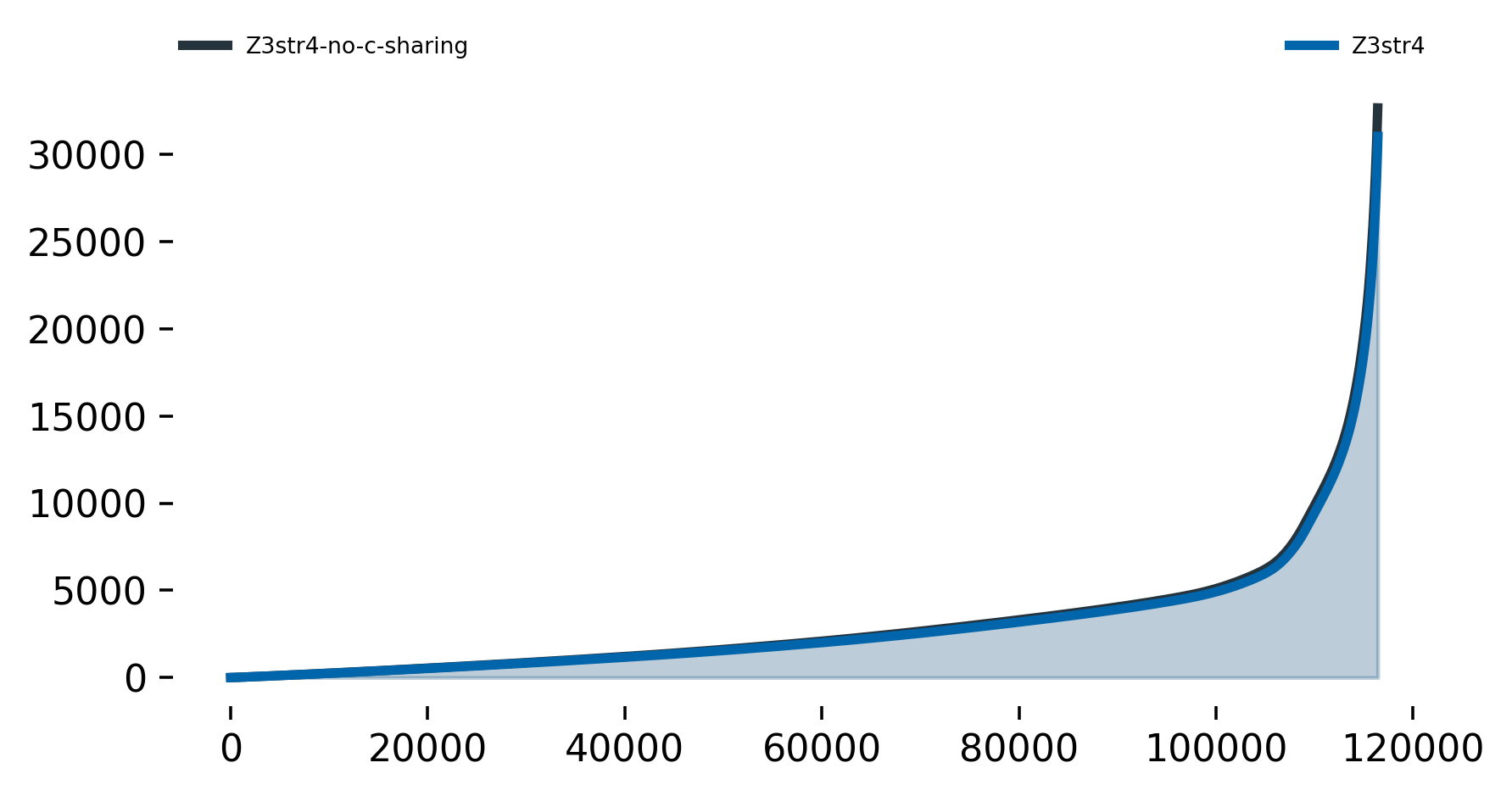 | | | | | | | | | | | | | |
| --- | --- | --- | --- | --- | --- | --- | --- | --- | --- | --- | --- | --- |
| Solver | Cor. class. (contr.) | SAT | UNSAT | UNKN | ERR | CRA | TO | Par2 | Tot. inst. | Tot. inst. w/o TO | Tot. time | Tot. time w/o TO |
| Z3str4 | 116439 (61.45) | 71842 | 44597 | 170 | 0 | 0 | 3757 | 189396964 | 120366 | 116609 | 107456964 | 32316964 |
| Z3str4-no-c-sharing | 116422 (52.67) | 71827 | 44595 | 159 | 0 | 1 | 3785 | 191718754 | 120366 | 116581 | 109658754 | 33958754 |
| | |
| --- | --- |
| Note | Z3str4 had the biggest lead with 1.0 and Z3str4 hat the largest contribution with 61.45. Other solvers contributed as follows: Z3str4-no-c-sharing: 52.67. |